Medicaid payment challenges still plaguing Iowa health care providers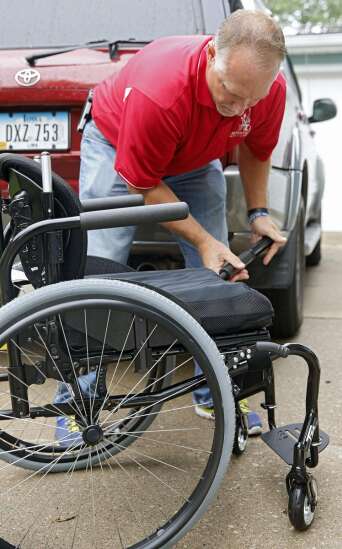 Medicaid payment problems have forced one Cedar Rapids-based wheelchair provider to no longer sell medical equipment to skilled-nursing facilities.
JVA Mobility owner Vince Wolrab said that, despite obtaining prior authorizations to supply individuals living at nursing facilities or group homes with new wheelchairs or repairs, Iowa's three managed-care organizations no longer are reimbursing the company for the cost.
'The MCO gives up prior authorization, but then they don't pay it,' Wolrab said. 'They've come up with all sorts of answers why. Some of them say it's trial and error — we've used the wrong (billing code). But then some they just flat out deny and tell us it needs to be billed to Medicare, when they know Medicare won't cover it.'
This issue, combined with improper reimbursements well below the negotiated contract fees, have lead the company to be out more than $100,000, Wolrab said.
Under the fee-for-service system, Iowa Medicaid reimbursed the company for 85 percent of the suggested retail price on a wheelchair, he added. But under managed care, the MCOs are only paying for 10 percent to 50 percent of the retail price.
Suppliers can't continue to give away free equipment, he said, so after three months of no payment, the company has had to make hard decisions.
'We planned ahead for' payment problems, he said. 'That's probably the only reason we've gone as long with facilities as we have. But if this continues to happen, there's no way we can afford it. We've talked about cutting staff.'
Medicaid makes up about 30 percent to 35 percent of the company's budget, Wolrab explained. And now, four months into the Medicaid transition, Wolrab said he feels as if there is no resolution on the horizon.
Two of the MCOs don't have a great track record of returning phone calls and emails, he said, and the one that does — UnitedHealthcare — has few answers.
BILLING ISSUES
Iowa handed over its $5 billion Medicaid program to three out-of-state insurers in April. Since the transition, JVA Mobility isn't the only Medicaid provider to run into these kinds of problems. Providers statewide — from rehabilitation therapists and in-home care providers to Meals on Wheels and nursing homes — have reported slow or inaccurate payments, forcing them to dip into savings or extend their lines of credit.
What's more, a provider survey released late last month by Iowa Democratic legislators found that hundreds of Medicaid providers have run into billing issues:
l Nearly two-thirds of the more than 400 survey respondents said they have received lower reimbursement rates than what is stated in their contracts
l Almost 80 percent said they are not getting paid on time
l 20 percent of respondents said they have been forced to take out loans to cover their expenses while waiting for payment.
'I don't think any of you three companies this week are borrowing money to make your payroll,' Sen. Joe Bolkcom, D-Iowa City, said during a July 26 Senate Human Resources committee meeting in Des Moines.
Iowa Medicaid Director Mikki Stier said during that meeting the issues stemmed from a 'cultural shift' with Medicaid providers now moving away from paper claims and toward a more automated system in managed care. The state said the most likely reasons for claims to be denied or rejected include duplicate claims, missing information, invalid service dates or services are not approved benefits.
But according to state Department of Human Services data released in late July, the Iowa's three MCOs — Amerigroup Iowa, AmeriHealth Caritas Iowa and UnitedHealthcare of the River Valley — already have paid a total of $899.3 million to providers from April through June.
Data shows that of the more than 4.9 million claims submitted in those months:
l About 3.4 million have been paid
l 1.2 million have been denied
l 300,000 have been suspended
l 101,000 have been rejected, meaning the claims were missing key pieces of information.
Sen. Liz Mathis, D-Cedar Rapids, has said there is a 'disconnect' between the state's data and what legislators are hearing from providers.
'I think the transition has been rugged, it's been sloppy, and again there's just a disconnect between what we're hearing from state officials and what the providers are telling us,' she said in late July. 'We need some resolution because pretty soon we're going to see providers go out of business, and I'm most concerned that the providers in rural areas — the smaller providers that really give essential services to people in the rural areas — are going to go out of business, and that's not good.'
Additional data provided to The Gazette shows that during the same time period in 2015 — when the Medicaid program was the state-operated fee-for-service — the state paid out $1.22 billion in claims.
l More than 10 million claims were submitted
l 14 million were paid — there was a carry-over from month to month since providers would file a number of claims at one time
l 1.1 million were denied
l 241,625 were suspended
l 75,344 were rejected.
However, this data can't be seen as apples-to-apples, explained Amy McCoy, Department of Human Services spokeswoman, as providers have 180 days to file claims with the MCOs compared with a year under state-run Medicaid. She also stressed that this still is a new system, and it will take additional time to do more trend analysis.
'When it comes to claims reimbursement, we will continue to evaluate the MCOs' performance based on the contract requirements for Iowa's managed care plan — which is similar to other commercial plans — not how the previous system operated,' McCoy said.