Marion searches for water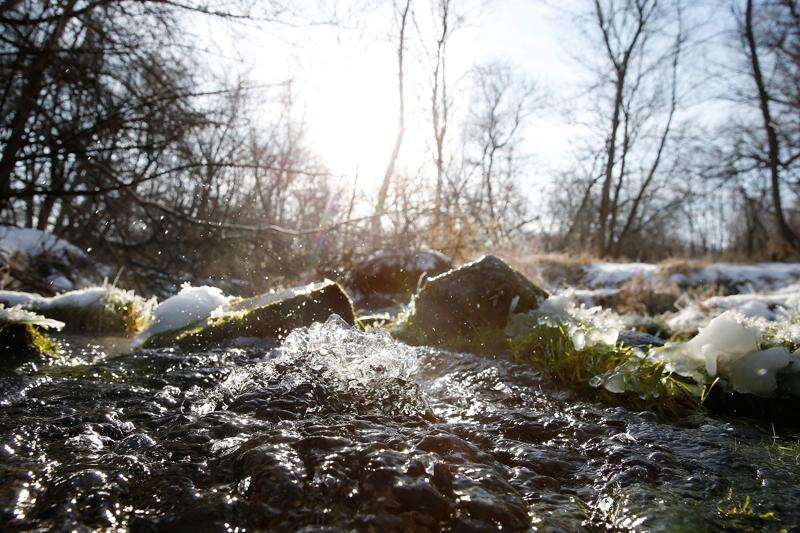 MARION - At least part of Marion's future water supply may be bubbling from the ground along Dry Creek in the heart of the rapidly growing city.
'Marion developed around Bowman Springs in the late 1800s, and now we are looking at those springs as a potential source of municipal water in the future," said Todd Steigerwaldt, general manager of the Marion Water Department.
If tests prove the springs to be a reliable source of uncontaminated water, they may again be harnessed to supplement water drawn from the rapidly depleting Jordan aquifer, he said.
Water in the Jordan has declined more than 200 feet in the past 40 years, according to Chad Fields, a geologist in the Department of Natural Resources water supply engineering section.
The Jordan aquifer - which provides most of Marion's drinking water as well as water for about a half-million other Iowans - is being depleted much faster than nature can recharge it, said Steigerwaldt, who recently led a task force assigned to recommend rules to conserve Jordan aquifer water.
State regulators this past summer implemented new rules governing withdrawals from the Jordan aquifer, which is declining at a rate of three or four feet per year, according to Mike Gannon, a hydrologist with the Iowa Geological Survey.
Under the new rules, all wells tapping large amounts of water from the Jordan aquifer are classified as:
l Tier 1, not yet to a level of concern
l Tier 2, areas in danger of being over-pumped, or
l Tier 3, in which no further drawdown would be allowed.
All Jordan wells in Iowa currently are classified as Tier 1. But wells in Linn and Johnson counties and in the Fort Dodge area, based on projected water consumption and growth, are considered 'protected source areas" and could in the years ahead fall into Tier 2, subjecting them to water reduction plans.
Though Marion's water supply is not immediately at risk, 'We know we could face conservation measures long term," Steigerwaldt said.
To reduce pressure on the Jordan and ensure future sustainability of Marion's water supply, Steigerwaldt said the city is seeking to diversify its water sources.
During the past year, the city pumped 88.4 percent of the 1.02 billion gallons it provided to customers from five wells in the Jordan aquifer, which lies about 1,550 feet beneath Marion. The remaining 11.6 percent came from a single well drilled in 1941 into the Silurian aquifer, which lies 437 feet beneath the city.
Over time, he said, the city hopes to use less water from the Jordan and more from the Silurian or the springs or both.
To assess the Silurian aquifer's capacity to supplement the water supply, the city drilled two test wells in 2014 and recently pumped large volumes of water from them. The data collected has not been fully analyzed, but initial impressions are not promising, Steigerwaldt said.
One test well was productive, yielding 650 gallons per minute. The other was much less so, and both had high concentrations of iron that would substantially increase treatment costs, he said.
Gannon said the Silurian is fairly widespread beneath Eastern Iowa at an average depth of 450 feet.
Though fairly productive, it can yield high concentrations of iron that, while not a health risk, stains sinks and clothing and has to be treated at additional expense.
Until 1950, the city's water was provided by a private company that relied on the springs and a single well drilled in 1941 for its water supply. In 1953, three years after the city bought the private company, it stopped using the spring water out of concern that its shallow water deposits could be contaminated by surface pollution.
More than 60 years after the springs fell into disuse, the limestone foundation of the original pump house still stands near the creek, filled with transparent spring water often frequented by mallard ducks and other wildlife.
Nearby one of three active springs gushes water that bubbles at times to a height of several inches above the small stream that carries the flow to Dry Creek.
Even in January, green vegetation borders the springs, warmed by sparkling water that emerges from the ground at a temperature in the 50-degree range.
A dam across Indian Creek not far downstream from its confluence with Dry Creek once impounded both streams, enhancing the scenic area's appeal to recreationists including picnickers, boaters and ice skaters, according to local historian Pat Klopfenstein.
Steigerwaldt said the city has begun testing the springs' water source potential.
With a technique called electrical resistivity imaging - which uses direct current as a means to model the subsurface - scientists with the Iowa Geological Survey have identified several underground pools of water along a transect just south of Boyson Road and east of Dry Creek.
Two larger pools at a depth of about 75 feet appear to hold the most promise, Steigerwaldt said.
The next step, he said, is to drill a test well to analyze the quantity and quality of available water.
A 1927 study conducted for the city of Cedar Rapids by groundwater geologist Howard Simpson estimated the potential daily flow from the Bowman Springs at 3 million gallons a day.
The big concern, he said, is whether the water is deep enough to avoid the influence of surface water, which could result in additional treatment costs for nitrates, bacteria and sediment.
That could be a deal breaker, he said.