Marion man showcases flag collection with 'Parade of Flags'
N/A
Jun. 15, 2013 8:00 am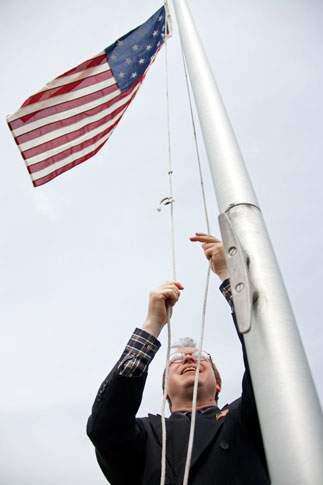 For David Wendell admiration for the United States flag isn't limited to July 4 or Flag Day in June.
"Every day is Flag Day," the Marion resident and avid flag collector said. "Every day I think about what the flag symbolizes and represents to us and democracy around the world."
It's been 53 years since the U.S. flag made its latest alteration to include Hawaii in the now 50 states in America and Wendell said it's important for the next generation to remember the journey the U.S. flag has made throughout history, even if they haven't witnessed it themselves.
"The flag, in that sense, has evolved," the 45-year-old said. "It shows how our perspective on who we are at any given time in history has changed and this will probably always continue in that way."
This weekend, Wendell is celebrating the 195
th
anniversary of the congressional action that laid the path for the country's current flag by showcasing his own collection at the Summit Pointe Senior Living Community in Marion. Wendell has an array of 30 flags with roughly a dozen of them spanning the various combinations of the U.S. flag's stars and stripes.
Wendell said he sees the flag as a symbol for Americans and for Don Watson, scout master for Marion Boy Scout Troupe 555 participating in Wendell's event, said it's a link to the past.
"People have fought and protected freedom both at home and around the world," said Watson,42, who has served in the Army and National Guard. "The flag is a reminder of that."
The Continental Congress recognized the need to have a national flag in 1777, however, it wasn't until 1818 that Congress passed the Flag Act outlining the design that is still in use today: 13 alternating horizontal red and white stripes with stars representing each state of the union.
Some of Wendell's most memorable flags in his collection include a 15 star and 15 stripe U.S. flag flown over Fort McHenry in Baltimore, Maryland, an official U.S. Flag of the 96
th
U.S. Senate, and the official flag of the 69
th
Iowa State Senate.
Sheila Hanke, a conservator and collections manager at the State Historical Society of Iowa, said through her work with the Iowa Battle Flag Project she has seen young and old come to appreciate the flag collection.
"Flags are diaries," she said. "They've seen this nation through so many things."
EVENT
What: "Parade of Flags"
Where: Summit Pointe Senior Living Community, 3505 English Glenn Ave, Marion.
When: Saturday, 2 p.m.