Marion considering new library facility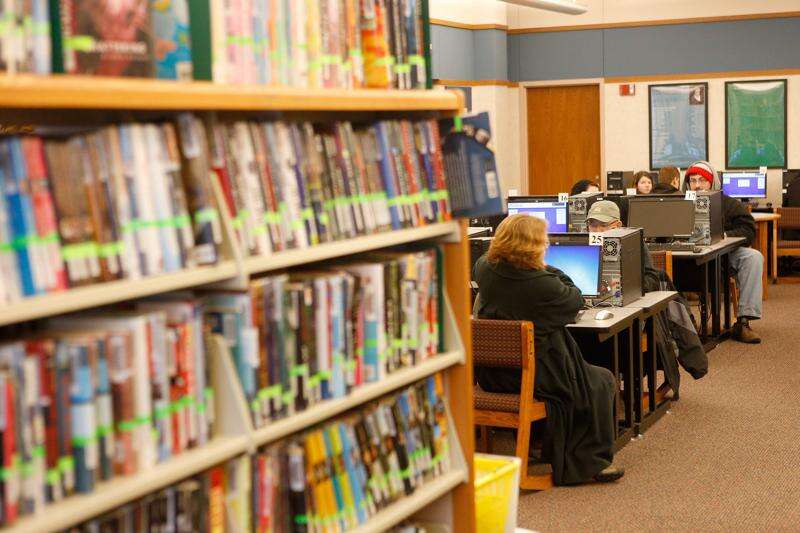 MARION — An 18-year-old library in a 175-year-old city may seem still to be in its infancy, but in fast-growing Marion it's already past its prime.
'We built the best facility we could at the time,' said Susan Kling, who was library director when the Marion Public Library was built in 1996.
That facility has served the community well, according to Doug Raber, director for the past three-and-a-half years, but the 24,500 square foot building no longer can meet the needs of a growing number of library users. The average size of libraries in communities the City of Marion calls 'peer cities' — Ames, Dubuque Ankeny, Mason City, Bettendorf, Urbandale, Cedar Falls, West Des Moines and Coralville, which are of similar size, socioeconomic conditions and home values — is 47,500 square feet.
A needs assessment found that in nearly every measure of usage the Marion Public Library exceeds those peer cities and ranks second only to Ames in the number of materials circulated.
Library use, measured in total circulation of materials, has been more than 300,000 items each year since 1996 and has outpaced population growth in Marion and the library's service area. The city's population has grown nearly 29 percent between 2003 and 2013, the service area population has grown 45 percent, according to the library.
'We're a lot larger than in 1996,' Kling said, noting Marion has a new police station and city hall, and the public schools are expanding.
That means there are a lot of new families in town 'who don't know or care how new or old the library is,' Raber said.
And library usage has grown faster than population, according to library data. Circulation of library materials has increased 57 percent over 10 years.
'We manage, but we need more space,' Raber said as he pointed out where shelves have been added to accommodate more books, more videos and other materials. The Marion library is smaller than its nine 'peers,' but has nearly twice as many items per square foot as any other library.
Raber said it's come to the point that the Marion library has to remove an item from its collection to add a new item.
'Sometimes we have to discard popular fiction before we'd like to, while it's still in demand,' Raber said.
Despite growth in the use of digital devices, the library's circulation of printed materials continues to grow. That makes it hard to reduce the number of printed books in the collection.
Library usage has changed — and continues to change, Raber said. Not everyone has their own computer, so the demand for public access computer terminals has increased. More meeting rooms for small groups — three to five people — are needed, too, he said.
In the children's area, Raber pointed out shelves twice as tall as the young readers and a lack of room for activities. That's a key concern because 29 percent of Marion's population is younger than 19 and another 27 percent is in the 20 to 39 year-old age group — most likely the parents of the younger cohort, Raber said.
The library board is in discussion with two developers, Ryan Companies of Cedar Rapids and FEH of Dubuque, which have expressed interest in collaborating on a mixed use development that would include retail and residential space along with a new library.
It's a way to leverage the limited real estate in the Marion Uptown District and take some of the financial burden of a new library off Marion property tax payers, Raber said.
The library draws about 1,000 visitors a day, 'So the question is how we get them to do something else while they are in Uptown,' he said. 'We want to take advantage of the synergy and create a cultural center for the community that also serves as a driver of economic activity.
The board is planning meetings with those companies in late January to discuss their proposals in more detail, he said.
Raber said that if current trends continue, construction of a new or expanded library will be just a temporary fix. Marion has added more than 750 housing units since 2010, which City Manager Lon Pluckhahn says probably means another 2,000 residents.
'We probably need to think of expanding again in another 10 years,' Raber said. That might mean building a branch library to the north where residential development continues. 'As soon as we get something done here, we need to start planning for 65,000 to 80,000 square feet' of library space.