Managed Care Year One: Edberg family caught in limbo with out-of-network provider
Iowa began its transition to private companies for Medicaid coverage on April 1. The Gazette is following one family over the course of a year as they make their way through the challenges.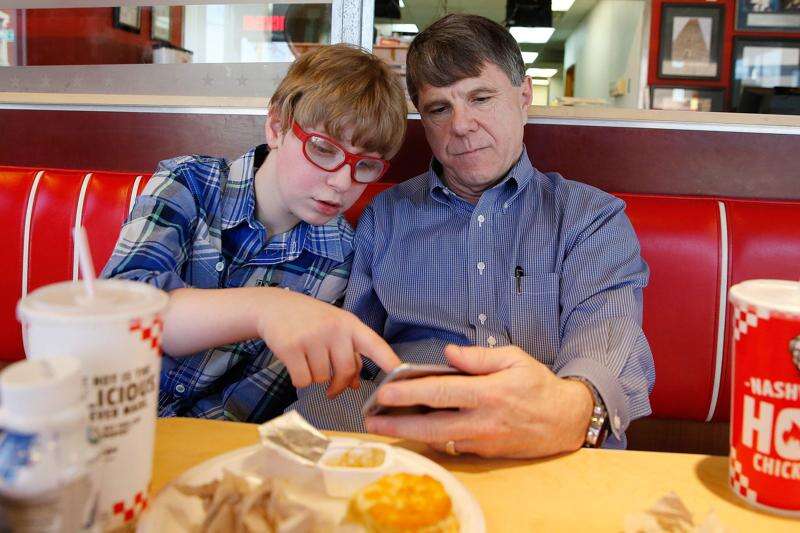 May 1 is a significant day for the Edberg family.
It's the day their son's coverage starts for AmeriHealth Caritas Iowa. This is an important development for the family. That's because for the first month of Medicaid managed care, their 13-year-old son, Colin — who has developmental and physical disabilities — was not in the same managed-care organization as his primary care doctor.
The state handed control of its $5 billion Medicaid program over to three out-of-state managed care organizations, MCOs, on April 1. The Gazette is following the Edbergs throughout their first year of managed care to see how they navigate the change.
Colin lives at Hills and Dales, an intermediate-care facility in Dubuque that provides 24-hour skilled nursing care to about 40 other medically fragile children and young adults. He has more than a dozen providers, and his father, Jeff, selected his MCO based on the most important provider — Hills and Dales.
See more: For the Edbergs, finding a primary care doctor was harder than expected
The Edbergs first selected Amerigroup but quickly realized that Colin's primary care doctor had not. In fact, Medical Associates — a physicians group based in Dubuque with more than 170 doctors — hadn't contracted with any of the three MCOs until after the April 1 launch date.
Confused by how the new Medicaid system works?
We're here to help. Click the image above to check out an interactive explanation of Iowa's new Medicaid managed care system.
Medical Associates eventually signed a contract with AmeriHealth, said Dr. Thomas Callahan, Colin's pediatrician and a Hills and Dales board member, adding he doesn't 'foresee the group signing with the other two in the immediate future.'
'This has been an interesting situation,' Callahan said. 'It's extremely frustrating from a provider standpoint.'
Edberg ultimately chose to move Colin from Amerigroup to AmeriHealth, he said, but that coverage didn't begin until May 1. During that interim period, Colin was assigned a case manager, whom Edberg said was knowledgeable and caring. But during that period Colin got sick.
'He was complaining about chest pains,' Edberg said. 'His legs and knees hurt.'
Jeff Edberg, who lives in Iowa City, drove up to Dubuque to take Colin to the doctor. They discovered Colin had developed a Staph infection. Colin was prescribed some antibiotics, Edberg said, but he was still complaining about chest pain several days later.
'We went back to the doctor, who said we needed to rule out other medical problems,' Edberg recalled.
That meant an MRI, heart echo and other tests at Mercy Medical Center Dubuque. On their way to the hospital, Edberg said a nurse from Medical Associates worked to obtain pre-authorization to prevent any delays.
Managed care has 'started, and it's filled with paperwork and uncertainty,' Edberg said.
But what happens if, as in Colin's case, a Medicaid recipient sees a provider outside of his or her network? That answer seems to be foggy.
All out-of-network providers will be reimbursed at 90 percent, according to the state. But Callahan, Colin's pediatrician, said his office was told that 90 percent reimbursement rate is only paid if the physician receives pre-authorization for the service.
'As a pediatrician, we do everything we can to get kids in,' Callahan said. 'That may mean we don't get reimbursed.'
"It's filled with paperwork and uncertainty"
- Jeff Edberg
on the managed care system
Pre-authorization can be time consuming, he said, explaining his nurse spent more than an hour on the phone with Amerigroup last week trying to obtain pre-authorization for just one patient.
'We don't have the time for that,' Callahan said. Especially considering between 30 and 40 percent of Medical Associates's patients are on Medicaid, he added.
He understands that pre-authorization is a tool used to limit duplicate services.
'But there could be more risk than reward,' he said.
Read more: The start of the Edbergs journey under managed care
What's more, if a doctor is out-of-network, a family may choose to go to the emergency department for services, he added. That's something the MCOs, the state and the hospitals don't want to happen as it's more expensive care.
And it's something that could cost patients. If the hospital determines the visit not to be urgent, the member may have to make a co-payment, depending on their MCO, according to the state.
'This is a population of kids that are vulnerable,' he said. 'We're putting them in a very precarious situation — one I'm not sure will lead to an improvement in care.'