Man arrested after 100 mph chase, crash with Cedar Rapids school bus
Feb. 10, 2015 4:08 pm, Updated: Feb. 11, 2015 3:20 pm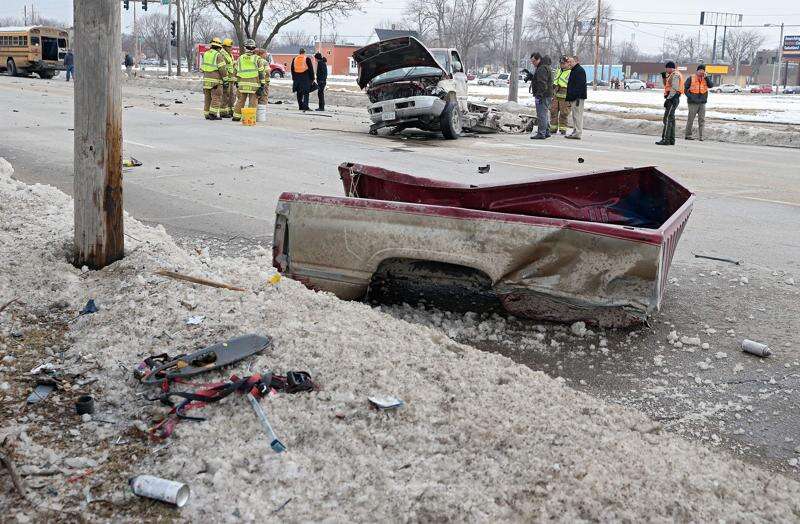 CEDAR RAPIDS - A school bus was involved in a crash at the intersection of First Avenue Southwest and First Street, near the First Avenue Bridge Tuesday afternoon.
A tweet from the Cedar Rapids Police Department said First Avenue was closed between First Street East to the 300 block of First Avenue West, and First Street West was closed between E Avenue Northwest and Second Avenue NW because of the crash.
The Cedar Rapids School District said four students, two adults and the driver were on the bus at the time, but none were hurt.
A release from the Linn County Sheriff's Office says the chase started when deputies tried to stop a vehicle on Highway 13 south of Mount Vernon Road around 3:14 p.m. after the driver was identified as barred from driving in Iowa.
The pickup truck went south on Highway 13 to Highway 30, and continued westbound. At times, the chase reached speeds of 100 miles per hour, according to Linn County Sheriff Brian Gardner.
The suspect's vehicle left the highway at the C Street Southwest exit and headed north. Pursuing deputies lost sight of the truck due to the speeds involved as the chase approached Cedar Rapids. The vehicle turned on First Street Southwest near Riverside Park and continued into the intersection with First Avenue, where it ended in a three-vehicle crash.
'When [the chase] came here to the intersection of First Street and First Avenue West, the vehicle ran through the intersection and struck several vehicles in the intersection, striking one head-on that included careering into a school bus," Sheriff Gardner said.
The driver of the truck, identified as 46-year-old James Surrett, was taken to St. Luke's Hospital for treatment of non-life threatening injuries. Charges are pending, according to the Linn County Sheriff's Office.
Surrett also hit another pickup as part of the crash. The driver and a child were taken to Mercy Medical Center for treatment of non-life threatening injuries.
Another school bus came to pick up the students and adults on the bus that was hit.