Linn supervisors elect Zumbach new chair, consider meeting time change
Board will consider suggestion to hold meetings to cities around the county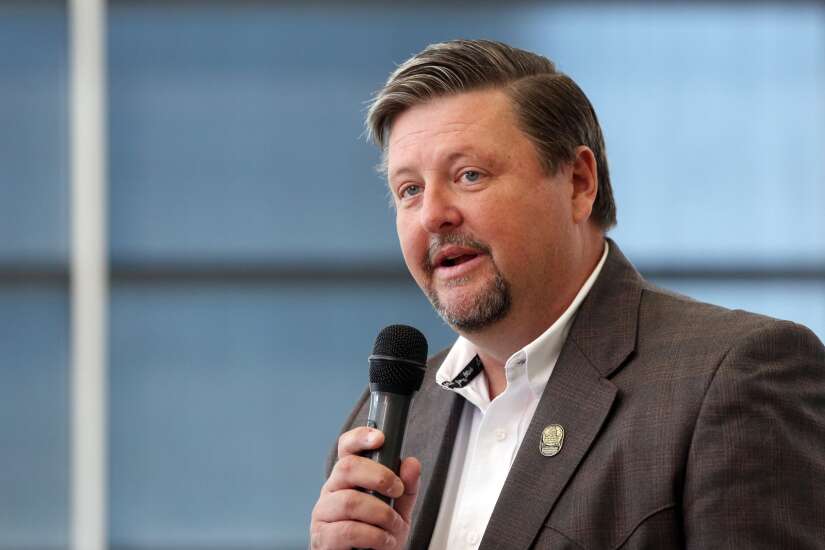 CEDAR RAPIDS — With a new Linn County Board of Supervisors in 2023 may come new meeting times.
The supervisors will officially vote on a new meeting time during Wednesday's formal meeting, however it seems likely that all three supervisors will agree to switch the work and formal session meeting times from 11 a.m. to 10 a.m.
Louie Zumbach, entering his third year as a county supervisor after previously being an Iowa legislator, has become the new chair of the three-member board. Zumbach is the only Republican on the board.
"Thank you for your vote of confidence," Zumbach told his colleagues on Tuesday.
Joining him as vice chair is last year's chair Ben Rogers. Rogers, a Democrat, returns to the board for his fifth term serving the county. He was reelected in November over Republican challenger Brent Mason.
County newcomer Kirsten Running-Marquardt, who is coming to county office after more than a decade in the Iowa legislatures, also joined the board for her first supervisors meeting on Tuesday.
Running-Marquardt is a Democrat who won an open-seat race against Republican challenger Mark Banowetz in the November election.
The suggestion to move the meeting time earlier in the morning came from county staff. Longer supervisor meetings that begin at 11 a.m. tend to cut into the lunch hour and push staff work back into the afternoon.
"My office has a vested interest in those meeting times," Linn County Auditor Joel Miller told the supervisors on Tuesday. "The time proves to be problematic for that. Some of those meetings run into the lunch hour so the morning is pretty much shot and in the afternoon, they have to play catch up on the minutes. So it would be nice to move it up earlier so meetings can be typed up and recorded while they are still fresh."
Zumbach proposed that the Monday morning work session and Wednesday morning formal session begin at 10 a.m., while the Tuesday morning department updates start at 9 a.m.
"I know the time we have now is a struggle for staff so I was willing to put it on the agenda," Zumbach said.
Neither Rogers nor Running-Marquardt had an issue with the proposed new schedule. The supervisors will vote officially on Wednesday to make the change.
"We're trying to make this convenient for our internal customers in the staff, but our external customers in the public as well," Rogers said. "Evening times are problematic with overtime and other issues that are solvable, but the reason why we hold our meetings during daytime work hours is typically for those reasons."
Miller also suggested to the board that the supervisors hold meetings around the county in the various cities in the future.
"I think 10 a.m. consistency is great. What we can do to make things easier for the workforce is important to do and I also appreciate Auditor Miller's suggestion in going to other communities as well," Running-Marquardt said.
Zumbach said the idea of going to other communities is great, but he would want to make sure that doesn't cause a new issue for staff moving forward.
"I'm not against it, but it needs more thought other than more people may come if we're in their area," Zumbach said.
"I think it's a great suggestion and we can reach out to mayors and city clerks to see if we could even do lunch and learn type sessions with city councils and make them open to the public with public comment," Rogers added. "I think there are ways we can do that that's beneficial for the communities."
Comments: (319) 398-8255; gage.miskimen@thegazette.com