Lessons learned from Floods of 2008 helped Cedar Rapids this time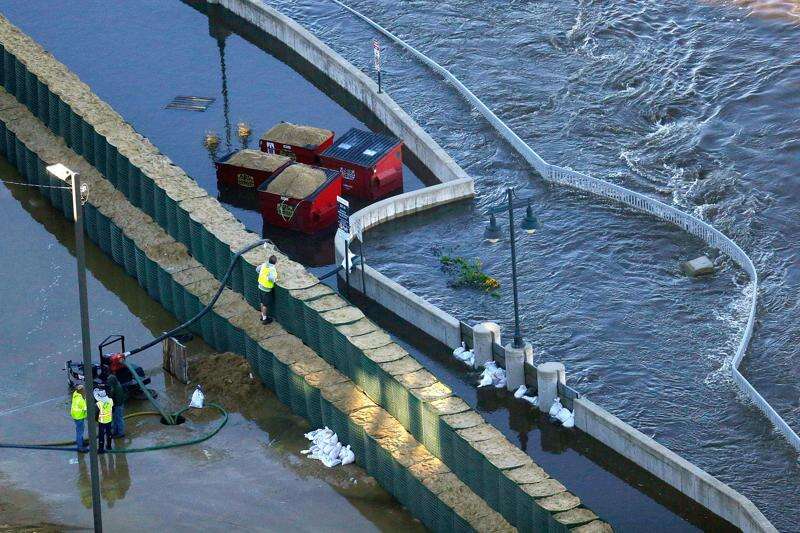 CEDAR RAPIDS — No one here is fooled: the 21.97 feet of Cedar River floodwater that threatened the city this week is nothing like 31.12 feet.
Click through the gallery above to see scenes from 2008 compared to 2016.
The 9-foot-plus difference between this week and the historic flood of June 2008 played the biggest role in making sure the city didn't experience a second major flood disaster in eight years.
With that said, the city has made great strides in its flood-fighting prowess since the multibillion-dollar disaster that has taken nearly ever since to recover from, said City Council members Kris Gulick and Justin Shields. They are among those who know best.
They were on the nine-member City Council in 2008 and they also were in place last week as the city successfully mobilized to defend against a potential catastrophe.
The city's current mayor, city manager, public works director, police chief and six of the nine council members can't say as much — that they were in a leadership position with the city both then and now.
From his history of front-line experience, Gulick said the education that the city obtained since 2008 was on full display this time — an education he said included improved planning, better teamwork and a new weapon of temporary flood protection — sand-filled, stackable barriers.
Nonetheless, Gulick said the success against a river that climbed to its second-highest crest ever only has magnified the key lesson of 2008.
And that is: no amount of genius, planning or new flood-fighting equipment would have protected the city if the river had crested at 31.12 feet as did on June 13, 2008.
He said the city must continue efforts to complete construction of a permanent flood control system — the new riverfront amphitheater and the block-long flood wall in front of the new CRST building are parts of it — as it works to obtain help from the federal government and continued support from the state.
'We dodged a bullet this week,' Gulick said. 'But permanent flood protection is the only way to avoid hundreds of millions of dollars in damage' in the future.
Back in 2008, Gulick said, the city still was adjusting to a new form of government that voters put in place starting in 2006. The new setup brought the city's first professional city manager, organizational shake-ups and a part-time council of nine members.
He said taking on the crisis this time shows how the city government has matured and how 'tightly' departments work together.
Council member Shields said the key question he had for Jeff Pomeranz before he voted to hire him as city manager in 2009 was if Pomeranz could guarantee that the city never had another flood disaster if at all possible.
'He told me he would do everything he could to put the right people in place and to study that types of things cities across the country were doing' to prevent disasters, Shields said. 'And he's done that. He's completely reorganized city government and has brought in aggressive, highly skilled people. They analyze problems and don't give up until they find solutions to them.'
By late in the week, though, Shields said he wasn't willing to declare victory over the 2016 flood until he knows for sure how much damage to basements it left.
For his part, Gulick said it remained clear that no city government in 2008 could have changed the scope of the disaster that June because the river had reached its historic level in unexpected fashion.
A 2008 post-flood assessment concluded that heavy rain in and near Cedar Rapids as the river was cresting was the reason the river jumped to an unimaginable level.
Back in 2008, the flood had seemed a manageable crisis when the National Weather Service predicted a crest of 21.5 on June 9, or 1.5 feet higher than ever before.
The next day, June 10, the projected crest had risen to 22.1 feet, with a caveat: 'Feel free to use this in your story,' Jeff Zogg, a weather service hydrologist, said that Tuesday evening. 'This is a historic event. These are river stages we've never seen before.'
By Wednesday, the crest projection climbed to 24.7 feet, to which then-City Manager Jim Prosser responded that the river's might had exceeded the city's capability to protect against it.
At daylight that Thursday, the city awoke to a hard rain, filling creeks that feed into the Cedar River, creating something of a flash flood into a river as it was nearing its crest on Friday morning, June 13.
In last week's flood, Gulick said the city enjoyed the luxury of having four or five days without ongoing heavy rains to prepare.
'We had time on our side this time,' he said. 'In 2008, we didn't.'
Eight years ago, he said, the city had a detailed implementation plan for installing emergency flood protection according to what history had taught up until then. Only twice in city history, 1851 and 1929, had the river reached 20 feet, though it had climbed to 19.27 feet as recently as 1993.
'We had confidence back then (in 2008) to the 20- or 21-foot level,' Gulick said. 'But things changed very quickly.'
This time, the city installed temporary protection designed to try to protect to 26 feet, he said.
By midweek with the river falling, City Manager Jeff Pomeranz said the temporary protections had succeeded. Even so, he said water coming out of the ground and back through the sewer system left some basements with water. He characterized the victory as 'a good deal of success,' not total success.
Pomeranz this week acknowledged the many improvements the city had been able to make since 2008 with the help of federal disaster dollars, state and city dollars, private donations and private investment.
The vast majority of the most at-risk homes and businesses, for instance, had been bought out and most have been demolished. The number of buyouts totaled more than 1,400 since 2008.
In addition, the city was able to replace its flood-damaged library, central fire station, public works building and animal shelter on higher ground and to renovate and better protect City Hall, the Veterans Memorial Building and Paramount Theatre.
The city also was able to raise all of its drinking-water wells and to install a flood protection system around its wastewater treatment facility.
Jon Nania, supervisory hydrologist with the U.S. Geological Survey's Iowa Water Science Center in Iowa City, said his agency learned in the flood of 2008 how to provide better real-time monitoring of water levels on flooding rivers.
In 2008, Nania said he was one of the USGS staff members who tried to launch a boat into the flooding Cedar River to get to the agency's disabled river gauge near downtown. They gave up and instead resorted to a temporary gauge, which after a time again began to deliver crucial data.
Since 2008, he said the USGS has added gauges at Vinton and Palo on the Cedar River and has installed flood-hardened gauges in Cedar Rapids and in many of the 200 statewide gauge sites.
Just last week, he said the agency also installed two backup sensors in Cedar Rapids as heavy rain fell in the Cedar River watershed.
Mike Cappannari, external affairs director for the Federal Emergency Management Agency's Kansas City regional office, said that FEMA's hope is that investments the agency made in property buyouts and building relocations in Cedar Rapids after 2008 will lessen flood impacts.
He said FEMA's help to fund the move of the National Czech & Slovak Museum & Library to higher ground after the 2008 flood is one of the 'most impressive examples' of action taken after one disaster to prevent another.
In this effort, the city, using city crews and private contractors, erected nearly 10 miles of temporary flood protection in about two days with sand-filled barriers and earthen levees at a cost that City Manager Jeff Pomeranz has estimated at $7 million.
As floodwaters began to recede this week, Mayor Ron Corbett turned to a sports metaphor.
He said the city is 1 and 1 with the river. It lost in 2008, but won this time, though not without some damage.
He said the next match is coming, maybe next year or in eight years or who knows, he said.
He said the city needs to push for better runoff control in the watershed north of Cedar Rapids and for federal funding help for a permanent flood protection system.
Until success on those fronts, he said, 'there will be a rubber match with the river.'