Judge hears arguments in lawsuit over Bruce Harreld hire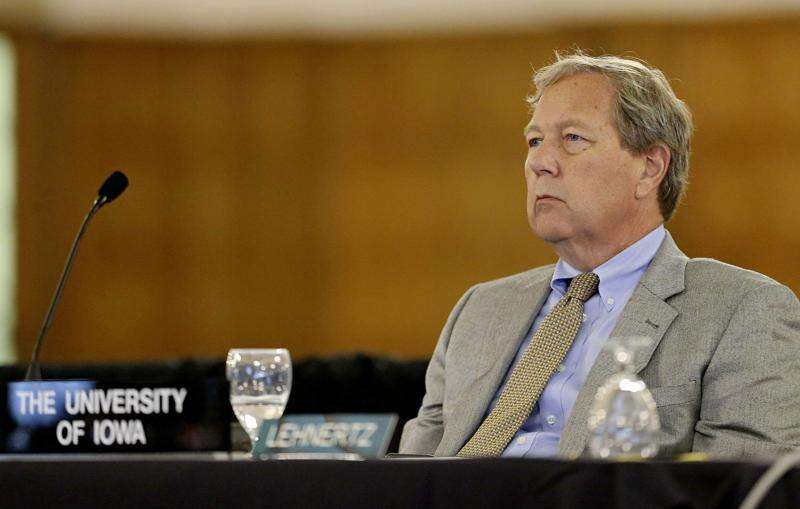 DES MOINES - Accusations that the Board of Regents violated open meetings laws when five of its nine members met privately in small groups with then-potential University of Iowa presidential candidate Bruce Harreld in 2015 are 'legal fantasy," an attorney for members of the board told a judge Thursday.
'This is not a complicated case," Richard Sapp, representing former Regents Bruce Rastetter, Katie Mulholland and Mary Andringa, told Polk County District Court Judge William P. Kelly during a hearing.
Sapp called legislative language defining an open government meeting 'plain and obvious" and requiring two things: a majority of a board's members to meet and then deliberate or take action on some matter.
That didn't happen in this incident, he argued.
But attorney Gary Dickey, representing former UI employee Gerhild Krapf in her suit against the regents, said his client will win if the case continues to trial Nov. 6.
Referencing Rastetter's time with Harreld after picking him up from the airport July 30, 2015, and driving Harreld to his office in Ames for two meetings, each with two other regents, Dickey argued the board conducted 'serial submajority gatherings" that constitute a quorum for their 'temporal proximity to each other."
'It is hard to imagine of a scenario in which five members of the board could meet in closer temporal proximity than back to back to back," Dickey said.
The attorneys were making arguments in response to a request from the regents' attorneys that the court drop the case - one of two lawsuits filed in connection with Harreld's hiring as UI president in 2015.
Judge Kelly did not rule on the request, but said he hopes to soon.
In addition to Krapf's lawsuit a second is set for trial next year. It accuses a 21-member presidential search committee of violating state laws in its off-site semifinalist interviews in Chicago.
The lawsuits dropped amid controversy over the board's decision to hire former IBM businessman Harreld, despite widespread criticism of his candidacy. Harreld had no academic administrative experiece.
Thursday, Sapp accused Dickey of bending facts. He said trying to follow Dickey was like 'trying to grab smoke."
But Dickey told judge Kelly the facts are so clear that he, too, could have asked for a summary judgment in favor of his client.
Instead, Dickey said, 'We want this case to be litigated in public court and have a full hearing."
Accusing his counterpart Sapp of oversimplifying the open meetings law, Dickey said Iowa allows for other definitions of meetings that must comply - including social or ministerial meetings that intend to avoid open meeting requirements.
Rastetter, in as deposition, admitted to as much, Dickey reported.
'When I asked him why these were staged in meetings with two regents at a time, he specifically acknowledges a worry about the requirements of chapter 21," Dickey said.
But Sapp said regents were within their rights to recruit a candidate and answer questions at his request - calling the meetings no different from what could have been phone calls.
He said they didn't deliberate, and some - including Rastetter - left after meeting with Harreld. And Sapp argued that because Rastetter didn't meet with other regents, his involvement is not legally logical.
'That, with all due respect, is legal fantasy," he said, adding the board's efforts to comply with the law while recruiting a presidential candidate during what was, at the time, a private portion of the search process, should be acknowledged.
l Comments: (319) 339-3158; vanessa.miller@thegazette.com