Iowa's three potential license plate designs unveiled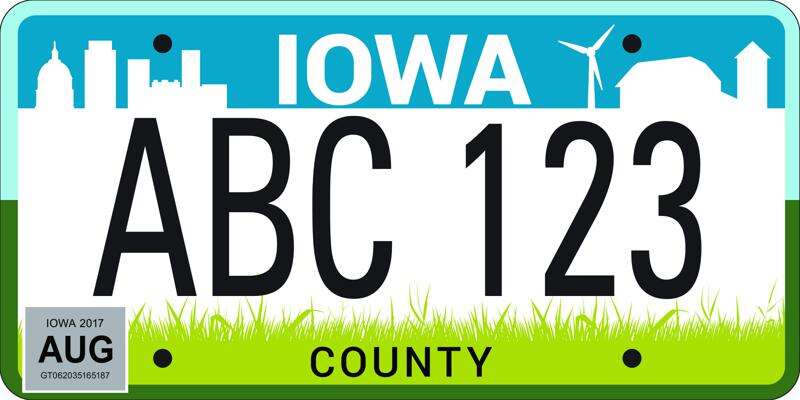 DES MOINES — Iowa Gov. Kim Reynolds showed off three new license plate designs this morning a the Iowa State Fair.
Applause was polite but not overwhelming as she and Department of Transportation Director Mark Lowe pulled back a shroud to reveal the trio of new designs.
One, called the 'city country reboot,' is similar in theme to the standard county plate Iowa has used since 1997 in that it includes the Des Moines skyline on one side of 'Iowa' and a windmill and farm on the other.
The DOT went traditional with 'flying our colors,' a plate design modeled after Iowa's flag with navy and red and a bald eagle in the middle.
The third option is called 'great wide open' and includes a blue stripe and some rolling hills and shrubbery.
'We're looking forward to having you all and Iowans weigh in on this process,' Reynolds told a small crowd assembled for the announcement in the Varied Industries Building. 'Be sure to tell your friends and family and everybody that's at the State Fair to come and mark their choice on what they think best depicts what Iowa represents and will be our billboard traveling not only Iowa but the nation.'
Iowans can vote for their favorite design at the DOT's booth (number 762-764) in the Varied Industries Building on the Iowa State Fairgrounds or online at iowadot.gov/StateFair/PickAPlate.aspx. Voting will be open Aug. 10-20.
Take our poll and tell us which design you would choose
More than 23,600 votes already had been cast online by noon Thursday, with 'city country reboot' having a slight edge over 'flying our colors.'
After considering feedback from the public and law enforcement, the Iowa DOT will choose one design in September and start rolling it out on plates in 2018.
The Gazette asked several Iowa artists and graphic designers what they think of the plate finalists.
'Nothing too flashy or busy, fairly simple,' said Jon Fowles, owner of Jonnie 5 Apparel in Iowa City. 'If I was choosing what would be on the back of my Jeep, I'd pick the navy/white/red design with the eagle from the Iowa flag in the background.'
The most important part is for law enforcement officers to be able to read the plates quickly, Fowles said. 'Of course, this is going to limit the design aspect of the plate.'
The designs were created by Iowa DOT graphic artists with input from the governor's office and several state agencies.
Right now, there will be no change to collegiate plates or other specialty plates that do not include the standard design, state officials reported.
Drivers would get new plates in phases over 10 years, but people particularly eager to get the new design could pay $5 extra when they renew their vehicle registration and get new plates at that time.
The city/country plate selected in 1997 accounts for about 4.2 million of the 4.4 million plates in circulation.
In the mid-2000s, Iowa started converting plates from embossed letters and numbers to a reflective adhesive printed and affixed to aluminum plates. The letters and numbers changed from blue to black in 2011 to improve visibility for law enforcement.
Offenders housed at the Anamosa State Penitentiary make Iowa license plates, producing more than 10,000 pairs a day.
Gazette reporter Rod Boshart contributed to this report
l Comments: (319) 339-3157; erin.jordan@thegazette.com
Which is your favorite?
City Country Reboot
Flying our Colors
Great Wide Open
Erin Jordan / The Gazette