Iowa internet providers prepare for $100 million public broadband funding
A new Iowa law will allow a wider area to be eligible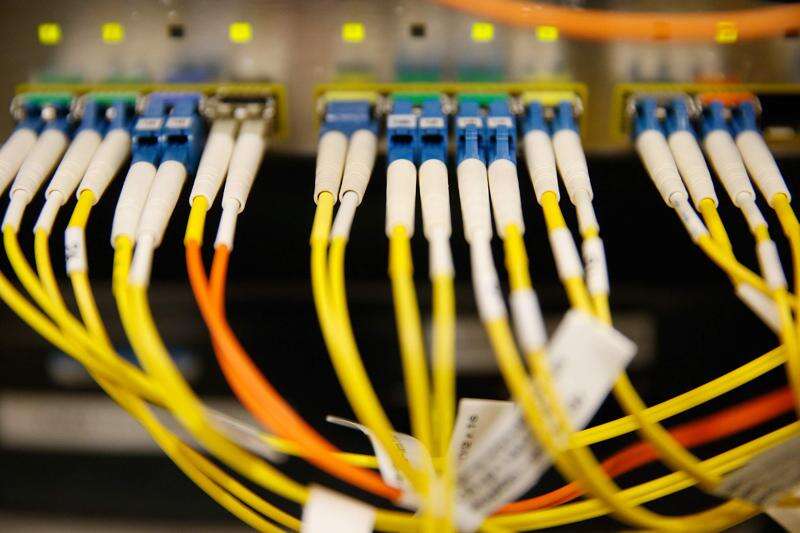 Nearly $100 million in public funding for broadband projects in underserved areas will open up to applications this week, the largest pot of state money for Iowa's broadband infrastructure to date.
This is the sixth time Iowa has provided public funds to expand its broadband infrastructure. The dollar amount is high — twice the size of the next largest round — and a new method of assessing need means a larger area will be eligible for improvements.
Internet providers also are required to provide higher speeds than in previous rounds. Providers have to offer speeds of at least 100 megabits per second download, and in most cases must match that in upload speeds.
Improving rural broadband long has been a priority for Iowa politicians on both sides of the aisle. Iowa comes in 43rd among the 50 states in average internet speed, according an April article from highspeedinternet.com. Swaths of the state have poor or no access — a problem that became even more pronounced in the pandemic as school kids switched to online instruction, people turned to telehealth and more employees worked from home. In addition, precision agriculture requires reliable and fast internet.
Last January, Gov. Kim Reynolds called for $450 million over three years in funding for statewide broadband in her Condition of the State address to the Iowa Legislature. Reynolds and lawmakers later settled on $100 million.
Reynolds signed those appropriations into law in May, and a law signed in April set up the framework for the expansion.
The state will be analyzing census blocks based on their average internet speed, and designating "targeted service areas" based on three tiers:
Tier 1: lower than 25 megabits download, 3 megabits upload
Tier 2: 25 to 50 megabits download
Tier 3: 50 to 85 megabits download
Previous rounds of funding have been offered only in areas with below 25 megabits download speed. Others also required providers build only 25 megabits minimum, but offered incentives for projects offering download speeds up to 100 megabits.
This round, which requires providers to offer faster speeds, will begin to make Iowa's broadband infrastructure "future ready," said Iowa Deputy Chief Information Officer Matt Behrens.
"It really opens the door for state incentives to touch a lot more locations and a lot more people, which is a good thing," he said.
For applications that are approved, the state will provide a portion of the funds, from 35 to 75 percent, depending on the tier level of the project. While the map of areas eligible for public funding won't be available until Thursday, service providers in Eastern Iowa are showing interest.
Chris Hopp, general manager of Alpine Communications, said he anticipates that the company will apply for the funds. He said Alpine plans to focus its efforts on north Clayton and Fayette counties.
Alpine Communications has applied for state broadband funding in the past, and Hopp said the opportunities have allowed it to bring fiber internet to rural and hard-to-reach areas.
"Northeast Iowa is an expensive place to build, and without these grant opportunities, maybe some of these places wouldn't be able to have access to 100 by 100 megabits per second," he said.
In Washington County, Kalona Community Telephone Cooperative provides fiber internet to Kalona, Washington, and surrounding rural areas. The company's general manager, Casey Peck, said she plans to apply for a grant.
In rural areas with only a few customers, Peck said the infrastructure cost makes it difficult to provide high-speed internet. Public grants help cover some of those costs, but Peck said there are areas the Kalona cooperative has built out with previous grants that may never recover their cost.
"Even with public dollars you're still taking a hit on a couple of the census blocks," she said. "There might be one or two customers per mile … It'll be a really long time before you recover those dollars in that census block."
Broadband also was a focus of Reynolds' pandemic-inspired Economic Recovery Advisory Board. The board's final report said the need for high-speed internet across the state was illuminated during the pandemic.
The board's recommendations, and Reynolds' own goal, is to have universal broadband access throughout the state by 2025. A report from the board estimated it may cost $810 million, between public and private investments, to build high-speed broadband in every part of the state.
Building out this network, Behrens said, will better enable Iowans to engage in digital society and prepare them for the future as bandwidth needs swell.
"In the final analysis, this is about an Iowan having access to connect to the internet and use it in rural Iowa in the same way they can use it in downtown Des Moines and there not be a disparity between those groups as they participate in the internet and grow as Iowans, as citizens, as business owners, as students," he said.
Comments: (319) 398-8473; caleb.mccullough@thegazette.com