Iowa DOT sees many automated cars in I-80's future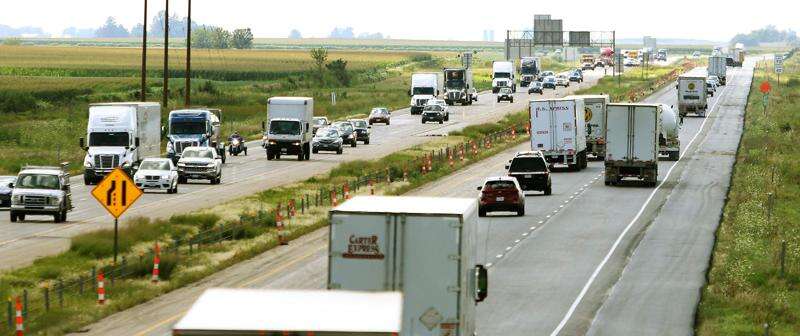 By 2040, at least a fifth of the traffic on Interstate 80 in Iowa will be highly automated, a new Iowa Department of Transportation study predicts, and planners need to take into account the changes when preparing for the future.
The study, which is part of a larger Iowa DOT analysis aimed at positioning rural parts of I-80 for the future, says the higher levels of automation would mean increased capacity and fewer accidents.
'These technologies have the potential to really improve safety," said Brad Hofer, assistant director of the Iowa DOT's Office of Location and Environment, which was in charge of the study.
Automated vehicle technologies are under rapid development. And although driverless cars are far into the future, some experts say, the idea that a significant share of traffic along Iowa's main east-west highway would be highly automated in less than 25 years is striking.
'In the beginning, I think we were all taken aback by it," Hofer said. However, after discussions with industry sources and others, he thinks the prediction is 'in the ballpark."
The Iowa DOT study, released last month, acknowledges that predicting the adoption of automated vehicle technologies is uncertain.
In fact, the Iowa DOT's prediction was that by 2040, somewhere between 20 and 85 percent of traffic will be highly or fully automated.
That's a wide range. Even at the low end of use, however, safety gains would be significant, the study said.
At 25 percent use, the study predicts, 'a nearly 20% crash reduction is anticipated." At 85 percent, the study predicted, there would be a 50 percent reduction in fatalities and major injuries.
By 2060, the study said, 65 to 100 percent of I-80's traffic is expected to be highly automated.
There are varying levels of automation. The Society of Automotive Engineers defines six levels, with 0 being not automated at all and 5 being fully automated. The Iowa DOT's predictions refer to the two highest levels, Hofer said.
There are significant differences between levels 4 and 5, said Dan McGehee, director of the National Advanced Driving Simulator at the University of Iowa.
'It doesn't mean you're going to have robots driving I-80," he said. However, at level 4, specific functions have a high level of automation.
McGehee thinks use of driverless cars is far into the future.
'I don't see that happening for decades," he said.
Iowa has been aggressive in planning for the future of transportation.
The state currently is in a partnership to create high definition maps of hundreds of miles of roads in the Iowa City/Cedar Rapids area to ready itself for higher levels of automation.
The I-80 study, which was launched a year ago, is aimed at informing policymakers on how to proceed with an increasingly busy rural interstate, particularly in Eastern Iowa.
Much of the study is pointing to a six-lane I-80 in the future. In Eastern Iowa, traffic is approaching the interstate's capacity now, Hofer said.
The addition of automated technology helps with that problem, he said, but likely would not stop the need for six lanes in the eastern part of the state.
Greater use of automated technologies could affect the timing and shape of expansion in some parts of the state.
Several other considerations are going into the I-80 study. Already, Iowa DOT has issued technical reports on the status of bridges spanning the interstate, the option of lane restrictions and investing in state highways that parallel I-80.
A final report is due by next year.