Iowa City food waste study diverts 1,000 pounds from landfill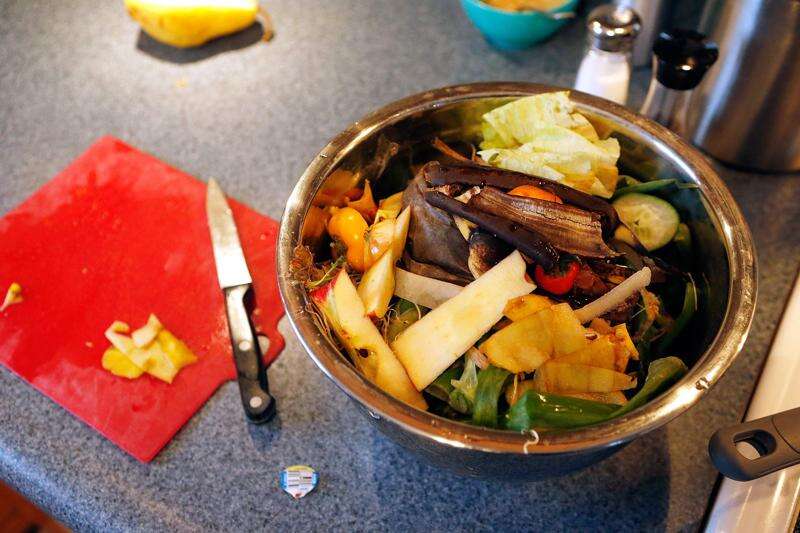 IOWA CITY - Fifty Iowa City families diverted 1,000 pounds of food from the garbage through a six-week food waste study coordinated by the City of Iowa City.
All those banana peels and coffee grounds add up, said Alli Homan, 26, who joined the study with her husband, Jordan, 30, and 14-month-old son, Titus.
'It was interesting to see what we threw away and how much better we could do," Homan said.
Forty percent of food in the United States goes uneaten, according to the National Institutes of Health. More than 34 million tons of food waste was generated in 2010, with most of that going to landfills where it creates methane, a potent greenhouse gas.
Food makes up about 15 percent of Iowa landfill waste.
The U.S. Environmental Protection Agency estimates a family of four can save more than $1,600 a year by changing in how they shop, prepare and store food to prevent food waste.
'We're a one-income family," Homan said. 'So anything we throw away is basically throwing away money."
Study participants were volunteers from five Iowa City neighborhoods spread across income levels and the map, said Jane Wilch, recycling projects assistant for the city. Wilch asked participants to track how much they spent on food and weigh the food they composted each week for six weeks last summer.
Families were given waste-reduction strategies from the EPA's Food: Too Good to Waste program. Advice includes only buying what you need, canning or freezing food to extend use and moving leftovers to the front of the refrigerator.
'The goal was to see if a household would reduce food waste over the six-week period in implementing the strategies," Wilch said.
Data collected from the study didn't show significant declines in waste. Part of that was because participants were measuring both preventable food waste (wilted lettuce, spoiled leftovers) and non-edible food waste (banana peels, watermelon rinds) in the same container.
One big load of corncobs could skew the numbers in the relatively-small study, Wilch said.
Families involved in the study got curbside pickup of food waste. The city is planning to offer that service citywide for the first time next year.
Iowa City has been composting food waste since 2007 and sells compost for $20 a ton to area landscapers, builders and homeowners.
Cedar Rapids residents may put food waste in their green Yardy carts and get one free ton of finished compost per visit to the Cedar Rapids/Linn County Solid Waste Agency's compost facility.
Study participant Darcy Honick is eager to see some of those options coming to Iowa City. The 58-year-old moved to Iowa City last year from California, where compost pickup is more common. Her kids are grown now, but even when they were younger, she and husband, Arnold, had a family goal of having only one garbage bag in the bin each week.
'I'm excited to see the long-term implications" of the study," Honick said. 'Will we be able to have a separate compost container? That would be fantastic."