Indian performers share their culture, welcome spring in Cedar Rapids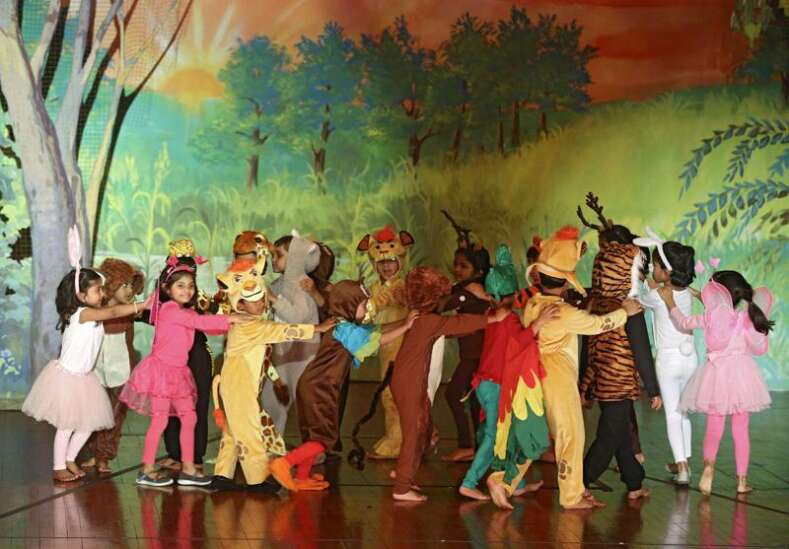 CEDAR RAPIDS - A weekend festival in Cedar Rapids aimed to embrace Indian culture while welcoming spring through song and dance.
The Friends of India Association of Cedar Rapids hosted its annual Spring Festival Saturday at the Scottish Rite Temple, 616 A Ave. NE. The event, which drew about 300 people, featured a variety of performances ranging from classical ballads to Bollywood infusions to a depiction of a well-known tale, 'The Jungle Book."
Roughly 70 performers - from as young as 6 to high school seniors - took to the stage.
Since most of these children are first generation Americans, participating in the Spring Festival is a way for them to embrace their roots, said Amit Suri, Friends of India Association president.
'(Parents) like to have them exposed to the American culture, but for (them), this is another opportunity, at least for the kids, to stay rooted to where their parents have come from," Suri said.
Devyani Patel, 47, of Cedar Rapids, attended the event to support her daughter, Sonali Patel, 16, one of the performers.
Patel echoed Suri, saying it can be a challenge to keep up traditions at home.
'(The children) do start learning when they're born and brought up, but once they start going to school, it's a little bit of a challenge," Patel said. 'This is the way to keep them in touch with our culture as well."
Suri said the Spring Festival serves a dual purpose by providing an opportunity to showcase Indian culture to the community at large.
'Working through this organization, I personally felt there are so many individuals and organizations who many times have gone way above and beyond to make us feel included as members of the community of Cedar Rapids," Suri said. 'So when we talk about events like this, this is an opportunity for my organization to show our appreciation for this diversity and inclusion."
Friends of India Association of Cedar Rapids was founded in 1994 by a group of people who wished to maintain and share their Indian heritage, according to the group's website at foicr.org. Suri said the group currently has about 400 members.
l Comments: (319) 368-8536; michaela.ramm@thegazette.com