How to stop porch pirates from ruining your holidays
Survey: 64% of Americans will do holiday shopping online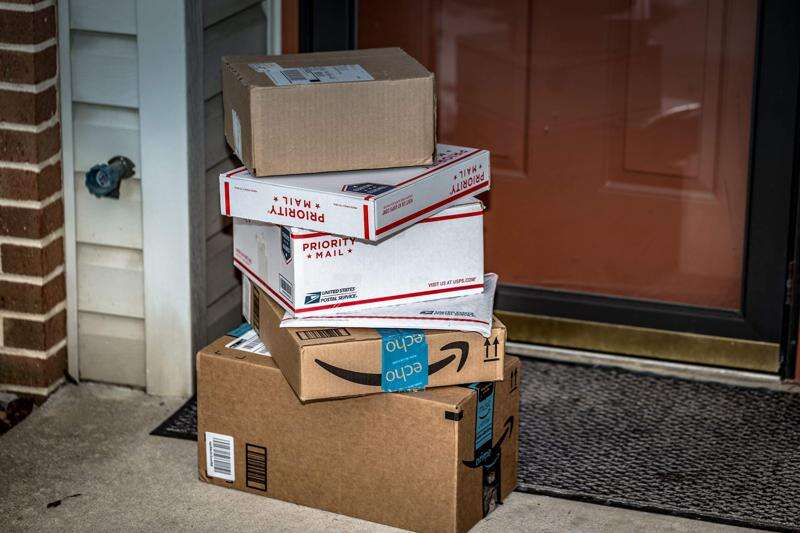 Porch pirates are arriving early this holiday season.
According to a newly released survey conduced by SSRS research on behalf of insuranceQuotes.com, 26 percent of Americans have reported a package stolen from their porch or doorstep. In addition, 64 percent say that all or most of their 2022 holiday shopping will be done via online delivery, compared with 40 percent last year.
Further, 43 percent of Americans say they will start their holiday shopping earlier than ever this year.
Meaning porch piracy is going to continue to be a widespread issue this holiday season.
A C+R Research survey found 43 percent of Americans had a package stolen in 2020. And larceny theft — including package theft — was the most reported crime in 2021 with nearly 3 million reports, more than all other crime categories combined, according to FBI crime data.
That's up from than 2.4 million reported incidents of larceny theft in 2020.
The U.S. Postal Inspection Service secured 1,263 convictions in 2021 for mail theft, according to its annual report. That figure does not account for packages delivered by other carriers such as UPS, FedEx, DHL or Amazon.
An accurate estimate of the number of packages stolen each year in the United States is difficult to ascertain, according to industry analysts and law enforcement, as much of the theft goes unreported.
Cedar Rapids police received 224 reports of package theft in 2021, or an average of 19 reported package thefts a month. Since 2019, the department has seen a total average of 17 reported package thefts for the month of November and 28 for the month of December.
Iowa City Police had 17 confirmed porch thefts in 2019 for the months of November and December; 12 confirmed porch thefts for the same period in 2020; and 19 confirmed porch thefts from Nov. 1 to Dec. 31 of 2021.
"One thing most security experts agree with is that the less time a package sits unattended on a porch, the less likely it is to be pirated," Michael Giusti, analyst at insuranceQuotes.com and author of 2022 Porch Pirates: A Study on Stolen Holiday Packages Report, said in a statement. "One way to limit that porch time is to sign up with the shipping companies' tracking apps. Many of them will notify shoppers as the shipment is just a few doors down. Once the doorbell rings and the package is left on the porch, experts say to go grab it and not let the boxes pile up or the mail to overflow from the mailbox."
According to recent data from Travelers Insurance, the average number of insurance claims for on-premise thefts has been up 28 percent on Cyber Monday — meaning individuals are more prone to theft during large online sales events. This year's e-commerce sales are Monday.
Here are some tips from the Iowa City Police Department and U.S. Postal Service to prevent package theft this holiday season:
If possible, have your packages delivered to a location where they can be received in person, such as a neighbor's home or your workplace.
Consider having your package delivered to a local store or post office for pickup.
Take advantage of delivery alerts so you can be notified when a package arrives at your home.
When possible, request the delivery company to hold your package at their closest facility until you can pick it up.
Provide delivery instructions so packages can be left in a specific location, out of sight from the road or sidewalk. Make sure it is well lit and check your delivery location often.
If you have a home security camera system, ensure it captures activity at your front door and mailbox. If there is a theft, save the video and alert your local postal inspectors.
If you're planning on being away from home for a few days, put a hold on mail service at USPS.com. Letters and packages sent through the Post Office will be held securely at the local post office until you return.
Speak to your landlord of homeowners association to ensure your building is secured and that doors are not propped open.
Consider investing in low-cost technology, such as motion-activated lights and cameras.
Use social media to connect with neighbors, establish neighborhood groups and communicate with each other about known issues.
Be vigilant and be on the lookout for anyone or anything that seems out of place.
Work with neighbors to secure packages when you are away or unable to pick them up.
What if your mail is stolen
If you believe your mail delivered by the Post Office was stolen, report it immediately by submitting an online complaint at uspis.gov/report or calling 877-876-2455.
"By analyzing information from your complaint, postal inspectors can determine if your problem is part of a larger mail theft investigation — the information you provide can assist Inspectors in identifying suspects," said Derek Ryan, acting public information officer for the U.S. Postal Inspection Service in Des Moines.
If you see a mail thief, call police immediately, then report it to the U.S. Postal Inspection Service at 877-876-2455. If you notice something unusual or damaged on a mail receptacle, contact your local post office to report it, and notify postal inspectors.
For more information, visit www.uspis.gov/holiday-2022.
Comments: (319) 398-8499; tom.barton@thegazette.com