Hawkeye swimmers' clothing line causes NCAA violation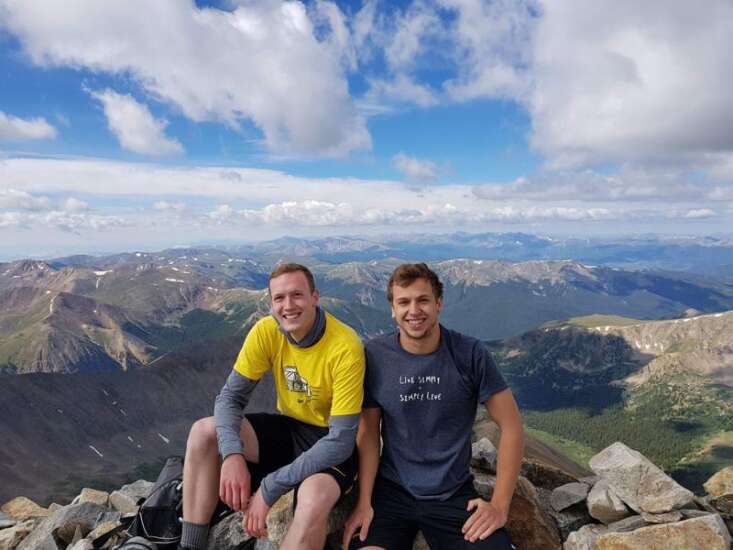 IOWA CITY - Chris Dawson and Tom Rathbun launched their company, Trailheads Apparel, Feb. 2, followed a few days later with a GoFundMe page that raised $645 in two days.
Not bad for college student entrepreneurs.
The only problem was Dawson and Rathbun are University of Iowa swimmers, who, as college athletes, are prohibited by the NCAA from using their names, photos or athletic links to promote their own businesses.
'We tried our best not to put anything about swimming in it," Dawson, a UI senior and freestyle swimmer from Centennial, Colo., said about their online pitch for the company that produces T-shirts with slogans like 'Camping? It's in-tents."
But the GoFundMe page included the founders' names and bios saying they met as swimmers at Iowa, which resulted in a report to Lyla Clerry, UI associate athletics director for compliance. Clerry said these type of violations are popping up more frequently across the country.
'It's become more common," Clerry said. 'With online and social media, it's easier to establish (a business or company)."
Whether student-athletes should be allowed to make money from their status isn't a new question, but has become more heated in recent years as student-athletes push back against the idea their education is compensation enough for the billions of dollars athletes in some sports (football and men's basketball) make for universities.
Just last month, former University of Central Florida kicker Donald De La Haye was declared ineligible and lost his scholarship when he refused to stop taking ads on his popular YouTube channel.
'They wanted me to give up my money that I made, which is crazy," De La Haye said in a video he posted July 31, according to ESPN.
Iowa State University also had an incident in January in which a Cyclone men's basketball player started an online apparel company that used photos of his teammates in the gear, said ISU Compliance Director Kurt Hunsaker. NCAA rules required the student-athlete to remove all the photos until the end of the season, when the player's sports eligibility was done, Hunsaker said.
At UI, Clerry asked Dawson and Rathbun to take down their GoFundMe page, which they did, and the swimmers were declared ineligible while they negotiated a waiver with the NCAA.
To keep their company and remain UI swimmers, Dawson and Rathbun had to remove their names, photos and any reference to UI or swimming from the Trailheads Apparel website. Now, the message about the company, which includes the promise to donate 15 percent of proceeds to American Red Cross disaster relief, gives the founders' names only as Rocky and Slide.
But the swimmers don't mind separating the company from their sport because it gives them a creative escape from the pressures of school and swimming, said Dawson, who does the art for the shirts. 'We've definitely spoken about continuing it in our future."
l Comments: (319) 339-3157; erin.jordan@thegazette.com