Group in Iowa seeks lawyers to represent unaccompanied immigrant children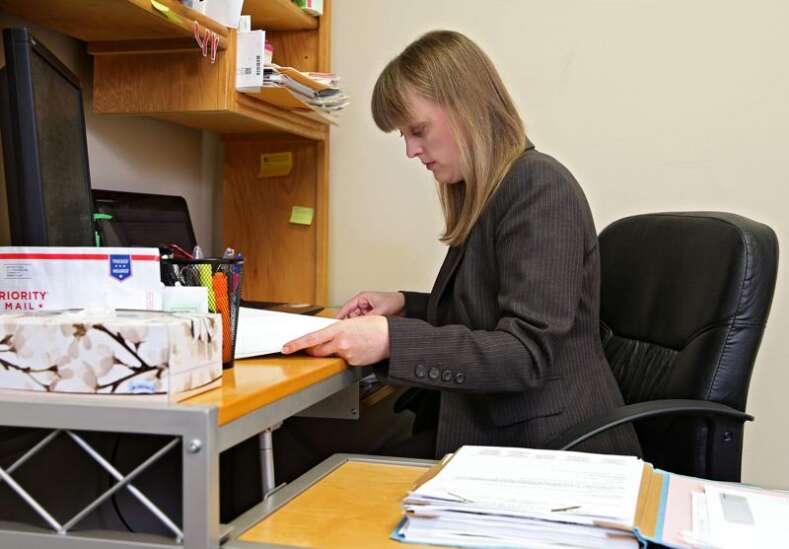 As the U.S. government works to expedite deportation hearings for an estimated 60,000 unaccompanied immigrant children who have arrived in this country from Central America over the past year, a group of Iowa lawyers is working to make sure children who have arrived in the state receive their fair day in court.
Many of these children have viable legal claims to stay here under federal law, said Stella Burch Elias, a University of Iowa professor of immigration law.
Whether they have a lawyer to argue that claim is another story.
In U.S. criminal court, the government will appoint a lawyer to a defendant who cannot afford legal counsel. Immigrants facing deportation have no such guarantee.
That means children may find themselves alone in front of an immigration judge, facing a lawyer from the U.S. government arguing they should be removed from the country.
'They're somewhere they don't understand the law and they don't understand the language,' Elias said. 'All of us, in order to navigate complex legal systems, need guidance from someone who understands the system. Immigration law is Byzantine.'
According to an analysis of more than 100,000 case records by Syracuse University's Transactional Records Access Clearinghouse, 48 percent of children appearing in court to determine whether they should be deported appeared without an attorney, as of the end of June 2014.
For about half the cases in which children were represented by a lawyer, they were allowed to remain the United States. However, only one in 10 juveniles without an attorney were allowed to stay.
'Whether or not the children are represented by a lawyer has a huge impact on the proceedings,' Elias said. 'This disparity does not have to do with the validity of the children's claims. It's hard to fathom that could be the case.'
She and her husband, Bram Elias, also a UI immigration law professor, want to address that disparity and have teamed up with the Caring Cities campaign in Davenport — an effort spearheaded by Davenport Mayor Bill Gluba to provide assistance to unaccompanied immigrant children.
The partnership is working to set up free classes for lawyers who want to take on immigration cases pro bono but don't have a background in immigration law. The classes, which will be free, will provide continuing education credit.
Stella Burch Elias said they are still reaching out to lawyers to assess level of interest, which will determine where and when they hold the class sessions.
Lawyers who receive training also will be connected with a mentor lawyer from the Iowa-Nebraska chapter of the Association of Immigration Lawyers. After the training, lawyers will be added to a list of those willing to take on pro bono immigration cases.
Justice for Our Neighbors, a not-for-profit that works on immigration issues, maintains the list, along with a free hotline for people looking for legal help with immigration proceedings.
The organization works with volunteer lawyers as well as private lawyers who charge for representation. Some take on both kinds of cases.
But there are not enough lawyers available to meet the current need, said Summer Allchin, a lawyer who volunteers with the organization. She also represents private clients as an immigration attorney for the Muscatine office of Cedar Rapids-based law firm Nidey, Erdahl, Tindal and Fisher PLC.
She is representing several minors who arrived in Iowa from Guatemala, Honduras and El Salvador over the past few years. The youngest is 15 years old, while the oldest has turned 21 since arriving in Iowa.
Most left their home countries because they were targeted by gangs, she said, and came to Iowa because they had relatives or family friends in the state.
Elias added that most observers agree the current wave of children fleeing Central America began in mid-2011, escalating through 2012.
'The arrival of unaccompanied children in the United States is not a new phenomenon,' Elias said. 'Historically, waves of unaccompanied minors have arrived on our shores at times of crisis — ranging from children fleeing Nazi Germany in the 1930s, to those fleeing Castro's Cuba in the 1960s, or Nicaragua or the former Soviet Union in the 1980s and '90s.'
There are several legal options for them, she said, depending on why they left their home country.
Those feeling persecution, such as being targeted by gangs, may qualify for asylum. Special immigrant juvenile status can apply to children who have been abused, abandoned or neglected.
There are also T-visas, available to victims of human trafficking, and U-visas, for victims of certain crimes.
'There are so many people who have really good immigration cases but cannot afford an attorney,' Allchin said. 'And it could literally be a life and death situation for them.'
She recently returned from a trip to Texas, where she volunteered with the not-for-profit Raices, assisting with initial interviews for children newly arrived in San Antonio. Lawyers interviewed the children to determine if they had a strong legal claim.
While there, Allchin heard stories of extreme poverty, sexual and physical abuse and children dropping out of school to avoid gang recruitment.
'They're children. I just couldn't sit here and do nothing,' she said. 'I want to be able to tell my grandchildren some day I was able to do something in my own way.'
FYI: Lawyers can help
The Caring Cities Campaign is organizing training sessions for lawyers who do not regularly practice immigration law.
Topics covered will include:
• Practice before the Executive Office of Immigration Review
• Asylum law
• Special immigrant juvenile status
• Visas for victims of violence and trafficking
• Prosecutorial discretion in immigration proceedings
• Mentoring by the Iowa-Nebraska Chapter of the American Immigration Lawyers Association
The training sessions will be led by:
• Stella Burch Elias, University of Iowa College of Law associate professor
• Bram T.B. Elias, University of Iowa College of Law visiting associate professor
• Dan Vondra, Cole and Vondra partner
To register for a session, contact Nora Dvorak, dvoraknp@aol.com, or Stephanie Lynch, stephanie-lynch@uiowa.edu.