Ground Floor Revisited: Iowa Grown Market continues to ripen near West Branch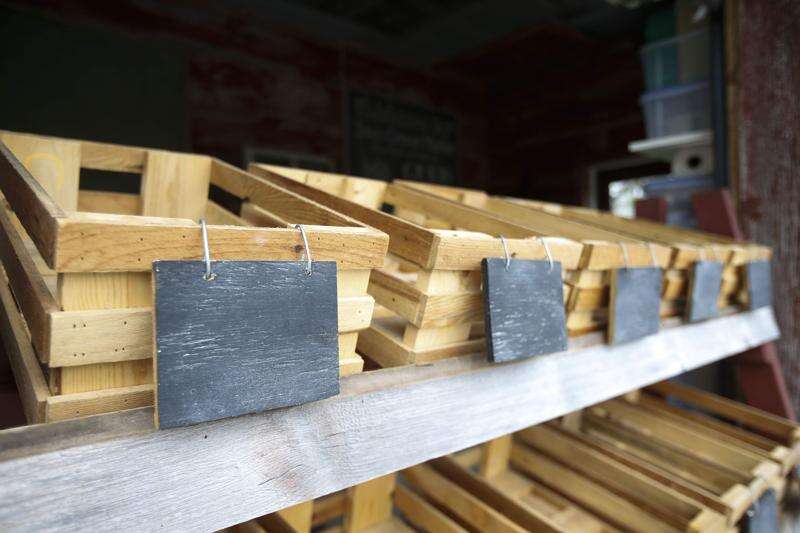 EDITOR'S NOTE: Each week, Ground Floor profiles entrepreneurs just starting out with new business ventures. From time to time, we check back with some of them to see how things are going in Ground Floor Revisited.
WEST BRANCH: When we first visited with Vince Waters in October 2013, the Iowa native had recently returned from a decade in Alaska, where he obtained a degree in natural resources management. Through his new business, Iowa Grown LLC, Waters was applying conservation principles to produce food on his family's farm outside West Branch.
Now, Waters and his partner, Bethany Fischer, sell that food at Iowa Grown Market, a seasonal roadside stand just off Highway 1 between Iowa City and Solon. Waters and Fischer first opened the stand in July 2014 and will reopen for the season on May 14.
'Initially, we'll have asparagus, mushrooms, lettuces and rhubarb,' Fischer said, noting that the selection of fresh produce will increase over the course of the growing season to include customer favorites such as sweet corn, tomatoes, green beans, berries and melons.
This year, customers will have even more options.
'We started with maybe 40 different species of annuals and perennials,' Waters said. 'We're now up to over 100.'
In the early days of the business, Waters and Fischer focused on perennial crops such as asparagus, mushrooms and berries.
'We've definitely expanded the annual garden, and we've added more to the perennial beds,' Fischer said. 'We've added new things based on customer requests and a desire to have things you can't find in the grocery store.'
Not all of the additions have been a success, though.
'Purple carrots are an example,' Fischer said. 'I grew them the first year because I thought they'd be so fun, but most people were weirded out by them.'
The market's offerings include items produced by local farmers, gardeners and artisans that are sold on a consignment basis. Things such as honey produced by a local beekeeper and lathe-turned wood bowls created by a local craftsman give customers even more choices.
This year, Waters and Fischer are seeking garden art, baked and canned goods, fruit, and other locally grown or handmade items that their customers might enjoy.
Customers can find an up-to-date listing of available items on the Iowa Grown Facebook page.
Waters and Fischer said that the growth of their business has required an ongoing education process.
'We are learning so many different things, like rotating between five different plots to avoid disease or insect problems,' Waters said. 'So far we are doing really well.'
'This year is going a lot smoother now that we have the equipment, tools and know-how to keep our costs down,' Fischer added. 'We keep trying new techniques to save time and money.'
They also have had to educate their customers about eating seasonally.
'People wonder why we don't have tomatoes or sweet corn in June,' Fischer said. 'But our regulars really understand the benefit behind purchasing locally.'
Their future plans for the Iowa Grown Market include holding special events such as a field day at the farm and a corn roast at the market stand and establishing pick-your-own garden beds.
AT A GLANCE
Owners: Vince Waters and Bethany Fischer
Business: Iowa Grown Market
Address: 2613 Newport Road NE, Solon
Phone: (563) 886-7506
Website: www.iowagrownproduce.com
Facebook: www.facebook.com/Iowa-Grown-Market-169256043233764
Know a company or manager who has been in business for less than a year that would be ideal for 'Ground Floor'? Contact Francie Williamson at francie.williamson@thegazette.com