Former UNI wrestler Jordan Holm has Olympic goals after prison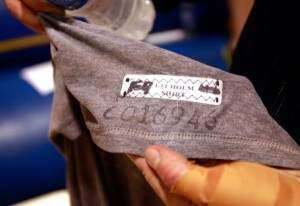 Jordan Holm started wrestling again almost as soon as he was freed from prison.
He had been a college wrestler. A good one. He reached the 2003 NCAA Division I tournament as a University of Northern Iowa sophomore, but failed to place in the top eight.
"I kind of regrouped after that," Holm said. "My goal, which I thought was very realistic at the time, was to become a national champion for the next two seasons, then continue to train in either freestyle or Greco-Roman toward Olympic or World Championships competition."
Holm never got to make another run at an NCAA title. He was convicted of third-degree sexual abuse in Johnson County in August 2003. He served six years and nine months in prison, insisting the entire time that he wasn't guilty.
Holm is on the road to reclaiming his wrestling dreams. After just more than a year out of prison, he has won significant matches and is a likely contender for the U.S. Olympic wrestling squad next year.
Victoria Cole, the former assistant Johnson County attorney who prosecuted Holm, said testimony and DNA evidence counter his claims of innocence.
Cole said it sounds like Holm has never come to terms with the fact that he was proved guilty of sexual abuse. As far as she knows the victim moved on with her life after sentencing.
"All she (the victim) wanted was an apology - for him to admit he had done something wrong and violated her. If he had apologized, she probably would have dropped the charges."
Stayed in shape
Holm, meanwhile, went to prison where the only wrestling shots he took were in his cell, toward imaginary opponents.
"Obviously, you don't wrestle when you're in prison," Holm said. "There's no unnecessary touching. But I did work out, stayed in shape, stayed very disciplined. I got stronger. I won some weightlifting competitions, stayed active, did all the activities that were available to us.
"I did it to keep my hopes alive for the possibility that I would return to wrestling."
But those hopes often felt more like hazy dreams that he seldom shared with fellow inmates.
"Wrestling was definitely in my mind, but it wasn't something I talked about very often because I didn't expect anyone else to understand," Holm said.
"I think people would have thought I was crazy if I was telling them 'When I get out I expect to wrestle and win the U.S. Open and try to make the World team.' In a place where there's a lot of talk about all kinds of stuff, if I'd said something like that they'd have thrown me in the mix as being just as unreal as anyone else."
Wins at U.S. Open
"Unreal" has become real. Fifty weeks after getting released from Anamosa State Penitentiary in April 2010, the 29-year-old Holm won the Greco-Roman 84-kilogram (185 pounds) competition at the U.S. Open in Cleveland.
He earned a bronze medal at last month's Pan American Championships in Colombia. Two weeks later, he defeated defending World champion Hristo Marinov of Bulgaria at an international event in La Grange, Ill.
"That was in line with my aspirations," Holm said. "It's just a sign I'm going in the direction I want to go."
He is the top seed at his weight at this week's U.S. World Team Trials event in Oklahoma City. He has an automatic berth in Friday's final. If he wins that, he'll vie for a world championship in Turkey this September.
Win or lose in Oklahoma, it seems likely Holm will contend for a spot on the U.S. Olympic wrestling squad next year. There was no blueprint on how to get to there from prison.
"There were a lot of unknowns. He didn't even know if wrestling would even be an option. He spent a lot of time asking other people what his next step should be," said Kevin Wilkening, the senior pastor at Cedar Heights Baptist Church in Cedar Falls and a friend of Holm's for 10 years.
Competing for future national and world championships didn't fill Holm's thoughts behind bars. There was no real plan at all other than just trying to get through those 81 months in prison a day at a time.
"I tried to focus on the day at hand," Holm said. "It was 'This is the day I've been given to try to make myself the best I can be.' I didn't worry about having 900 or 1,200 or 1,500 days left. I focused on 'This is Wednesday, and on Wednesday I run, I work out, I go eat breakfast, I go to work, I read a book, I write some things, I go work out again, I try to communicate with people in a way that's positive. I try to make myself and the people around me better for it.'
"Was I always on point with that? No. For the most part, though, I tried to maintain that perspective, and I still do today. I think the success I've experienced in wrestling has been a direct result of that."
After prison
After getting out of prison, Holm moved to Minneapolis and moved in with one of his three brothers. He is a native of Northfield, Minn., less than an hour from the Twin Cities.
For him, part of assimilating back into freedom was finding a wrestling room. It wasn't the first step in some calculated plan to become a national name in the sport. He just wanted to wrestle again, to reconnect to something he loved pre-prison.
"A week after I got out," Holm said, "I called a coach I knew in high school. I wasn't even sure he'd remember me."
That was Dan Chandler, the coach of the nationally prominent Minnesota Storm wrestling club and the head coach of many U.S. international teams, including its 2000 Greco-Roman Olympic squad. He'll coach the 2011 U.S. Greco team in the World Championships.
"He just called me and wanted to know if I knew where to practice anywhere," Chandler said. "I said 'We're practicing this afternoon, come on in.'
"You could tell he'd been on a good weight program. He was in extremely good shape, probably better shape than a lot of guys who'd been wrestling the last four or five years. He was very strong, very physical. He's a very hard worker, and he's like a sponge for knowledge."
Said Holm: "The first day I wrestled I was just surprised how fast things were coming back, the setups and moves, the muscle-memories, what I was trying to accomplish here and there.
"Mostly, I was kind of amazed I could still wrestle to that ability. I was just having a blast with it, really enjoying it."
Seeking somewhere to practice on days Chandler's club didn't, Holm went to the University of Minnesota's wrestling room.
"This guy showed up and I wasn't sure who he was," said Joe Russell, the head assistant coach at Minnesota and a veteran coach of USA Wrestling teams. "I didn't recognize him at first. We recruited him when he was in high school. I was definitely excited to see him. I'd been praying for him for a number of years.
"He'd definitely grown up a lot. You could see he was tough as nails. He looked real tough right away."
Wins begin
About a month after he began training, Holm went to Waterloo for the Senior Northern Plains Regional tourney. That was a last-chance World Team Trials qualifier, but a first chance for Holm.
"I ended up winning it," Holm said. He actually won both the freestyle and Greco-Roman competitions at his weight. He didn't fare well in either division at the subsequent World Team Trials, but his participation there led to opportunities to compete in events in several European nations.
After winning four matches at this year's U.S. Open by a combined score of 39-2, Holm defeated defending champion Cheney Haight in the final.
"Back one year and he's winning the U.S. Open," Russell said. "It's very, very impressive. It's amazing that he hadn't been back a year and he'd won a title in an elite group."
This week Holm pursues a chance to represent his nation in the world's premier wrestling competition of the year.
Requests to tell story
Amateur wrestling is seldom a segment-filler on ESPN's "SportsCenter" and may not resonate with most American sports fans. But if a man goes from nearly seven years in prison for sexual abuse or any other crime to becoming a world-class athlete in any sport, he will be approached to tell his story. Repeatedly.
"I'm not thrilled by it," Holm said. "I'd been asked for interviews many times and had not done them."
But he said he has come to understand if he does make this year's World team and is a top candidate for the Olympic squad next year, he can't shun the spotlight.
"I think he'll be fine," Wilkening said.
"No doubt it will be difficult. If your name is driven through the mud as you maintain your innocence, it's always difficult. People will second-guess your innocence or assume guilt. He'll need his family and friends to wrap themselves around him."
Faith in God
Said Holm: "I've come to realize if it takes a national championship, becoming a World team or Olympic team member, for someone to get to the truth of what really is my life, then so be it. Am I ready for it? I don't know if you can really be prepared for it. If that's what God has for my life, then he'll prepare me for that."
Holm speaks of his faith often.
"I believe God's in control and God knows what's going on," Holm sad.
"I'm not saying I was always in tune with that. I'm human. I was very heartbroken about it at times, very upset about it at other times, just very bewildered by it at other times.
"Then at other times I was satisfied in knowing and believing God is in control, God has a plan beyond what I know."
Many elite wrestlers are all wrestling, all the time. Not Holm.
"I saw someone wearing a T-shirt the other day that said 'Wrestling is life. The rest is just details.' I don't think that. I hope I don't live according to that. I hope I would lead the life that would glorify my heavenly father. The rest is just details."
Olympic dreams
But Holm wants those details, too. He wants to win the World Trials this week, win a World championship, win the Olympic Trials, win Olympic gold in London next summer.
"He's definitely improved a lot in the last year," Chandler said. "He's competing all the time. He keeps going, getting all the competition he can. He's right in the thick of things."
Wilkening visited Holm every few weeks for the length of Holm's incarceration and has become a wrestling fan.
"I'm very hopeful Jordan will be on the Olympic team in 2012 representing the United States in wrestling," the pastor said. "You don't sit dormant in wrestling for seven years and do what he's done without some God-given abilities."
The U.S. Olympic Wrestling Trials are next April. Call it coincidence or irony, but the site of the Trials is Iowa City.
Comments: (319) 368-8840; mike.hlas@sourcemedia.net
Prosecutor: Evidence tells different story
Victoria Cole, the former assistant Johnson County attorney who prosecuted Jordan Holm in 2003, said she isn't surprised the former University of Northern Iowa wrestler who is reviving his career is maintaining his innocence.
Holm claimed he was not guilty throughout his trial for third-degree sexual abuse in 2003, she said, but testimony and DNA evidence told a different story.
Cole, who is now a Cedar Rapids defense attorney, said Holm's DNA was found on the victim. The victim didn't know Holm before that night and didn't have a reason to lie, she said.
Cole said the victim, who has moved on with her life, would have likely dropped the charges if Holm had apologized.
"She wasn't seeking vengeance," Cole said. "She didn't even go to the sentencing or make a statement."
Sixth Judicial District Judge Denver Dillard said he considered the victim's account, Holm's denial and the DNA evidence in reaching his guilty verdict.
Dillard said there wasn't any evidence presented that placed serious doubt on the woman's truthfulness and Holm had more of a motive to lie than the victim.
According to court records:
[naviga:ul]
[naviga:li]The victim testified she awoke early the morning of Sept. 15, 2002, following a party at her boyfriend's in Iowa City to find someone performing oral sex on her.[/naviga:li]
[naviga:li]When she realized it was not her boyfriend, she pushed the man away and started screaming. She couldn't see the man running out of the room, except that he wasn't wearing pants, but she identified him by his hair once she went downstairs.[/naviga:li]
[naviga:li]Holm was detained by partygoers sleeping downstairs when they saw him pulling up his pants and running down the stairs as the woman was screaming.[/naviga:li]
[naviga:li]Three witnesses testified they saw Holm pulling up his pants or buckling his belt on the landing or stairway.[/naviga:li]
[naviga:li]Holm testified he attended the party with a friend and had gone into an unlocked upstairs bedroom to find a place to sleep.[/naviga:li]
[naviga:li]He said there were two people in bed covered with a sheet and he took off his shirt and shoes and laid on the floor.[/naviga:li]
[naviga:li]He testified he sat up when he heard noises from the bed and saw a woman masturbating.[/naviga:li]
[naviga:li]He said the woman reached out, touched his hair and asked him where he was going. He started to leave and the woman kicked him.[/naviga:li]
[/naviga:ul]
Holm filed motions for a new trial in 2003 and for an appeal in 2005, but both were denied.
Holm served six years and nine months in prison. He had the opportunity to be released earlier but he served about two more years because he refused to enter the Sex Offender Treatment Program, said Fred Scaletta, spokesman for Department of Corrections. The six- to 18-month program, depending on risk level of offender, would have decreased Holm's time because he would have earned good time credit.
Holm said he refused to enter the program because he wouldn't "lie about something I didn't do."
In 2009, Holm appealed an Iowa Supreme Court ruling that upheld the requirement that a convicted sex offender attend a treatment program to be eligible for good time credit, but it was denied.
Holm has a pending post-conviction relief remaining and a hearing is set in August. He claims ineffective assistance of counsel, including his lawyer failed to prepare for trial and waived his right to a jury trial.
Comments: (319) 398-8318; trish.mehaffey@sourcemedia.net
Mike Hlas narrates a video summary of Jordan Holm's college career, arrest, incarceration and road back to success in the amateur wrestling world:
http://youtu.be/RFRRAQJBtws
Watch a video of Jordan Holm's entire match at the 2011 Curby Cup tournament in La Grange, Ill., in May.
http://youtu.be/Tgyvbv30BC8
Check out a gallery of Jordan Holm photos:
[nggallery id=526]