Food advice from Mark Bittman: Eat actual food (and more plants)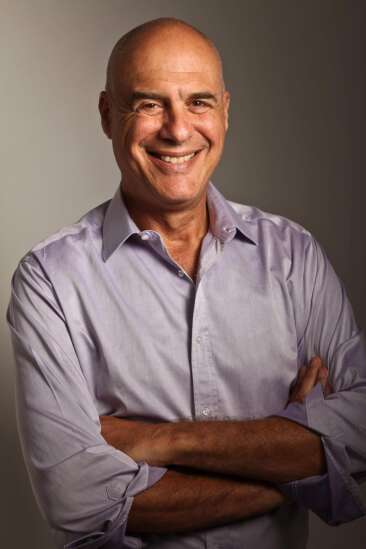 Eat organic. Shop local. Try the Paleo diet. Go gluten-free. Fat is bad for you. Or is it carbohydrates?
For Americans worried about what to eat or overwhelmed with contradictory messages, New York Times food writer Mark Bittman has two pieces of advice to cover them all.
'Eat actual food," he told a full house at the Englert Theatre in Iowa City April 8. 'And eat more plants."
He defines actual food as that which provides nutrition and promotes good health. Soda, by his definition, does not count.
Eating more plants can mean adding just one more serving of vegetables or fruit a day.
The author of cook books including 'How to Cook Everything," 'VB6: Eat Vegan Before 6:00," and 'How to Cook Everything Fast," Bittman has written for the New York Times for 30 years. He currently writes an opinion column on food. The University of Iowa's Lecture Committee sponsored his visit as part of the UI's Food for Thought semester.
Bittman told the audience he started thinking seriously in 2005 about his two food rules, which mirror those of another prominent food writer, Michael Pollan. At the time, Bittman was 40 pounds overweight with aching knees, sleep apnea, and high blood pressure.
Unhappy with a doctor's recommendations of knee surgery and medication, he asked for a second opinion and was told he should try changing his diet.
As a restaurant critic and cookbook author, he didn't think he would be able to stick to the recommended vegan diet. So he started being vegan just before 6 p.m. - a way to compromise with himself, to change his lifestyle without giving up meat, cheese, and eggs entirely.
Since then, he's lost weight, his blood sugar has normalized, and his knees no longer ache.
But fries and soda are vegan, he cautions. The idea is not to follow a certain dogmatic diet. It's about finding ways that work for you to move along the continuum toward more plants and more real food.
'There'd be no need for diets if we only ate real food," he said.
It's not entirely our fault we eat so many unhealthy 'UFOs - unidentifiable foodlike objects," he said.
He contends that the American food system is broken.
'This is actually kind of a sermon, a discussion of moral ideas," he said.
He laid out four things he said are needed to fix the system: a working definition of food, transparency in food labeling and production, regulation, and education and for individuals to develop a personal food policy.
'The more we know about what's in our food, the more we know how it's produced, the angrier we will be," he said. 'What about this - if beef were labeled as raised with antibiotics likely to breed superbugs?"
He said if government exists to help society solve its problems, it should take on regulating added sugars, like those in drinks, the same way it has regulated tobacco and seat belt use. Sugar is killing us via heart disease and diabetes at higher rates than we'd like to admit, he said.
'Before too long, added sugar will be considered the tobacco of the 21st century," he said. 'We have to make it harder to market this stuff to kids."
He acknowledged that getting the federal government to pass regulation about anything is an uphill battle. But he called on the audience to put pressure on local and state officials.
'You can't fix the food system by yourself," he said. 'This is the job of the food movement."