Emerald ash borer infestation confirmed in Iowa City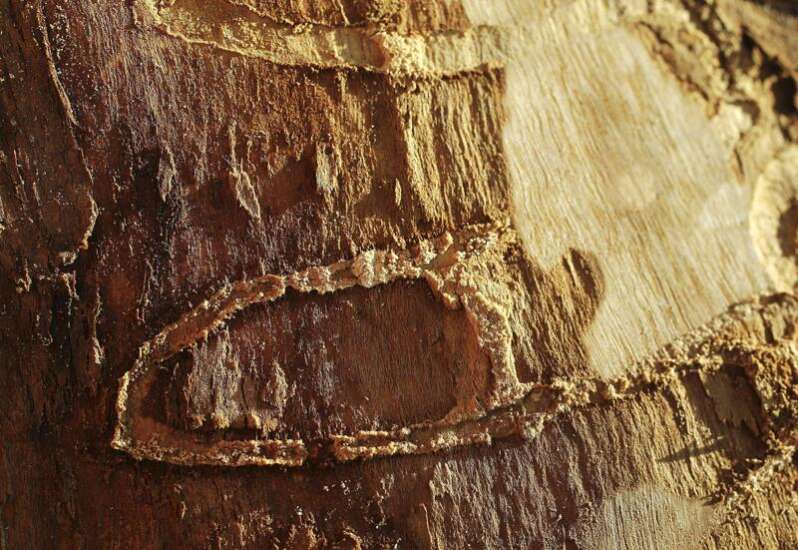 IOWA CITY - The Iowa City emerald ash borer infestation portended 19 months ago with the discovery of an adult beetle has finally been confirmed.
Johnson becomes the 30th Iowa county with a confirmed EAB infestation, with more than one third of them confirmed in 2015.
U.S. Department of Agriculture experts positively identified a larval specimen after University of Iowa personnel reported woodpecker activity in suspect trees on campus.
'The Iowa City find is a classic example where the woodpeckers are finding the infested trees before people on the ground," said Mike Kintner, Iowa Department of Agriculture and Land Stewardship EAB and gypsy moth coordinator.
Kintner said the dormant season is an opportune time to follow up on ash trees with woodpecker activity - an indication that they may be feeding on EAB larvae overwintering beneath the bark.
City and university officials have been expecting a confirmation since June 2014, when an adult beetle was found in an east-side neighborhood.
An examination of ash trees in the area revealed no typical infestation symptoms, which include thinned canopies, green shoots at the base of the trunk and drilling by woodpeckers in the trunk and upper branches.
Iowa City Parks Superintendent Zachary Hall said he was surprised it took so long for an infestation to be confirmed.
'Behind the scenes we thought, 'It's here. We just haven't found it,'" he said.
Though a formal inventory has not been done, Hall said his staff estimates the city has about 2,000 ash trees in parks and public rights of way.
Hall said city personnel have been removing ash trees with damage, defects, decay or in poor sites and replacing them - one to one - with trees less vulnerable to disease.
'Our approach is to diversify our way out of this," he said.
This exotic pest of Asia first made its presence known in Iowa in 2010. On the national scene, EAB has spread to 25 states destroying tens of millions of ash trees.
Iowa has an estimated 52 million rural ash trees and 3.1 million ash trees in urban areas.
State forestry officials have predicted that most of them will be killed by the pest within 10 years.