CSPS: From Cedar Rapids, a legion of arts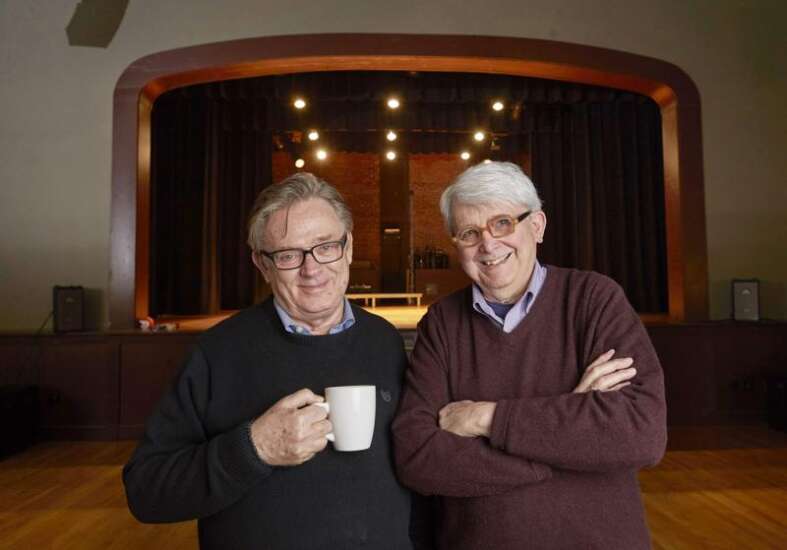 CEDAR RAPIDS - CSPS Hall began as a cultural hub for the city's Czech and Slovak community. Now 125 years later, it's a cultural hub for the world.
Legion Arts co-founders F. John Herbert and Mel Andringa are celebrating their silver anniversary season of bringing cutting-edge artistry to the heart of what is now, thanks to their advocacy and tenacity, the burgeoning NewBo District.
They've introduced performers from all over the globe to local audiences, from Mongolian throat singers and a Romanian punk-rock gypsy band to Asian, Middle Eastern, African and South American musicians, as well as recent residencies by a Czech acting troupe and Slovakian dancers.
Herbert will be flying to Tanzania and Zanzibar this week to scout more African musicians to bring to Cedar Rapids.
'Sometimes we see gaps not only in our programming, but in the cultural scene in the Midwest or in the U.S.," Herbert said. 'We want to make sure that the widest range of cultural experiences are represented and made available to people."
Over the past 25 years, they have given a hand-up to young artists; presented veteran performers who have mentored through community workshops; and exhibited artwork by Yoko Ono, who Andringa knew from SoHo's avant-garde scene of the '70s when he worked as a performance artist in New York City.
Other luminaries lighting up Legion Arts shows over the years include Joan Baez, Janis Ian, Maria Muldaur, Odetta, Duncan Sheik and actor/musicians Ronny Cox in 2014 and Jeff Daniels in 2015.
They're able to book such acts because of the vast network of artists they know, as well as their reputation among presenters and performers, and the city's proximity to Chicago, Minneapolis, St. Louis and Kansas City, Mo., and Omaha, Neb.
Ani DiFranco played at CSPS in 1993, when nobody knew who she was.
'John calls it successful when other people steal our artists - when Ani DiFranco plays for 40 people here, and then she plays for 1,900 at the Paramount and for thousands at Carver-Hawkeye Arena in Iowa City," Andringa said. 'We don't chase her, as promoters. When she outgrows us - or the community or the Corridor becomes knowledgeable and accessible to those artists - we're happy if they still want to come here. It's a good indication that it's time for us to look for something different. And sometimes that's a new genre like dance, which is a real challenge for us at this moment."
Several of the artists who have made the leap to larger stages are coming back to help CSPS celebrate its milestone. Dar Williams teamed up with her former Cry, Cry, Cry collaborator Richard Shindell on Nov. 10. The next week, Susan Werner and Radoslav Lorkovic electrified the space. Yet to come are Vance Gilbert and Ellis Paul on Feb. 14, Grammy-winner Kathy Mattea on March 1, John Gorka and Lucy Kaplansky on April 2 and Cheryl Wheeler and Kenny White on April 21.
Andringa said he and Herbert came to the historic CSPS building in 1991 as 'economic refugees." They were among several artists who lost their downtown Iowa City studios when their building was converted to office space. Jane Gilmore, one of those displaced artists, urged them to check out the 'new" space she found in the former home of the Czech-Slovak Protective Society (Cesko-Slovensky Podporujici Spolek) Hall at 1103 Third St. SE.
They jumped at the chance to relocate their operation to Cedar Rapids, which felt more in tune with their 'working-class Midwestern roots," Herbert said.
Herbert, 65, a writer from Toledo, Ohio, and Andringa, 73, a performance artist, visual artist and art educator from Holland, Mich., met in New York more than 40 years ago. They formed the Drawing Legion performance art company and made their way to the University of Iowa, where Andringa taught in the art department and Herbert finished up a doctorate in American studies.
'There was something very appealing about Cedar Rapids being a town that didn't revolve around the university and didn't have that degree of self-consciousness about itself," Herbert said. 'It just felt comparatively real and grounded."
The CSPS auditorium was very appealing, too, as a place to present Andringa's performance art, which leaned toward historical explorations of such figures as Grant Wood, Leonardo da Vinci and his work in progress about Dutch painter Willem de Kooning.
'For years, we thought that we could do performance art three nights a week," Andringa said. 'It turned out that people in Cedar Rapids were ready for performance art three or four times a year, and we started presenting other things."
Boston-area folk singer Catie Curtis is one of those artists who found something she loved in the CSPS vibe, came back more than half a dozen times, and was happy to return Friday on her farewell tour.
'I've always been inspired and impressed by how they have used the space to hold a place open for art and artistic thought," she said of Andringa and Herbert. 'I feel like they aren't just presenting music and art; they're presenting artistic thought and exploration of ideas in the work that they present. I've always felt when I walk in there, that it's a sacred space for artists."
l Comments: (319) 368-8508; diana.nollen@thegazette.com