Couple creates sculpture park using organic material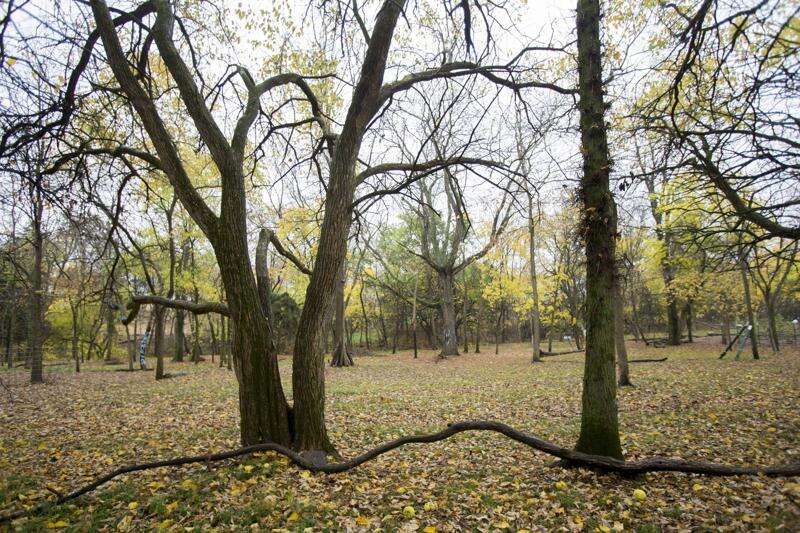 In the middle of Bayo Park & Galleries, a patch of wooded land in rural Batavia, sculptures are rising among the trees.
With the art made from fallen limbs and paint, carved Styrofoam, empty milk jugs and scrap metal, this isn't a typical sculpture park. Owners Olabayo David Olaniyi and Reena Olaniyi want the space to be ever changing, to emerge from the natural contours of the land and the scraps, both organic and man-made, they have found there.
'We want to create art beyond galleries, beyond museums," Olabayo said.
The couple have been working on the space in between traveling to art shows and galleries for several years. They recently hosted an interactive event, inviting other artists and local community members to come together on the space for a weekend of creative collaboration. They hope it will become an annual event for their 10 acres of land near Fairfield.
'Part of the experience for us is to invite people in the surrounding area to go on a journey with us," Reena said. 'We have a vision to build a very unique space for the arts."
The couple plan to build more structures on the property, from a stage with interactive lights to a gift shop to outdoor, semi-sheltered gallery areas.
'The uniqueness of the place rests with the artistic nature of everything," Olabayo said. 'The buildings themselves will be sculptures."
Piles of tall grass are gathered into bundles near their house, to be used in future installations or as thatching for the roofs of the buildings planned for the park. Olabayo, originally from Nigeria, said people will often ask him if he uses thatched roofing in art installations because of his African heritage. He laughed.
'We harvested this grass from Morse, near Iowa City. That's Iowan," he said.
He first visited Iowa in 1992 on an art tour, and returned to get his master's degree at the University of Iowa. He meet Reena while teaching at the University of Michigan before returning to Iowa City, where the couple owned an art gallery about 10 years ago in the Old Capitol Town Center.
They moved to Batavia several years ago and slowly began taming the grounds, cutting out underbrush, making paths through the trees and collecting garbage and junk that had been dumped in the woods.
Much of that junk they kept, sorted into piles under different trees. A pile of glass bottles sits in one corner of the land, a small mountain of rusty tin cans nearby. Two trees shelters pile of assorted broken and discarded household items: a toaster oven, a plastic tricycle, a wire chicken coop, a sewing machine, parts of an old computer.
All have the potential to be used in future art, Olabayo said, standing next to a striking face in profile that Reena had carved from discarded Styrofoam. It is fitted securely into tree limbs, watching over the grounds. Other tree limbs were twisted and tied to form arches and the walls for organic buildings around the grounds.
It's not just the man-made junk the couple use - bright yellow hedge apples, thorns from trees and fallen leaves all find their way into their art.
'All the things we find here, we don't throw away because to me they are transformable," Olabayo said.
Reena agreed.
'As an artist, it's hard to disregard something or throw it away or not find it beautiful," she said.
Olabayo looked out at the grounds, which are far from complete. Some of the potential is in his mind's eye. The rest is waiting to be uncovered depending on where limbs fall or rain washes a new path.
'This place is an open workshop where everything will continue to change in time," he said. 'I don't think the park will ever be finished."
l Comments: (319) 398-8434; alison.gowans@thegazette.com