Could 'Tiger King' happen in Iowa? Not anymore
U.S. law now limits private ownership and breeding of big cats
Correction: This story has been updated to reflect that Heidi Herriott believes many species require human intervention to avoid extinction and the Big Cat Public Safety Act does not take that into consideration. Her position was originally misrepresented.
In October 2007, Chickasaw County sheriff's deputies were called to the New Hampton home of Joseph and Dawn Schmitt after a pet tiger escaped its cage. When they arrived, the 1-year-old tiger was attacking the family's border collie.
Earlier that year, the Iowa Legislature passed a law limiting the private ownership of dangerous wild animals. Current owners like the Schmitts were allowed to keep their animals but needed to register with the state and maintain liability insurance. At the time of the incident, the Schmitts also owned cougars and a bear.
The New Hampton incident ended without human injury. A Chickasaw County sheriff's deputy shot the pet tiger from his car. The mauled dog survived.
Despite state legislation, this was not the last time Iowans experienced a tiger attack.
Big cat incidents in Iowa since 1980
Nov. 4, 2007 — New Hampton
A family dog was mauled by a 1-year-old pet tiger. The tiger escaped from a cage during feeding time by rushing past the owner. The tiger was shot by a sheriff's deputy. The dog survived the attack. The family also owned two cougars and a bear at the time.
July 17, 2011 — Manchester
A 600-lb. tiger at Cricket Hollow Zoo escaped its open cage and attacked the zoo owner. The man was flown to a hospital where his scalp and ear were sewn back into place and his arm underwent surgery. The tiger was not put down after the attack.
The New Hampton episode is one of 432 big cat incidents in the nation since 1980, according to data from the Humane Society of the United States. At least 22 of those incidents resulted in the death of a human — the most recent Dec. 30, 2018, in Burlington, N.C. Since 2020, there have been 18 big cat incidents in the nation, with eight of those involving injury to a human.
In December, President Joe Biden signed a law that would change the future of big cat ownership and exhibition. The Big Cat Public Safety Act limits private ownership and breeding of lions, tigers, leopards, jaguars, cougars and any hybrid of these species.
Current owners are required to register their animals with the U.S. Fish and Wildlife Service within 180 days of Dec. 20, 2022 — in June. Registration would tell law enforcement officers and first responders if they are entering the home of a big cat. The law also restricts animal exhibitions: If the cat is not behind a permanent barrier, like an enclosure, the public must be at least 15 feet away.
Those who violate the act are subject to a fine of up to $20,000 and up to five years in prison.
The new federal law expands on Iowa's 2007 law by limiting breeding to accredited facilities and outlawing public contact with big cats through cub petting operations. Though animal rights activists are celebrating passage of the act, animal exhibitors are concerned about limiting breeding of endangered species and potential future laws about wild animal ownership and exhibition.
Big Cat Public Safety Act Fast Facts
— Introduced to the U.S. House Jan. 11, 2021
— Co-sponsored by Iowa Rep. Cindy Axne (D)
— Passed the House 278 to 134
— Passed the U.S. Senate unanimously
Linn County sheriff's Sgt. Shawn Ireland said Iowa law enforcement relies on welfare training from the Animal Rescue League and the Humane Society of the United States. The trainings focus on common animal cases like neglect, abuse and hoarding. Ireland said he could see these cases occurring with exotic animals.
" … I would be concerned with people taking in animals that as they grow up or get bigger are not able to manage them as they were when they were smaller animals," he said.
Sgt. Ireland said Linn County, though, has not had incidents with big cats.
Cricket Hollow Zoo owner mauled in 2011
Until a 2018 animal neglect lawsuit shuttered Cricket Hollow Zoo, Iowans could visit exotic animals in Manchester. The small roadside zoo was home to hundreds of animals including a tiger, which mauled Cricket Hollow Zoo owner Tom Sellner in 2011.
Pam Sellner, his wife and business partner, told The Gazette about the incident. She prefaced the story by saying, "It's just one of those things that happens when you work with anything."
Tom had been feeding the cats and was going to clean their enclosure.
"When he put the door back so the cats could enter the cage, he had his back turned and he was opening a different door so that he could go in and clean the enclosure," she said. Tom had failed to shut an outside door and a tiger came around and attacked him while his back was turned.
"The No. 1 thing that you have to remember when you're working with big cats is never, ever turn your back on any size of cat … because they will jump on you," she said.
Cricket Hollow Zoo has since been shuttered for animal neglect offenses. In 2019, animal welfare advocates rescued more than 400 animals from the roadside zoo, although many were missing.
Raising bobcats at home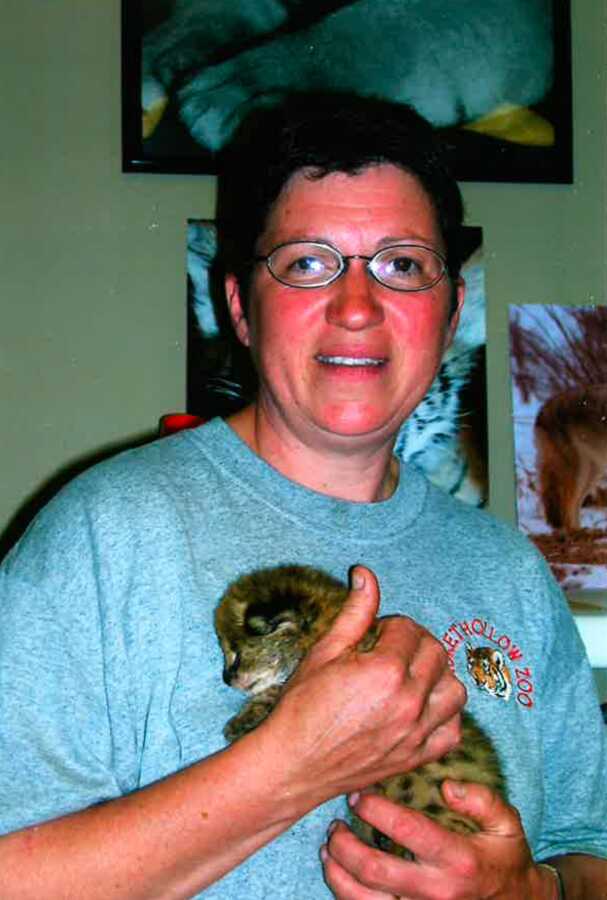 It is not unheard of for big cats to live in the homes of Iowans. Long before Iowa's 2007 law, the Sellners raised bobcats in their home alongside domestic cats.
Pam Sellner said the felines "didn't know the difference."
"They slept on the bed, they watched TV, we didn't have a Christmas tree because the bobcat would probably shred it," she said. "We have pictures of my son when he was little sitting in front of a bare tree with his presents because we had a bobcat."
Law targets cub petting operations
The act will eradicate the cub petting industry, which supporters of the law consider to be predatory and harmful to the public and big cats.
Throughout the years, cub petting has been used to describe animal exhibitors that allow the public to interact with big cat cubs through photo opportunities and pay-to-play experiences.
The cub petting industry was put into the national spotlight by the Netflix documentary series "Tiger King." The series highlighted the feud between pseudo-sanctuaries, safari experiences and roadside zoos and animal welfare activists. Overnight, cub petting operators Joe Exotic and Doc Antle and big cat sanctuary owner Carole Baskin became household names.
Joe Exotic: Familiar in Iowa, now in prison
Exotic has exhibited big cats at fairs across the country including the Mississippi Valley Fair in 2013. In 2007, his "Mystical Magic of the Endangered" big cat magic show brought criticism at the bygone Sycamore Mall in Iowa City. Exotic, aka Joe Schreibvogel or Joe Maldonado-Passage, is serving 21 years in prison for wildlife crimes and hiring hit men to kill big cat sanctuary owner Carole Baskin.
Cub petting industry's most famous rival
Baskin is the founder of Big Cat Rescue in Tampa, Fla., though she never planned to own a rescue. Baskin said her goal is to fix the "big cat issue" even if it means hosting cats for the rest of their lives. It is home to 42 cats, including tigers and servals.
Big cats cannot be domesticated and those bred in captivity cannot be released to the wild. When cubs outgrow their homes, private owners surrender their pets to sanctuaries like Baskin's. And it's not cheap to own a big cat. Baskin told The Gazette annual vet care and food costs can be $7,500 to $10,000 per cat, depending on its size.
The dark side of the cub petting industry
Legally, cubs can only be used for human interactions including petting until they are about 12 weeks old. Baskin said older cubs can "take a finger off of a child." Because of this, cubs are continuously bred to keep up with demand. Activists like Baskin are concerned that cubs are killed when they grow too old to use for photo opportunities.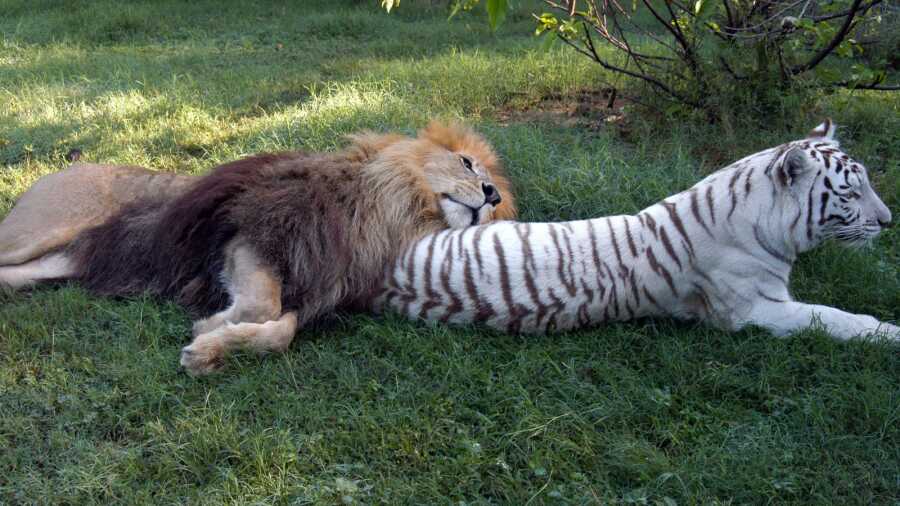 A look at the cub petting and animal encounter industry
About 200 cubs are traded or sold annually for about $8,000 per animal. Many of those are born in facilities that, due to the Big Cat Public Safety Act, would be unable to continue breeding big cats. The Congressional Budget Office estimates the cost of breeding prohibition would be less than $1.6 million annually.
Including public zoos, 30 exhibitors offer seasonal encounters with animals and 150 facilities, mostly privately owned, offer animal encounters for fundraising. The federal act will likely decrease the success of these events, eliminating about $80 million of revenue per year.
The CBO estimates the act will cost about $3 million to implement between 2022-2027.
Cricket Hollow Zoo offered "cub time" a few times during their operation. Sellner said the public and cats enjoyed the "very positive" educational experience.
"We knew eventually that opportunity would probably disappear and now it has," Sellner said. "There's people who actually cried, they were so happy to be a part of that for the brief time they did."
Sellner doesn't believe cub petting is inhumane. Rather, she sees removing cub petting as a financial danger to roadside zoos. Roadside zoos are typically not accredited by the Association of Zoos and Aquariums. Association zoos support conservation efforts and receive an elevated status in laws like the big cat safety act.
"Cub time provides that income so that cat can have an enclosure that's going to be good for him for the next 18 years" Sellner said. "And it's sad that things have to be taken away from people and they'll never get the chance to be up close and personal with a cub."
Additionally, Sellner is concerned that the federal regulation of big cat owners also will make it easier to regulate owners of small cats like servals, bobcats and lynxes.
"It's not going to be very hard to take that right away from people," she said.
What do animal exhibitors say?
Floridian Heidi Herriott is a third generation animal trainer and the host of Animal Tales podcast. She said her family's work gets lumped into "circus," which is seen by animal activists as negative. Legally, an exhibited animal includes those at circuses, zoos, fairs and other special events. Herriott feels that animal trainers are vilified and therefore denied a voice in discussions on animal welfare.
"Imagine if we didn't vilify 'circus animal' trainers who have cats and elephants and we didn't put our happy face all over these sanctuaries where they show these Utopian conditions," she said. " … Let's have real conversations about what's really right for the animals and bring in true science, data, expertise and generational expertise. When you put those together that's the program, that's the way we move forward."
Herriott believes human intervention is the key to avoiding extinctions. According to the World Wildlife Organization, the following big cat species are endangered: Amur leopard, Sunda tiger and tiger. The act limits breeding to only Association of Zoos and Aquariums facilities.
"We need to do right by the individual animals but we also have to have a mindset of what is going to … allow us to perpetuate the species," Herriott said. "And the two can be in sync."
What's next?
For Baskin, the future of big cat exhibition lies in virtual reality instead of zoos or safaris. Baskin said she was surprised that people's attitudes toward zoos have become more negative over the past 30 years. She sees virtual reality zoos as providing meaningful educational opportunities without taking animals out of their habitats.
"I think that's the future, and I think we're going to have to drag zoos kicking and screaming into that future, but I think it's what the public wants," she said.
Comments: bailey.cichon@thegazette.com