Connie Champion, longest serving Iowa City Council member ever, dies at age 80
A business owner and mother to 8, she was known for her quick wit and straightforward style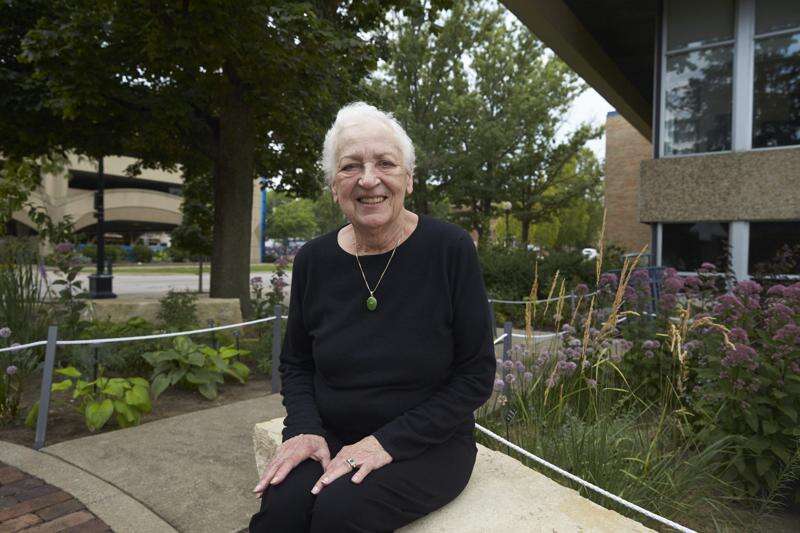 IOWA CITY — When Connie Champion spoke at an Iowa City Council meeting, people listened. She was a fierce advocate for the issues she cared about, and she always let people know where she stood.
An unwavering public servant, small business owner, philanthropist and dedicated mother, Champion died Aug. 1 in her home surrounded by her husband and her children, according to her obituary. She was 80.
Champion was the longest serving Iowa City Council member in the city's history, serving 16 years over four terms, from 1998 to 2014.
Champion shepherded Iowa City during some landmark moments in its history, including the beginning of the under-21 ordinance in downtown bars, the 2008 flood and a new focus on affordable housing.
Council members who served with Champion said they never had to guess where she stood on the issues. She was blunt, straightforward and didn't pull punches. But she did so with compassion and wisdom, not bitterness.
"She was refreshing because she had good instincts and told you exactly where she stood on an issue and did not want to waste anyone's time," said Matt Hayek, and Iowa City lawyer who was on the council from 2008 to 2016 and mayor of Iowa City from 2010 to 2016.
Hayek said Champion wouldn't get bogged down in overanalyzing issues — she staked her positions and defended them with confidence.
Susan Mims, a three-term Iowa City Council member who is retiring from the council this year, served four years with Champion, from 2010 to 2014.
"She was in some ways a larger-than-life personality," Mims said. "I just think that confidence she had in herself to be who she was and not worry about what other people thought was a very defining characteristic."
Karen Kubby, the owner of Beadology who was on the council from 1989 to 2000, agreed that Champion was forthright.
"She made no bones about it, she never apologized for where she landed on something," Kubby said.
But that didn't mean she wouldn't change her mind. She took input seriously and would weigh information as it came, occasionally revising her position.
One of the most notable examples is when the council enacted the ordinance to keep people under age 21 from entering Iowa City bars.
The proposal sparked fierce debate that lasted years, and Champion was initially against the idea. She changed her mind in 2010 and backed the proposal, blaming bar owners for encouraging an "overindulging culture," according to a 2013 Gazette report.
"Connie came over to our side on the issue," Hayek said. "And that was very important to the passage of that ordinance. She was not afraid to change her mind, she was always open to new evidence."
Also, Champion was known for her sense of humor at council meetings, poking fun at others and herself, her colleagues recalled.
"She was funny and she liked to laugh, and she had a lot of confidence," Kubby said.
Ross Wilburn, Iowa Democratic Party chair and a state representative from Ames, served alongside Champion on the council and was mayor from 2006 to 2008.
"I was always amazed at Connie's enthusiasm and ability to balance her numerous projects while also raising a big family and giving back to her community," Wilburn said in a statement. "I loved serving with her and appreciated our vigorous debates over how best to serve the people of Iowa City."
Before her 16 years on the council, Champion spent nine years on the Iowa City school board, from 1987 to 1996.
In a broadcast on Iowa City Channel 4 in 2010, Champion said she got involved with the board after spending time as president of the parent-teacher association at Longfellow Elementary School.
In the broadcast, posted on Englert Theatre Development Director Katie Roche's YouTube channel, Champion noted she had never lost an election, even dating back to grade school student government. She still held that streak upon retirement.
"I don't know what it is, I think it's because I don't say a lot," Champion said with a laugh in the video.
Outside city and school board matters, Champion ran multiple small businesses and raised eight children with her husband, Craig.
As a business owner, she owned a kitchen store downtown, and she bought Catherine's, a women's clothing boutique on Dubuque Street, when the previous owner died. Her daughter, Catherine, continues to run that shop today.
She supported local organizations like the Shelter House, the Englert Theatre, and the Iowa City Public Library.
When the Englert was at risk of closing, she helped direct city funds to preserving the historic venue.
Colleagues said her dedication, confidence, and larger-than-life personality shines through in her children. In addition to her eight children, Champion had 21 grandchildren.
"Connie raised some wonderful and smart people," Kubby said.
Her service on the city council took up much of her later life, but Hayek said she had time for other pursuits and brought the same grit and dedication to all of them.
"She had such a full life and raised so many children and ran businesses and served on boards and helped so many people, she didn't have time to sweat the small details," he said. "She was all about getting things done."
Comments: (319) 398-8473; caleb.mccullough@thegazette.com