Cedar Rapids teacher puts a different spin on fidget spinners
CEDAR RAPIDS — As the bell rings and sixth-graders file into Nolan Wrage's engineering tech classroom at McKinley Middle School in Cedar Rapids, several students beeline to their teacher's desk to check the nearby 3-D printer.
'I see mine,' one student shouts.
'Is that mine printing now?' another asks. 'Will it be done by the end of class?'
The students are clearly excited and appear to be taking a lot of pride in their current assignment, which makes Wrage happy.
But it's not a class projects most middle school teachers would likely take on these days. That's because Wrage's students are designing and printing their very own fidget spinners.
Not familiar?
Ask around — teachers and parents of tweens — and you'll get an earful about the palm-sized, stress-relieving toys being marketed as an option for kids who have trouble focusing or are diagnosed with attention-deficit/hyperactivity disorder, autism or anxiety. A basic fidget spinner consists of a bearing in the center and can come in a variety of colors and designs. Some even make noises and light up. And they can range in price from just a few dollars to more than $100.
And boy have kids bought into the craze.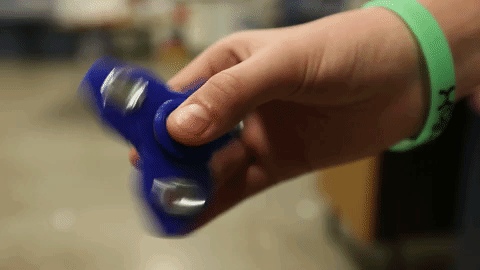 Fidget spinners are making headlines everywhere — schools are banning them, stores cant' keep them on the shelf and one report surfaced of a child choking on a bearing while playing with her spinner. Kids are selling them and trading them and trying to see how many they can collect. And, they are causing much annoyance both inside and outside the classroom, according to reports.
High-Tech School Project
But Wrage saw an opportunity to spin the latest toy craze into a teachable moment, and a high-tech one at that.
Wrage said he started noticing the spinners at school about two months ago, with the trend really taking off in the last three to four weeks. Some McKinley students had been buying spinners from a fellow student who was making them on her 3-D printer at home. When she was unable to keep up with the demand, students in Wrage's engineering tech class asked if they could use the school's 3-D printer to make fidget spinners.
'I told them to give me a few days to think about it and see if I could come up with a lesson that fit our class,' Wrage said. And then he did just that.
Sixth- and seventh-grade students used a 3-D CAD computer software program called 'Inventor' to design their own fidget spinners.
'I noticed they are taking their time with it and making something they want to keep,' Wrage said. 'This project fit seamlessly into our study of design and modeling, and the best part was that every single student was on task. They were dialed in and ready to go. I almost had to slow them down at times.'
'Some of the students made mistakes and we had to reprint theirs,' Wrage added. 'That was part of the learning process.' He said the students talked through their designs, noting for example that if they designed a spinner that was too thin it would break if dropped or if it was designed too large it might not fit in their hand to spin.
'It's better to be making it here than having to go buy one on eBay,' said sixth-grader Jackson Havel. 'I can easily make a fidget spinner here and it can be glow-in-the-dark, which is really cool.'
'When I first heard about them I wanted one but didn't want to pay a lot of money for one,' added fellow sixth-grader Elijah Allen. 'I was really excited to make my own because I am fascinated by ninjas and I wanted to do my best to make it look like a ninja star.'
Toy or Tool?
Fidget spinners are not a new invention and the idea of a fidget tool is not new to easing childhood stress.
Laura Sundell of Cedar Rapids, a licensed independent social worker and registered play therapist, said she has been recommending fidget toys for clients for the majority of her career as they can be an effective tool, especially for children diagnosed with ADHD, anxiety, sensory processing disorders and even Trichotillomania — or hair pulling.
'I have a fidget box in my office and it really can help,' Sundell said. 'If they have something in their hands to keep them busy they can better focus on me and talk with me. It can help in the classroom because it meets the need of needing extra stimulation and students are less disruptive.'
Sundell was introduced to fidget spinners a few months ago by a clients who brought one into her office.
'I can see a reason for some children to use the fidget spinner as a tool. But if it's a toy, it shouldn't be in the classroom. I haven't recommended any of my individuals use a spinner because I do think they are kind of noisy. So I'll suggest something that is not going to be calling a lot of attention, like a stress ball or Silly Putty.
She understands the spinners are the latest cool toy.
'It's a fun little thing to play with and everybody has to have it. So I understand the difficulty in the school system with teachers and administrators balancing 'tool' versus 'toy.' '
Wrage knew he might not be winning any popularity contests with his fellow educators by getting more fidget spinners into the hands of McKinley students.
'I told my kids that I didn't want to get 100 emails from the other teachers in the building,' he said. 'I reminded them that if they don't need the spinner to keep their hands busy that they should keep it in their pocket. And the other teachers have been very patient with me.'
'This, too, shall pass'
Beth Globokar, principal at Regis Middle School in Cedar Rapids, said she, too, has been dealing with the fidget spinner craze. While fidget items — such as Play-Doh and stress balls — are not a new concept to schools, Globokar said fidget spinners specifically became mainstream, more of a toy than tool, during the second half of this school year.
'At the middle (grade) level, we roll with so many varying trends, like Pokémon cards or water bottle flips or dabbing,' Globokar said. 'We see all these different trends and you don't have to have a specific policy related to whether or not students can have them at school.
'The reality is that if an item becomes a distraction in the classroom you can ask students to put it away and not have it out,' she said. 'For the most part now, we see fidget spinners being used as a toy and so in order to limit the distraction in the classroom our teachers just ask students to put them away. And you almost don't want to make too big of a deal of it either because that almost makes the students want it more.'
Meanwhile, teachers across the Corridor are especially grateful that school wraps up in the next week or two.
'Fidget spinners are the trend now and we just want to make sure it's not distracting in the classroom and distracting to others. And then we'll wait for the next trend,' Globokar said, laughing. 'This, too, shall pass.'