Cedar Rapids targeting 'snout houses'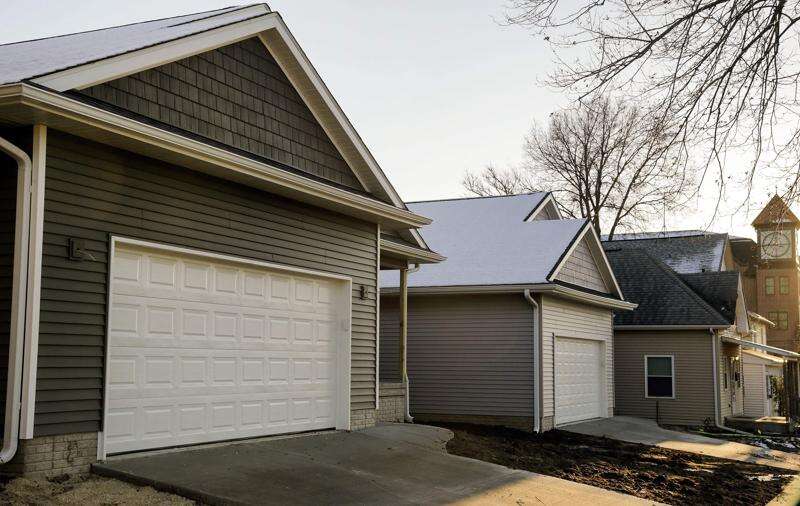 CEDAR RAPIDS — They've been dubbed 'snout houses.'
The design is prominent in communities all over Eastern Iowa and beyond: a double or triple stall garage as the front face of a home, sticking out like a nose beyond the entryway such that it's the main feature from the street.
Cedar Rapids city leaders have them in the crosshairs.
'We don't like the design of the garage being the focal point of the home,' said Ann Poe, a Cedar Rapids City Council member and chairwoman of the council's development subcommittee. 'I don't know if banning them is the appropriate term, but we have an interest in what we can do to discourage the development of snout style homes so the focal point is not the garage.'
Some view snout houses as unwelcoming, garage-lined streets as unsightly, and the design in conflict with a goal to create a walkable, bikeable community.
Discussion is underway about restricting snout houses in Cedar Rapids as part of an effort called Rezone Cedar Rapids to overhaul the zoning code, which addresses design requirements. The new zoning code could be adopted in fall 2017.
AROUND FOR YEARS
Snout houses have been around for years, and so have efforts to limit them. In 2011, the three-member development committee shot down a staff recommendation for restrictions, and other communities have had mixed success in imposing limits.
While snout houses are common designs in new subdivisions, the discussion resurfaced recently when a couple of new construction snout houses popped up on Ninth Avenue SE in the older Oak Hill Jackson neighborhood.
Bruce Nesmith, a Coe College professor and longtime resident, is a member of a Rezone Cedar Rapids advisory committee, which discussed addressing snout houses in the zoning update.
Nesmith, who wasn't a fan of snout houses to begin with, noticed the two homes being built between a brick church and a home with a traditional front porch design as he biked from home to Geonetric over the summer. A garage-lined street inhibits neighborhood interaction, and prominent windows create a feeling of safety as if residents are watching what happens on the street, he said.
Plus, these particular homes are out of character with the neighborhood, he said, so he blogged about it.
'This anti-social design has been widely derided,' Nesmith wrote in his blog. 'So why is this style of house still being built? And why in this historic neighborhood? Could a form-based code prevent this?'
Form-based code, which is being considered as part of the Rezone Cedar Rapids effort, is a land-use regulation organizing space based on the physical form of development, how buildings work together and the size and function of streets to support walking. This contrasts current zoning rules, which focuses on what a space is used for, such as grouping similar sized homes together, apartments in another area and retail stores in another.
At least one neighbor on Ninth Avenue isn't bothered by the snout house design next door.
'My only concern is it takes away from the street parking, but otherwise it doesn't make any difference to me,' said Landy Waller, 40, who lives adjacent to one of the homes.
The homes are being built by the nonprofit Neighborhood Development Corp. of Cedar Rapids through the ROOTS housing program, a city-backed program created to replace homes lost due to the flood.
Marty Hoeger, president of NDC, said they typically build homes with detached garages in the alley when it is permissible, but these two infill lots were 'irregular' with only 10 feet of access along the back. Their mission is to take often challenging infill lots passed over by private developers, and a snout house was the best fit, he said.
'We had tried to lay out several scenarios of homes with a detached garage and they would not fit,' he said. 'We worked with the city building and zoning department to come to what we felt was a good plan for the area.'
Developers say lot limitations is a major reason this design has become prevalent, particularly in new developments.
MORE BANG FOR YOUR BUCK
The snout design allows builders to give homebuyers more home for their dollar with larger kitchens and common areas, as well as laundry rooms, tucked behind the garage, said Randy Dostal, of Thomas Dostal Developers and past president of the Greater Cedar Rapids Housing and Building Association.
Design is dictated by the lot size, he said. The cost of ground has gotten more expensive, so lots have become narrower, he said. City zoning requirements control how far the structure must be set back from lot lines and the city is moving away from alleyways, which would facilitate a garage in back, so the garage sticks out in front, he said. It's the most efficient, cost-effective design, he said.
'I don't love the snout house design either, but it is the best way to make it affordable for the client,' he said.
Benton Frey, co-owner of Frey Homes LLC and president of the association, agreed. Many customers like the large garages in front, he added.
'In the Midwest, everyone likes big garages,' he said. 'That could be why it's become more prominent.'
Both Dostal and Frey oppose regulations. Dostal has a simple recommendation.
'Let the market dictate,' he said. 'Stay out of it.'
EXPLORING OPTIONS
For now, city leaders are continuing to explore options.
Elizabeth Garvin, of LSL Planning, who is consulting on the zoning code update, spoke to Poe's development committee this fall.
'I call it the welcome to my garage house,' she told the committee. 'They are perceived as less friendly and give the 'stay out' sort of feeling.'
She said a few larger cities, including Portland, Ore., and Sacramento, Calif., and many small cities around the country have banned the design outright. Officials in Cedar Rapids, such as Poe, are reluctant to go that far.
Garvin described options to limit the houses without bans, such as requiring developments have four different garage options, restrict contiguous snout homes, limit the proportion of frontage devoted to garage and provide city incentives to discourage builders from snout designs.
William Micheel, assistant director of community development for Cedar Rapids, said a ban is unlikely. He said city officials are looking for ways to make neighborhoods more walkable and engaging, and the new zoning could set standards to preserve or promote certain neighborhood characteristics.
'The idea behind that is when you've got one particular type of housing dominating the landscape and it is repetitive, some people raise questions if it is attractive,' Micheel said. 'We want to ensure the rezoning effort offers the development community a wide range of house options.'
l Comments: (319) 339-3177; brian.morelli@thegazette.com