Cedar Rapids residents leery of meaningful change on Mount Vernon Road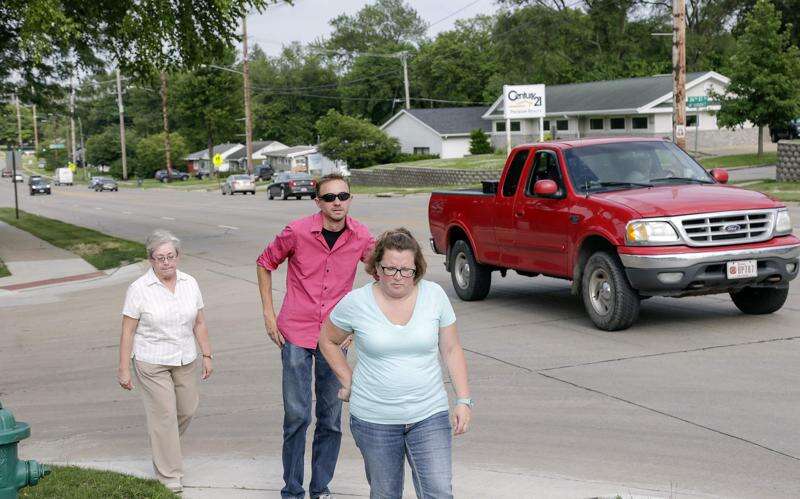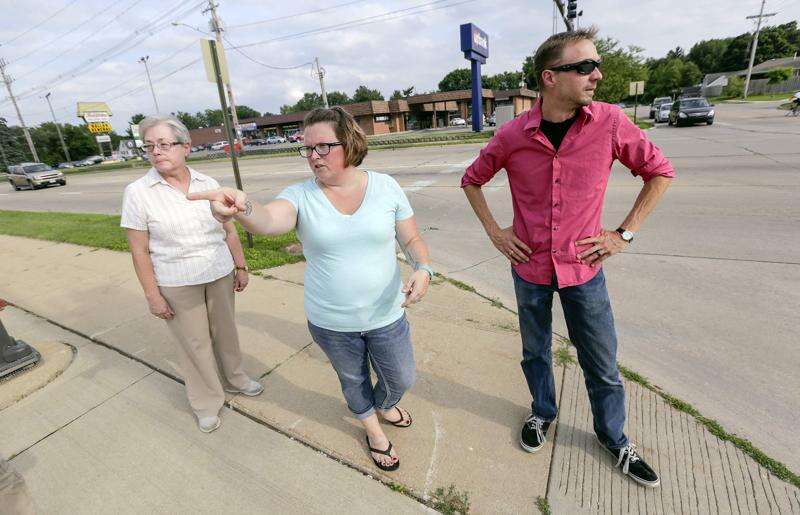 CEDAR RAPIDS — One hundred years after Mount Vernon Road was incorporated into the cross-country Lincoln Highway — an act that helped propel it as the eastern gateway to Cedar Rapids — city leaders want to rejuvenate the area where thousands live and even more commute.
The area has become busy, to be sure. It's also regressed into an unremarkable thoroughfare of fast-food chains and gas stations, where motorists simply pass through and residents leave to find recreation, shopping or other entertainment, locals say.
'There's nothing that makes you go, 'I have to stop here and check it out,'' said Heather Lynxwiler, who's lived in the area for six years with her husband and children. 'For the eclectic mix of people, there's not that eclectic mix of retail with restaurants and coffee shops.'
The Cedar Rapids planning department recently launched a Mount Vernon Road Corridor Action Plan for 10th Street SE to 44th Street SE to upgrade aesthetics and public improvements in hopes of spurring private investment, with a particular focus on key intersections. This stretch of road was one of several identified for improvements in a 2015 city comprehensive plan called EnvisionCR.
Confluence, a Cedar Rapids-based consultant, was awarded a $50,000 contract to lead the planning effort.
Among 10 busiest roads
City officials said they don't have a preordained game plan for the area — which includes the first blocks north and south of the main drag — but rather are generating a vision from users. Results will help guide public and private development for years to come, officials said.
'It's the type of roadway that has a lot of uses, and depending where you are on the road you use it differently,' said Adam Lindenlaub, a city planner.
Two more as-yet-unscheduled public input meetings are to be held before the plan is finalized this fall.
The strip — one of Cedar Rapids's 10 busiest, according to the city — dates back to the earliest days of Cedar Rapids, said Mark Stoffer Hunter, Linn County History Center historian.
A cross-country drive
Mount Vernon Road was an important county road before local leaders successfully lobbied in 1916 to be included in the Lincoln Highway, which is called the first cross-country highway, Stoffer Hunter said. Traffic surged and hotels, motels and other tourist stops popped up. A streetcar line ran from downtown to Memorial Drive, he said.
'It became a major arterial for not just local traffic but national traffic,' Stoffer Hunter said. 'If you were going from New York to California, you would pass through Cedar Rapids.'
Development along the busy route helped push out the city's eastern boundaries, he said. By 1950, the Lincoln Highway had been rerouted, but Mount Vernon Road remained on the upswing through the 1970s when it expanded from two to four lanes, he said.
It wasn't until the early 2000s, when a fifth lane was added, that the area started to decline. The widening, which took two years of construction, led businesses to close and discouraged shopping in the area, he said.
These days commuters from the city of Mount Vernon or westbound grain trucks make up the traffic numbers, which top 20,000 vehicles per day, Lindenlaub said. Iowa Department of Transportation counts from 2013 report it at around 8,000 daily.
Traffic snarls when a vehicle needs to turn across traffic.
Community meeting
Dollar stores, cigarette outlets and auto-part dealers line the street, and the True Value hardware store and Hy-Vee grocery store serve as makeshift community centers. At least three schools anchor the area, and residents fill modest homes built in waves in the early 1900s and another in the 1950s and 1960s. But getting around without a car is no fun, especially with children, some said.
'You can't really walk here and carry on a conversation,' said Amy Anderson, who has lived in the area most of her life, most recently two blocks off Mount Vernon on 35th Street. 'If you walk with kids, you constantly have to make sure they stop. It's not very pleasant.'
Confluence and city officials hosted a public meeting at All Saints School last month, drawing more than 200 people — a far greater crowd than organizers anticipated.
Attendees wrote feedback on poster boards with a stretched-out display of the road.
'Grain semis should be routed away,' 'speed control,' 'noisy,' 'bike paths to downtown' and 'coffee shops,' some notes stated.
During a polling exercise, 90 percent of respondents said that stretch of road either had not enough retail or not enough variety of retail, and 45 percent — the most popular answer — said the state of that part of the road is poor.
Residents lamented the loss of walkable staples, such as the Hy-Vee Drugstore, which closed in 2014 and became a Goodwill, and the long-standing Vernon Inn, dubbed 'the Greek Place,' closed in 2012.
Space between sidewalk and road
More than a few buildings and properties sit vacant, including three corners of Memorial Drive, perhaps the most prominent intersection on Mount Vernon Road. The Ambroz Recreation Center, which used to be the Buchanan School, is being phased out in August, and the building's future is in limbo, city leaders said.
Organizers sought feedback on different types of roadway treatments such as arches, pillars or other markings to create a sense of place for the road. Attendees also were asked to weigh in on different types of streetscapes — from more urban, to more residential to more pedestrian friendly.
'We don't have a lot of room to work with, but there are things you can do with the two or three feet of space between the road and the sidewalk to change the perception of the road,' said Jennifer Pratt, director of the city community development department.
Pratt noted the city has little say in getting a certain type of restaurant or retailer to open, but it can look at lot sizes, zoning requirements and land uses to remove barriers to the sort of development people want.
'Once you show there are opportunities for different kinds of development the neighborhood supports, it can be helpful for developers,' she said. 'There's more assurance and less risk.'
Roadwork, bike trails
While the city's Pratt noted the effort isn't simply about road work, at least a dozen major road projects either on or intersecting with Mount Vernon Road are slated for the next 10 years. Those plans are on hold to align with the action plan, she said.
City documents also show plans for new bike paths along Memorial Drive, cutting across Mount Vernon Road, and along Mount Vernon from 38th Street past Hy-Vee to East Post Road.
Some residents remain skeptical about the action plan.
'It sounds good, but you can sit and wish all you want,' said Pat Murphy, 73, while at Dairy Queen, at 2843 Mount Vernon Rd. SE, with his daughter and grandchildren in the early evening last week. 'You can't go anywhere. There's no reason to come here except to leave town. If East Post Road (crossed the Cedar River), the problems would fix themselves.'
'Take care of the basics first before enhancements,' Lynda Chamberlain, 66, who's lived in the area for 34 years, said after hearing the city's presentation last month. 'What's the point of an archway over Mount Vernon Road if you have potholes underneath?'
Others see the exercise as a bureaucratic one that will cost taxpayers money and won't materialize. They worry beautification efforts could cause visual obstructions endangering travel, and doubt enough room exists along the tight road for meaningful changes without tearing down property.
City officials say they are not planning to take down any existing houses or businesses.
Dan Alpers, Amy Anderson's husband, said he is concerned the city either already has a plan or nothing will come from the planning effort.
'We don't care if this is pretty. Just make it safe, make it easy, make it useful,' he said
While some echoed Alpers's sentiments, others such as Lynxwiler were more optimistic.
'You can't pay attention to everywhere, but I think it's our turn,' Lynxwiler said.