Cedar Rapids razes homeless encampment
Officials say why it's necessary, but advocates object
This is the second installment of an occasional series.
CEDAR RAPIDS — "What is the most important thing you want to save?" the Rev. Gary Sneller asked people over and over this month at a homeless encampment on Sinclair Levee, near the Cedar River.
As residents of the camp hurled anger and profanities in despair Dec. 1 at city employees, skidloaders moved everything in their path toward a garbage truck.
It was Sneller's first time watching a city clear a homeless encampment since he started getting familiar with the homeless community a few months ago. But as he arrived to help them that day, he knew most would be lucky if they got to keep only one possession from the camp they called home for months.
On Nov. 15, the snow foreshadowed their displacement. On Dec. 1, their time was up.
This eviction involved several city departments and heavy machinery to do what city representatives and the Cedar Rapids Police Department say is not only necessary, but beneficial in getting homeless campers the help they need.
Giving notice
This isn't the first time a homeless encampment has been cleared, and it likely won't be the last. But the encampment on the city-owned Sinclair Levee, south of New Bohemia, became home to dozens of people over the course of nine months as one of the largest and longest-lasting sites seen in Cedar Rapids.
During the increase in unsheltered homelessness, which has tripled in Cedar Rapids since 2019, police Lt. Jeremy Paulsen has handled clearings of multiple homeless camps over the last six months in his new position as a district police lieutenant for the Cedar Rapids Police Department.
⧉ Related article: People living on the streets in Linn County skyrockets as winter arrives
Since June, he has responded to approximately 10 to 15 complaints about tents on public and private property. Some are reported by city employees in the course of their work; others are reported by private property owners.
Most of the sites he sees are single people or groups of three to four. Sometimes, sites are abandoned before he arrives.
"A lot of times, my question to them is, 'How long do you need?'" Paulsen said. "The last thing I want to do is say, 'Take what you can carry, and that's what you'll have.'"
Willis Dady Homeless Services advocates credit Paulsen and Cedar Rapids police with making the process as painless as possible for clearing camps. By all accounts, most residents at Sinclair Levee had at least a day or two of notice before the site was cleared.
But for many experiencing homelessness, time is ephemeral, and keeping track of it can be difficult when all focus is spent on securing food, shelter and safety for basic survival. After that, there's no energy left to record memories, plan ahead or think about the future, said Wes Shirley, a Willis Dady library navigator who works with homeless people.
"Demarcations of time become much less obvious when you're trying to survive day to day. For people who are experiencing homelessness for a long time, this becomes one of many episodes where they have to pack up and leave," Shirley said. "That sort of experience sort of just piles up and it becomes expected — that this is how your life is going to look."
So even when notice comes, it often doesn't faze the residents until the equipment arrives.
"You could have given them three years and it still probably would have been a shock to them — that's just the state of mind they have," said Aaron Terrones, support services director for Willis Dady. City employees "all feel (expletive) about what they're doing. But it doesn't matter; it still traumatizes all these people."
He struggled to see the benefits of the clearing to anyone, homeless or not.
The clearing process
In August, after multiple complaints about Sinclair Levee, a group of city departments and divisions began the conversation about how to best clear the site. The process for clearing sites like Sinclair Levee, which has so far remained informal, often involves Parks and Recreation, the Police Department, Solid Waste & Recycling, Streets, Forestry and Sewer.
Delays in resource planning bought residents more time. Questions about safely clearing around tree debris and an endangered bat species living on the site gave them even more.
By that time, winter was near, so Paulsen recommended the city wait until the Willis Dady overflow winter shelter opened first.
"We don't just wake up one morning and say it's time to bulldoze a camp. There are many factors that go into the discussions," said Dale Todd, City Council member who serves as chair of the Public Safety Committee.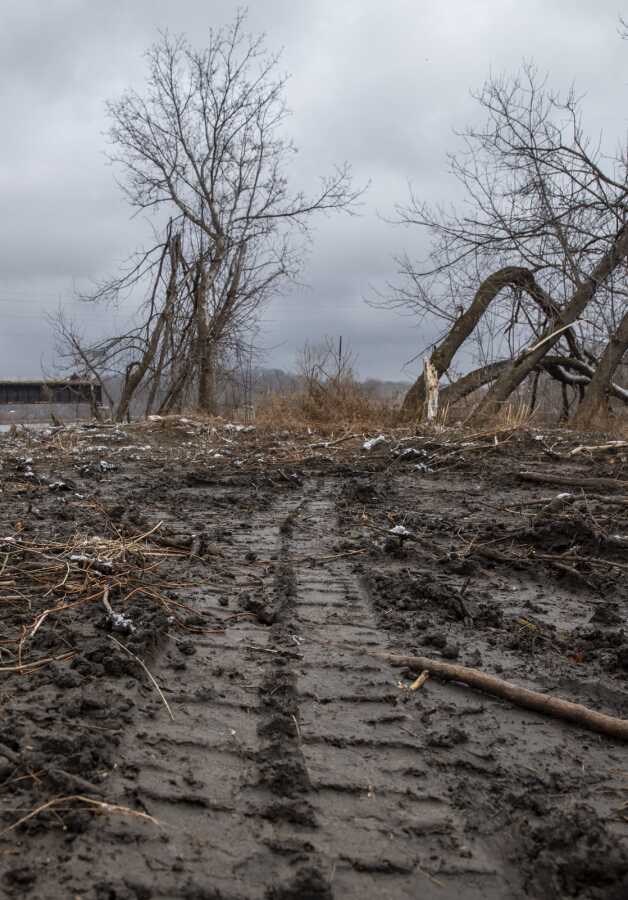 Though he said there is no single person or factor deciding when it's time to clear an encampment, those involved have a sense of when it's time to make the call. By the time complaints file in from other city residents or business owners, encampments like Sinclair Levee are already on the radar.
He argues that the informal process for clearing the site with city employees and representatives is a result of the city's empathy to the plight of homeless people, which benefits them by giving the city more flexibility to adapt to difficult situations.
"We also know sweeps are not the answer," he said. "They deserve better. We know we can do more and every day we try, but it's complicated."
Why they're cleared
Todd and Paulsen both say the razing of homeless encampments are necessary for both sanitation and safety purposes.
At Sinclair Levee, the Cedar Rapids City Manager's Office confirmed that 53.3 tons of materials were loaded into garbage trucks, according to landfill scale tickets. It's unclear how much of the weight taken to the landfill was personal belongings and how much was refuse and waste.
"There comes a point where you understand that it's no longer in the best interest of everyone there to be housed at that location. It's not safe," Todd said. "It's not like these are a couple of people sitting around a camp fire. When you have to clean 53.3 tons of garbage from a public space, that is significant."
City ordinances prohibit camping on city land, though homeless people are charged with trespassing only as a last resort — something Lt. Paulsen said he has never done in his interactions.
Paulsen contends the clearings not only necessary for homeless residents, but beneficial to get them on the right track for help.
"Getting those areas cleaned up and interacting with those individuals that are there, I do think, has some element of helping them get moved in the right direction and making them more visible to social service individuals that are there to help," he said. "(Camping) can't be a forever."
For a substantial number of people who don't want to go to the shelter for various reasons — no place to keep their belongings, a difficult environment for those with various anxieties and a loss of freedom with shelter rules, for example — some advocates say forcing people into a shelter is not the answer for people who habitually live outdoors.
"It might be wise to ask the homeless what they need instead of assuming what they need, because you don't know," said Daniel Reed, a homeless advocate who protested a prior eviction of Sinclair Levee residents in 2015. "The only way to get a good perspective on the homeless is from the homeless."
What was lost
In 2015, the eviction at the same site sparked protests around City Hall, where protesters held signs asking, "Where do we go next?"
Reed, now a homeless advocate and resident of Geneva Tower, was one of the protesters. After a bout of several months with housing insecurity, he was introduced to the community of homeless campers who habitually live outdoors.
The razing of the Sinclair Levee yet again has done the opposite of providing security, he said.
"They destroyed whatever safety (homeless residents) had. We've scattered them to the wind." Reed said.
But more than a sense of safety, security and community, the residents lost possessions they just don't measure by weight.
For former resident Mary Sand, 56, the level of loss included all of her material possessions. Her intricate graphite sketches and dream catchers had little value to others. But to her, they were "everything," she said tearfully Dec. 2.
Amid the loss and profanities that day, Rev. Sneller heard them profess something else, too: their self-worth.
"Even though their circumstances are not what many of us would consider ideal, this is their life," he said. "To have it ripped away from them, what life they have, is a real crime against their humanity."
Where are they now?
"That's the million dollar question," Paulsen said.
Those who continue to live outdoors often choose to sleep in places out of sight where they can lay their head for a few hours, Shirley said — parks, alleys, behind trash bins or businesses.
"You can ask people to leave, but it doesn't change anything about their situation," he said. "They're likely going to be in more obvious places than Sinclair Levee."
Comments: (319) 398-8340; elijah.decious@thegazette.com