Branstad tells UI faculty to 'calm down' over Harreld hire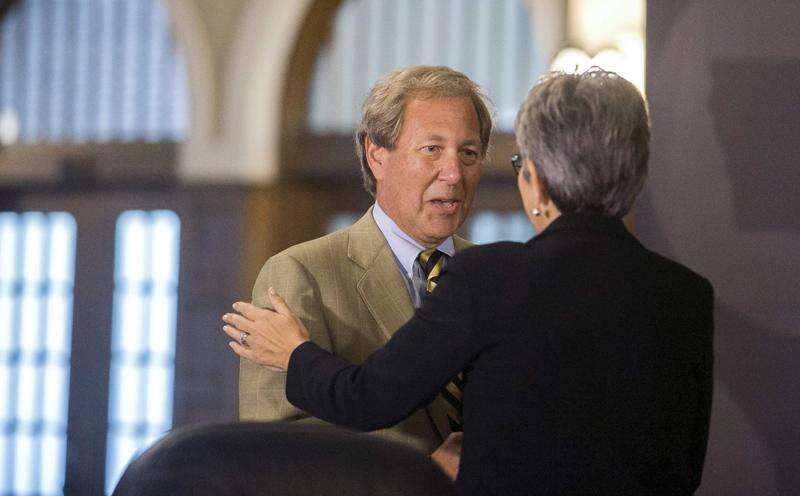 DES MOINES — Gov. Terry Branstad advised faculty members at the University of Iowa Tuesday to 'calm down' and give incoming President Bruce Harreld a chance to prove himself as the school's 21st leader.
The Republican governor called it 'outlandish' that dozens of UI faculty members representing the institution's largest college recently called for the 'immediate resignation and/or dismissal of the existing State of Iowa Board of Regents' for hiring Harreld as the new president.
'For them to advocate for me to do something illegal is inappropriate and they should know better,' Branstad told reporters in response to a faculty vote of no confidence in the university's nine-member oversight board and a demand that he appoint new regents who will be 'broadly representative' and uphold core values — a move he says he has no authority to do.
'The faculty needs to calm down and give the new president a chance. He's not even on the campus yet,' the governor said.
Harreld, a former executive at IBM and a president of a restaurant chain with limited academic leadership experience who is slated to take the UI reins on Nov. 2, was selected from a field of four candidates by the regent board that oversees the state's three public universities and two special schools.
Concerns have been raised in the aftermath of the Sept. 3 vote about Harreld's resume, improper cites of co-authors for most of his publications and emails indicating regents met with Harreld in advance of the interview and selection process that included three other candidates with academic backgrounds.
Branstad said he supports the regents' choice and noted he faced similar academic skepticism when he was selected as president of Des Moines University with no academic background.
'I was suspect from the faculty, but I was able to win them over. I just say they need to give the new president an opportunity,' the governor told reporters after addressing the Older Iowans Legislature. 'I think it can all work out.'
Senate Majority Leader Michael Gronstal, D-Council Bluffs, who also spoke to the assemblage of senior Iowans on Tuesday, said he planned to steer clear of the UI presidential selection controversy, saying the state's regent system is set up to insulate members from 'direct political interference.'
'We may have occasional disagreements about where they go, but I believe that system where the regents are in charge of the state universities has largely served Iowa well and I would be reticent to undermine that system even when I occasionally don't like the outcomes of what the regents do,' Gronstal said.
l Comments: (515) 243-7220; rod.boshart@thegazette.com