Branstad makes last push for water quality funding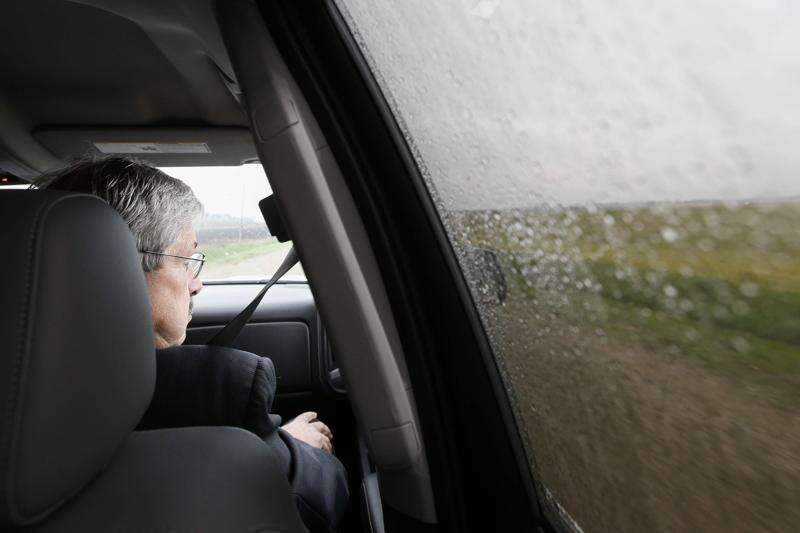 DYSART - Gov. Terry Branstad said Wednesday he remains hopeful that the Legislature will - before it adjourns perhaps by the end of this week - authorize substantially more funding for efforts to curb nutrient pollution of the state's water.
'My top priority (for this legislative session) is to secure ongoing, reliable funding for the nutrient reduction strategy and help for municipalities in reducing point-source pollution," Branstad said during a visit to the Middle Cedar Partnership Project hosted by Dysart farmer John Weber.
Noting that the Republican-controlled House on April 11 passed a bill that would fund water quality initiatives, Branstad said, 'We are trying to encourage the Senate to take it up. There's still an opportunity to get things done" yet this session.
Branstad praised the Middle Cedar Partnership Project - a $4.4 million effort led by the city of Cedar Rapids to improve water quality and soil health in the Cedar River watershed - as 'a great example that we would like to see duplicated all over Iowa."
It is a model for 'working together, rather than pointing fingers at each other," Branstad said.
It stands in contrast, he said, with the Des Moines Water Works lawsuit against three northwestern Iowa counties seeking to regulate pollutants discharged from farm drainage districts.
The utility blames runoff from farm fields for chronically elevated nitrate levels that have increased its costs of providing safe water to its 500,000 customers.
Unlike the Middle Cedar Partnership Project, which has fostered 'cooperation and collaboration," the lawsuit 'has divided people and caused controversy," Branstad said.
The governor said he does not share concerns that water quality funding proposals require victims of pollution to help pay for cleanup.
'We are all in it together. We all have a need to protect water quality and reduce the risk of flooding," he said.
Weber, president of the National Pork Producers Association, said farmers need public financial support to implement the conservation practices required to reduce nutrient pollution.
Branstad's initial proposal to fund water quality improvements would have extended an existing sales tax for school construction projects but then diverted some of the revenue. It would have provided an estimated $4.7 billion for water quality initiatives over 32 years.
But that idea has gone nowhere in the Legislature, with some lawmakers concerned it pits education against water quality.
The governor said he supports the recent House bill, passed on a 65-33 vote, which would provide $478 million over 13 years to water quality projects from an existing water metering tax and the gambling-funded state infrastructure account.
Branstad acknowledged the need for more monitoring of water quality not only to mark progress in the effort to curb pollution but also to help identify the most cost-effective practices.
Farmer Al Schafbuch said he already has identified the most effective practices on his 800 acres - no-till combined with cover crops.
Schafbuch, a participant in the Benton/Tama Nutrient Reduction Demonstration Project, said he has practiced no-till cultivation since 1992 and ramped up use of cover crops over the past six years.
'It protects the soil from erosion, reduces loss of nutrients and improves soil structure and fertility," Schafbuch said.
Though he has received cost-share assistance on some but not all of his cover crops, Schafbuch said he would do it without.
Three years into the state's nutrient reduction strategy, cover crops were used last year on less than 1 million acres of the state's 23 million row crop acres.
'If we could get half the state's crop land in no-till and cover crops, it would make a big difference," Schafbuch said.
Shane Wulf, coordinator of the Miller Creek Water Quality Improvement Project, said about 3,000 acres of the 37,000 row crop acres in the watershed were protected by cover crops after last year's crops were harvested.
Shannon Mitchell, coordinator of the Benton/Tama Nutrient Reduction Demonstration Project, said farmers received cost-share payments on 4,000 acres of cover crops in the 92,000-acre watershed.
Because many farmers plant cover crops without taxpayer assistance, Mitchell estimated that 10 percent of the crop fields in the watershed of three creeks - Pratt, Rock and Wolf - were protected by cover crops.
'The practice is really spreading. Farmers are embracing it," she said.