Anamosa prison killings focus of sharp debate over funding
Iowa House GOP proposes $20M increase, far more than Senate's $4M
By Erin Murphy. Gazette-Lee Des Moines Bureau
Apr. 6, 2021 6:10 pm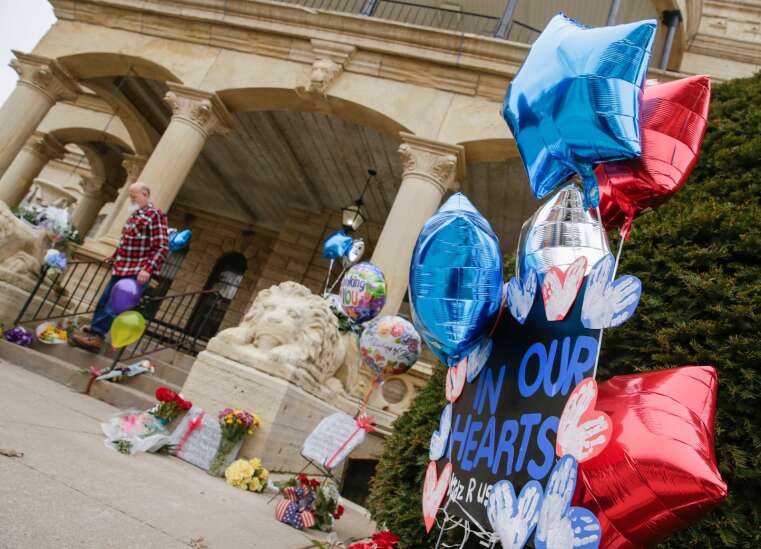 DES MOINES — The murders of two prison workers last month at the Anamosa State Penitentiary and adequate funding for the state's prison system became the focus Tuesday of heated partisan political debate.
During competing news conferences outside the Capitol, Democrats and union leaders called for more state funding for the state's prison system and accused Republicans of neglecting prison workers while a Republican legislative leader highlighted his party's proposed prison funding boost and accused Democrats of betraying law enforcement.
According to state investigators: Two workers at the Anamosa prison, Officer Robert McFarland and nurse Lorena Schulte, were killed during a March 23 attack by inmates trying to escape. A third worker, Lorie Matthes, was taken hostage during the attack, and another inmate was seriously wounded while trying to assist other victims.
During the first news conference Tuesday, a top state union leader called for lawmakers to increase funding so prisons can hire dozens if not hundreds more workers, boost funding for equipment upgrades and worker training programs in the system, allow public workers to again collectively bargain for safety and health issues — those bargaining elements were removed by a 2017 law passed by Republicans — and fund an independent investigation into the March 23 attack.
"Let me be clear: I believe grossly inadequate staffing inside the Department of Corrections led to the deaths of Robert and Lorena. There's no ifs, ands or buts about it," said Danny Homan, president of AFSCME Council 61, which represents roughly 20,000 public workers in Iowa. "There's only one way we can fix this, and that's to hire the appropriate number of staff that we need at Anamosa and at every correctional institution in this state."
There are 23 vacant positions at the Anamosa prison, according to state officials. But Homan argued Tuesday that number is tenfold higher because the state stops counting positions after they are left unfilled for over a year.
According to an AFSCME report using state data, despite almost identical state prison populations in 2009 and 2019, there were 1,594 paid full-time correctional officers in 2009 and 1,371 --- 223 fewer --- in 2019.
Homan also called for the termination of former Anamosa warden Jeremy Larson as well as Anamosa's deputy warden and security director.
Larson has been reassigned as interim warden at the Newton facility, and Randy Gibbs, the warden at the prison in Fort Madison, has been temporarily reassigned to serve as warden at Anamosa, a state corrections department spokesperson said.
Those changes were among a reshuffling of leadership posts in the state's prison system, including a retirement and four reassignments, the spokesperson said.
Homan accused the state Corrections Department of playing "whack-a-doodle" by moving the former Anamosa warden to Newton.
"Those three individuals have violated the sacred trust that every correctional officer has, and that's having their buddy's back. They didn't have anybody's back. It's their fault this happened --- that and short staffing," Homan asserted.
Iowa Rep. Todd Prichard, the leader of the minority House Democrats from Charles City, called the deaths in Anamosa "preventable" and "predictable" due to years of what he called underfunding the state prison system.
Moments later, state Rep. Pat Grassley, the Republican House speaker from New Hartford, held a news conference of his own to respond to some of the criticisms leveled by Homan and Democrats.
Grassley highlighted House Republicans' proposal to boost the state corrections budget by $20 million, which he said was in the works before the deadly attack in Anamosa, and criticized Democrats who voted against the proposal earlier Tuesday.
"Public safety: largest increase in over 10 years. Department of corrections: largest increase in 10 years. Fully funded the courts' request," Grassley said.
The House proposal, however, needs to also be approved by majority Republicans in the Senate --- who previously proposed a $4 million increase for the corrections budget --- and by Republican Gov. Kim Reynolds.
House Republicans' proposed $20 million increase would cover delayed salary increases, budget committee chair Rep. Gary Worthan, R-Storm Lake, said during hearing Tuesday morning.
"We're trying to bump them back up, improve staff numbers and so on there," Worthan said during the hearing. "This puts out there in big, bold letters that we support our law enforcement people, we support our justice people, we support those people who are guarding our institutions and taking care of our offenders. Call it the thin blue line or the thin brown line standing between us and anarchy."
Homan noted that means the funding boost would cover only current salaries and does not provide funding for additional staff.
Grassley said state Corrections Department leaders would be able to use the funding increase however they see fit.