All in their 90s, four siblings with a tie to Cedar Rapids planning reunion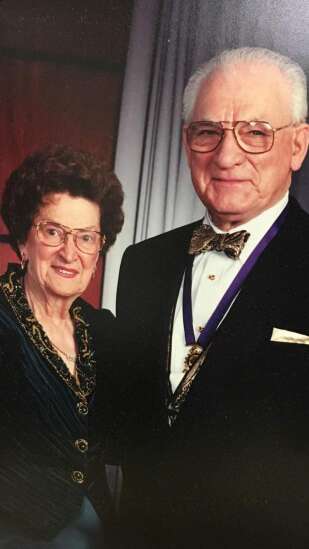 Charise Schwarm remembers that whenever a guest was invited to her place for breakfast, it meant one thing: Her parents, Cleo and Charlotte Edwards, were fundraising for a cause and the guest was going to end up opening their checkbook.
Charlotte, of Cedar Rapids, would prepare an egg soufflé and Cleo would pitch his cause, or if it was a political candidate asking for assistance in funding, the situation would be vice versa.
For Charlotte and Cleo, they were living the life they didn't have as children and giving back as much as they could.
The couple - who were introduced to each other in the 1940s by Charlotte's brother, Odell - worked tirelessly in the community wanting to experience everything.
'Mom and dad were just really fond of people, very upbeat, very giving and wanted to help others," Charise said. And (they always had a) can-do attitude and helped others with a can-do attitude."
This spirit of Charlotte, now 97, and Cleo - who died in 2014 - is something Kirk Johnson, Charlotte's nephew, attributes to his aunt's and her three brothers' 'quintessential form of politeness."
The four siblings - Charlotte, and Odell Maynard and Ervin Johnson - have all lived into their 90s, which Kirk, Ervin's son, believes takes a certain form of resiliency to accomplish.
'Their positive attitude has allowed them to live that long," he said.
This month, the four siblings plan to reunite in some way - by Skype for Charlotte and in person for the rest - after nearly three years of being apart and for the first time with all of them in their 90s.
Maynard, 93, was a lifelong truck driver; Charlotte, a dedicated Cedar Rapids community member; Odell, 96, a prisoner of war; and Ervin, 90, once told a general 'no" during World War II.
The four were raised in Mabel, Minn., on a small farm, said Maynard's daughter, Shelley Pagliarello.
Growing up, Shelly said, her dad remembers getting up at 5 a.m. with his siblings to milk the two dozen cows the Johnson family kept on their farm - a value he carried with him through life that work was a major priority.
'He's a strong-willed, stubborn Norwegian," she said. 'He values honesty, is a hardworking man, generous, loyal and has a very huge heart."
But family, too, was a priority. Collectively, the four siblings logged a combined 270 years of marriage with their spouses.
Charlotte, the oldest, moved to Cedar Rapids in the 1940s to attend the Paris School of Beauty, Schwarm said. Charlotte remembers meeting celebrities and musicians who would get their hair done at the school before visiting the Brucemore mansion.
Schwarm said her mother was the rock behind Cleo, always offering spousal support to whatever his next endeavor was.
'It is another one of those stories where who knows where he would have been had he not had mother. She was his rock, support system, cheerleader," Schwarm said.
But the four siblings have remained humble throughout their lives. Ervin, the youngest child, hit his milestone on July 5 when he turned 90. But to him, it was just another day.
His son, Kirk, said the claim to fame of his father - who now resides in Fort Collins, Colo. - was telling Gen. Curtis LeMay 'no."
LeMay has been credited with designing an effective, yet controversial, bombing campaign during World War II, when he served in the Army Air Forces, before the formation of the U.S. Air Force.
'My dad was the flight sergeant at an Air Force base in Nebraska," Kirk said, 'and LeMay came in and was inspecting supply."
Kirk said LeMay saw a jacket he thought would be good for duck hunting and walked to take it. Ervin told him no, saying he couldn't give the jacket to him.
'LeMay freaked out," Kirk said. 'But the rules were you don't just give people equipment."
In describing the siblings, especially Ervin, Kirk said they were brought up to be hard working and that their parents taught them to be honest, true, self-disciplined and respectful.
'If you were introduced to them you would say they are really genuine people," Kirk said.
As for Odell, he was a German prisoner of war after being shot down in a P-47 Thunderbolt during World War II.
When Maynard heard the news about his brother being captured, he was sitting at a table of 13 people. To this day, he won't sit at a table with 13 people, said Pagliarello, because he considers it bad luck.
Family members say they are looking forward to the reunion.
'It will be extremely emotional. It's been since April three years ago that they were together," Pagliarello said. 'I think to have a time together to share like this it will be really overwhelming, a time of reunion and celebration."