Agency workers in Iowa would feel brunt of Homeland Security shutdown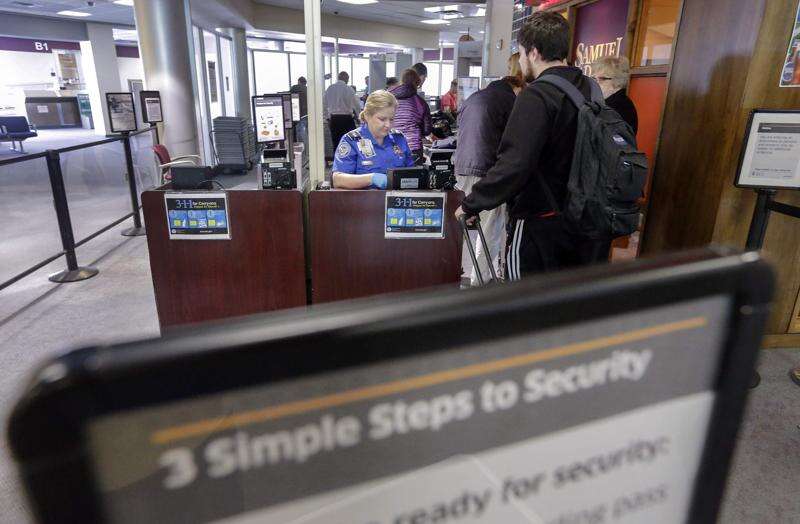 DES MOINES - A shutdown of the federal Department of Homeland Security may have a major impact on a small group of Iowans - the agency's employees.
The likelihood of Congress and President Barack Obama failing to agree on funding for the agency that oversees airport screeners, the Coast Guard, border security, cybersecurity and anti-terrorism intelligence operations before midnight tonight appears real.
However, for most of the state, the reaction is a collective yawn. For example, based on the much broader federal government shutdown in 2013, state agencies have minor concerns.
'We don't expect that much impact," said Stefanie Bond at Iowa Homeland Security and Emergency Management.
That's not the case for 55 Transportation Security Administration airport screeners at The Eastern Iowa Airport. They'll keep on working, but without paychecks.
Their worries would be over if the president and Congress could reach an agreement on DHS's approximate $40 billion budget. Republicans have tried to strip funding for Obama's executive actions to shield some illegal immigrants from deportation. Republican Sen. Joni Ernst, a member of the Homeland Security Committee, has voted five times in recent weeks to fund the department, spokeswoman Brook Hougesen said. Ernst 'wants to find a meaningful path forward and is committed to working to pass legislation which will override President Barack Obama's executive amnesty."
The president has promised to veto the budget if it doesn't include the funding.
So Saturday morning fliers may not notice any difference if there is no budget agreement because TSA airport screeners and supervisors who are considered essential employees will be on the job, according to Heather Wilson, director of marketing and communication at The Eastern Iowa Airport. An office manager and administrative assistant will be furloughed.
According to DHS, there are 248 full time civilian employees in Iowa along with 36 Coast Guard members.
Being deemed 'essential employees" could pose a potentially significant hardship for about one-third of TSA screeners nationwide who are single parents, according to Alan Jackimowicz, executive vice president of the American Federation of Government Employees TSA Council 100, which represents about 46,000 TSA employees.
'They are dealing with baby sitters and other outside expenses," Jackimowicz said. 'How do you go to work and have to tell your baby sitter or day care provider that somewhere down the line you will pay them?
'A full-time screener makes about $35,000 (per year) and they're living paycheck to paycheck. For this to stop their income, it's devastating for them,
'They are probably going to have to go to their parents or relatives to make it."
When there was a shutdown in 2013. Wilson said, the 'screeners and supervisors also worked without pay. They received back pay after the budget issue was resolved."
Some local employers will feel the shutdown because DHS will be unable to run its E-Verify program. Corridor employers including Rockwell Collins use the program to check if new workers are in the country legally.
The program is not mandatory for employers, but Jill Gerber of Republican Sen. Chuck Grassley's office said it 'could get complicated" because employers have three days to verify the legal status of a new hire.
Rockwell Collins spokeswoman Pam Tvrdy-Cleary said the company is identifying potential backup solutions it could put into place if the program were to become unavailable.
Gov. Terry Branstad attended a briefing with DHS Secretary Jeh Johnson while in Washington for the National Governors Association winter meeting.
Though the briefing wasn't Iowa-specific, Johnson did indicate that some states could be impacted, specifically in terms of payments and grants being delayed from FEMA, Branstad spokesman Jimmy Centers said.
'The governor is hopeful that Washington, D.C., will take a page out of Iowa's playbook and work together to find a solution to continue moving forward," he added.
Johnson told governors that states and localities would feel the impact of shutdown because DHS would have to suspend grants that help local police and firefighters pay for training and equipment.
More than 80 percent of his agency's employees would be forced to show up for work, he said.
The Federal Emergency Management Agency, however, wouldn't be called back in unless there's a 'real-world, life-threatening disaster."
That means FEMA's regional office in Kansas City, Mo., would not be able administer claims and process payments to Iowa communities hit by last summer's storms, tornadoes, straight-line winds and flooding, Michael Cappannari, FEMA's regional spokesman.
He said a shutdown 'would put on hold" the work on the Iowa disaster response because of a lack of staff in the regional office. FEMA currently has no staff members in Iowa, he said.
Last summer's Iowa disasters impacted 22 Iowa counties, including Linn, Johnson, Cedar, Jones, Iowa, Jackson, Keokuk, Muscatine, Poweshiek, Tama, Washington and Black Hawk counties in Eastern Iowa.
However, Bond noted that FEMA funds for Iowa disaster have been obligated, so, again, the impact would likely be minimal.
At Camp Dodge in Johnston, Col. Gregory Hapgood said the Iowa National Guard should feel no impact. The Guard funding comes through the Department of Defense, not Homeland Security, so furloughs should not impact the Guard's ability to respond to military or civilian emergencies.
Gazette reporters George Ford, Rick Smith and Chelsea Keenan contributed to this report