Affordable housing key to luring young talent, Iowa Economic Development Authority leader says
With an aging workforce, the state looks to recruit more young professionals
CEDAR RAPIDS -- Iowa Economic Development Authority Director Debi Durham, in a speech Tuesday in Cedar Rapids, emphasized Iowa's need for young professionals to bolster the state's ability to grow its economy — and the need to create affordable housing to support them.
With an unemployment rate of 2.7 percent and over 69,000 open jobs, Iowa is need of young talent, Durham said. To accomplish this, she said Iowa needs to focus on bringing in more affordable housing options to lure them and to expand the state's ability to support a middle class.
"Who is the face of affordable housing? It's your pharmacy techs, your teacher aides — your food service people," Durham said. " … So I believe as a Christian, and as an Iowan, that there is a moral imperative that anyone that is good enough to work in our community should be good enough to live in our community with dignity and quality."
Durham spoke at a luncheon hosted by the Cedar Rapids Metro Economic Alliance at the DoubleTree Hotel by Hilton in downtown Cedar Rapids.
Housing efforts, among other initiatives by the Iowa Economic Development Authority, aim at recruiting young professionals and employees to the state to ebb the tidal wave of baby boomers leaving the workforce, Durham said.
Iowa is ranked third in economic opportunity and sixth in affordability by the U.S. News & World Report.
Research done by Durham's agency found that young professionals would consider moving to other states based on factors including affordable housing, economic vitality, natural beauty and broadband connectivity.
"It's really about creating cultures in which businesses prosper," Durham said. "It's about building vibrant communities and it's about giving opportunity to our citizens in which they can thrive."
Cedar Rapids Mayor Tiffany O'Donnell, who also spoke at the luncheon, pointed to the Cedar Rapids metro area to show Iowa's potential for attracting businesses and young people. O'Donnell said Cedar Rapids has experienced rapid development and growth over the last few years.
New Cedar Rapids building permits were valued at $773 million in the last budget year, according to an earlier report from the Cedar Rapids City Manager Jeff Pomeranz.
"Cedar Rapids is the driver of this regional economy here and we take that role very seriously and are committed to living up to that expectation by putting more talent and resources on the plate," O'Donnell said.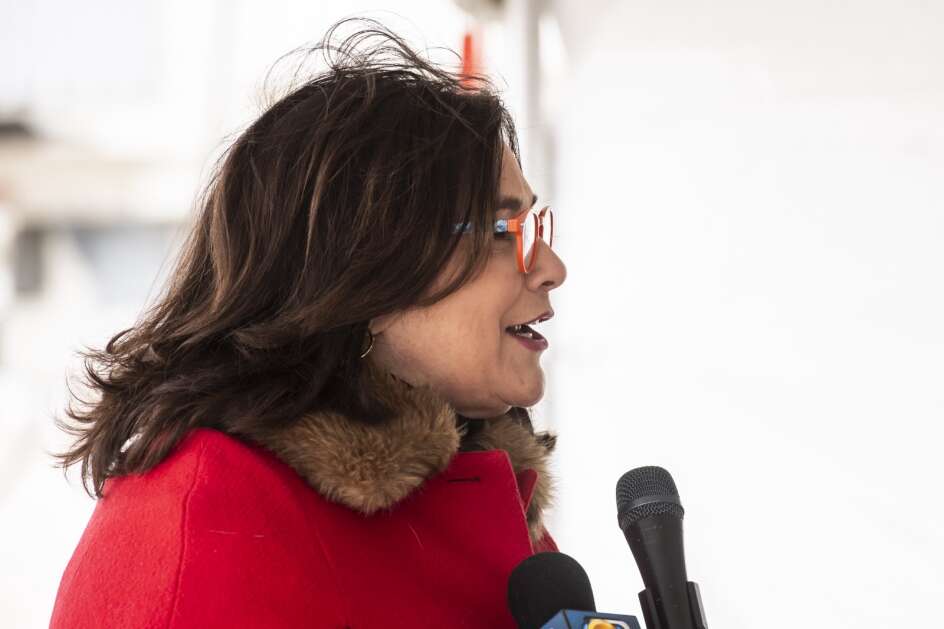 However, with rapid business expansion, comes more jobs to fill and Iowa has a shortage of workers, O'Donnell said. In collaboration with the Iowa Economic Development Authority, area governments are working on bringing young talent to the Corridor, she said.
"We are likewise investing in several game-changing quality of life projects that will not only transform our neighborhoods, they will take our city to the next level and help sustain and grow our national competitiveness in tourism," O'Donnell said.
O'Donnell also placed an emphasis on finding housing options for the "missing middle."
"We're talking about the young professionals that we want to recruit here. We're talking to individuals who may make $50-$60,000 a year, but they have debt that makes housing unattainable," O'Donnell said.
Iowa, like most states, does not have enough low-income housing units for the number of low-income households in the state, leaving thousands of households with large rent bills, according to data from the National Low Income Housing Coalition, a nonprofit dedicated to advocating for low-income housing.
Currently, the state has only 40 low-income housing units per 100 low-income households — leaving 65 percent of low-income households saddled with a large rent bill, the group reports.
Comments: 319-368-8877; liam.halawith@thegazette.com