21-and-older bar law passes in Iowa City
Gregg Hennigan
Apr. 6, 2010 8:36 pm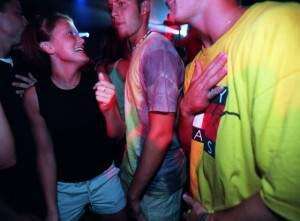 Starting June 1, people younger than the legal drinking age of 21 will be shut out of Iowa City bars at night.
Starting Wednesday, an attempt to seek a public vote to overturn that can officially begin.
As was expected, the City Council tonight voted 6-1 to pass and adopt an ordinance banning people younger than 21 from being in bars after 10 p.m.  Regenia Bailey cast the dissenting vote.
Currently, people 19 and older are allowed in bars at night. But some city and University of Iowa officials have said setting the minimum bar entry age at 21 would help combat what they say is a culture of binge drinking, particularly by college students.
"Too many of our students drink too much and in ways that are way, way, way too risky," UI President Sally Mason said.
Tom Rocklin, the university's interim vice president for student services, said the student code may be expanded to cover incidents anywhere in Johnson County.
On the other side, Blake Whitten, who said he was a professor at the UI, accused the council of "harassing" the UI community and said many people don't want the downtown culture changed.
"Speaking metaphorically, you are wearing no clothes," he said.
The measure applies to establishments whose primary purpose is the sale of alcohol. Council member Susan Mims said she'd like the city to explore whether certain cultural venues, like those that have live music, can be exempt.
Opponents have promised to petition for a referendum to send the matter to voters in the Nov. 2 general election, with a goal of reversing the council's action.
That effort can begin Wednesday, and organizers would have 60 days to collect at least 2,500 signatures from eligible voters.
"That won't be too hard," Dan Tallon, a UI student, said before the meeting.
He helped organize a petition drive last month to set the minimum bar entry age at 18. That was done to try to keep the council from voting on the 21-and-older law, which it obviously did not.
Tallon said he believed that petition would not be turned in, thus avoiding the possibility of two measures related to the bar age appearing on the November ballot.