Krier had long history of mental illness, substance abuse, records state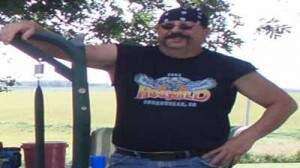 OTTUMWA, Iowa - A rural Sigourney man who fatally shot a deputy and was killed during a standoff Monday battled bipolar disorder for three decades and was hospitalized recently for the disease, his family said.
Jeffrey Alan Krier, 53, also suffered from alcoholism and drug abuse since at least the mid-1990s, according to court records filed in Wapello County.
"While Jeff's mental illness may have contributed to the tragedy it in no way provides comfort or solace to the many who have been impacted by his actions," Krier's family said in a prepared statement Tuesday.
Krier was accused of shooting Keokuk County Sheriff's Deputy Eric Stein in the head with a shotgun Monday. The Iowa State Patrol Tactical Unit shot and killed Krier after a three-hour standoff that followed Stein's death.
Krier did not have a permit to carry weapons, the Iowa Department of Public Safety reported.
"Jeff was a loving brother who struggled with mental illness for the past three decades. He was diagnosed as bipolar and had tremendous difficulty managing his illness," said Krier's brother, Sam, and sister, Debbie, in the statement.
Jeff Krier had been hospitalized for seven days in March, his siblings said. It was not immediately clear whether he voluntarily entered the hospital or was involuntarily committed.
Krier had not worked in 15 years because of his mental illness and lived with his parents, Glen and Roselyn Krier, near Sigourney until his parents went to live at a nursing home in March.
Krier's parents agreed to take responsibility for him following a rash of arrests in the mid-1990s including charges of carrying weapons, stalking, assault and drunken driving. He was found not guilty of many of the charges by reason of insanity.
He was charged Nov. 8, 1995, with carrying weapons after officers stopped him while he was driving a tractor with a manure spreader on the back near Ottumwa. Officers seized a loaded Ruger 9mm pistol that Krier had concealed in his pocket, court records states. Officers also found marijuana in Krier's shirt pocket, records state.
Krier was charged with stalking, a Class D felony, in December 1996 based on allegations he called, visited and sent letters to an Ottumwa woman, causing her fear, records state.
"Victim has had to take a very large straight knife from the defendant in the recent week within he was going to be involved in a fight with another person," according to the criminal complaint.
In another incident, Krier was charged with assault on a peace officer based on allegations he hit an officer in the arm and kicked another in the leg on Dec. 8, 1999.
Krier spent time at the Mount Pleasant Mental Health Institute and at least one drug treatment program, court records state. But on Oct. 16, 1997, an 8th District Court Judge released him from custody, in part, because his parents said they would house and support their son.
"The defendant currently suffers a mental illness," Judge Dan Morrison wrote in the order. "The defendant does not currently represent a danger to himself or others."
Krier told corrections officials in 1997 that he had a "22-year history of mixed chemical abuse" that included alcohol, marijuana and methamphetamine, according to March 25, 1997, letter to the court.
Psychiatrists who evaluated Krier during court proceedings said he suffered from bipolar disorder and akathisia, or restless leg syndrome. Dr. James Fleming, who worked at the Highland Place Care Facility in Ottumwa, said in a 1997 report that Krier was compliant with his medications and was not dangerous.
"It is my understanding that Mr. Krier wants to live with his parents in Sigourney, Iowa, (and) and look for work and his parents are in agreement with that," Fleming wrote. "I do not oppose this proposal, but do realize that the psychiatric services available in Keokuk County are somewhat limited and I will be willing to provide this service at our outpatient clinic."
Krier was born in Sigourney and graduated from Sigourney High School in 1976, his family said. He studied aircraft mechanics at Indian Hills Community College in 1986.
A SourceMedia Group reporter spoke on the phone Monday night with a Roselyn who lives in the Oskaloosa nursing home where Krier's parents reside.
The woman seemed confused, had a hard time hearing and was unable to answer questions. During a subsequent phone call, a nursing home employee said the Kriers did not want to speak with the news media.
Krier's neice, Laura Brigman, of Woodlands, Texas, started to cry when asked Tuesday about her uncle. "Right now, I don't think they know what to say," she told a reporter about Krier's immediate family.