Home / News / Environmental News / Parks
New Palisades-Kepler ranger, volunteers keys to reopening state park
Ranger Carl Fairley spent 18 years at Pleasant Creek before coming to Palisades-Kepler, or, as supporters call it, 'The Pal'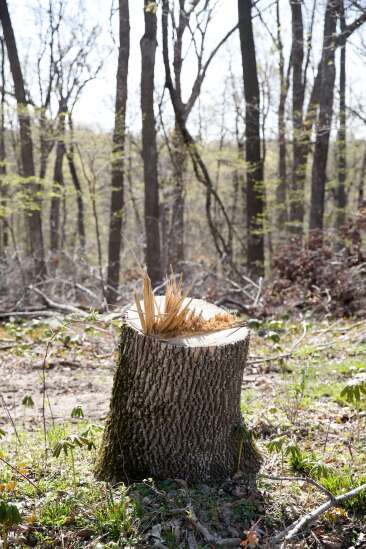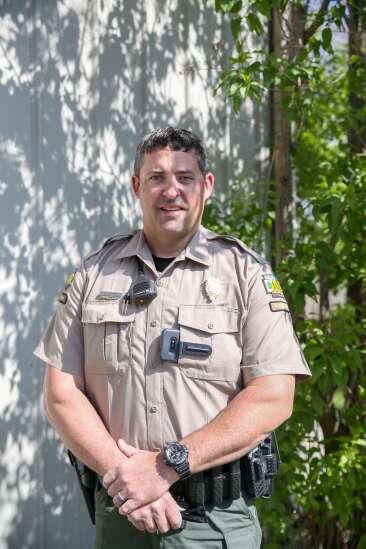 In his old job as park ranger at Pleasant Creek State Recreation Area near Palo, Carl Fairley led the effort to clean up and reopen that park to the public after the Aug. 10, 2020, derecho blew down trees and damaged the lodge.
Now Fairley is reopening Palisades-Kepler State Park near Mount Vernon as that park's new ranger.
"Not only are we doing cleanup, but we're trying to get the park open as we normally would," said Fairley, who started his new job there April 2.
Before the park was scheduled to reopen Friday, Fairley had a busy week. He had two days of firearms training, followed by maintenance on his work truck. Thursday, he had volunteers scheduled to come pick up sticks along the main road into the park so Iowa Department of Natural Resources employees could mow. Add to that hiring seasonal staff and getting the water running in the modern restrooms.
"I've put more work into that park lately than I have my family," Fairley said.
He wasn't joking.
Fairley, 43, has worked full time for the Iowa DNR for 21 years, he said. He spent 18 years of that as the ranger at Pleasant Creek, where he saw a lot of storms, including a 2015 lightning storm that killed a Hiawatha woman. Fairley also led the recreation area through a $2.4 million renovation that ended in 2017 to restore the lake shoreline, improve aquatic habitat and make the area's attractions more accessible to people with disabilities.
Last summer's derecho damaged Pleasant Creek, Lake Macbride and Wapsipinicon state parks in Eastern Iowa, but the strongest winds and heaviest tree toll were right along U.S. Highway 30 — just north of Palisades-Kepler.
Park once called 'High Rocks' and 'Spring Hollow'
Palisades-Kepler State Park was established in 1922 and doubled in size in 1928, when Louis H. Kepler donated his estate to the park, the Iowa DNR reported. But before that, back in the late 1800s, the site was a popular picnicking site for Cornell College students and offered "Victorian camping," according to the Marion Historical Society & Marion Heritage Center.
"A Marion livery transported the campers and their mountain of supplies (tents, cots, clothing, musical instruments, food, lumber for tables and benches, linen, china, fishing & hunting tackle, etc.). The 'Saucy Kate' steamboat commanded by Captain Hayden could also be chartered at Ivanhoe (at the junction of Highway 1 and the river) to carry visitors to Minott's landing. In 1878 Harry Hanright rented wagons to people to go on excursions."
Today, Palisades-Kepler has many attractions, ranging from Native American burial mounds and stone structures built by the Civilian Conservation Corps to dramatic river views and 5 miles of rugged hiking trails.
But because parts of the park cling to the bluffs of the Cedar River, cleaning up post-derecho tree debris was harder at Palisades than it was at other parks, Fairley said.
Photos from right after the storm show tree branches on an sport utility vehicle, the roots of a fallen tree flipping a concrete walkway and cabins dwarfed by massive trunks lying on the ground. Early on, work crews needed backhoes and skid loaders to make a dent in the debris.
"It would be nice to have all the equipment on hand, but we've moved equipment around" between various state parks, Fairley said. "The DOT came in on a couple of different occasions. I've had tree service companies come in and assist. It's been a large undertaking."
Final push to opening
Finally this month, Fairley felt the park was safe enough for volunteers to come in and pick up smaller tree debris. The Friends of Palisades-Kepler State Park held a cleanup day April 17 and had more than 20 volunteers, according to the group's Facebook page.
"We had a good turnout. We had people stay for two to three hours," said group president Gail Brown, of Mount Vernon. "There's still a lot of cleanup to do. It's mostly along the roadways as opposed to in the campground."
The Friends group, which formed in 2018, may have to rebuild some momentum after the park's nine-month closure, Brown said. But it won't take long. She plans to visit this weekend, maybe turning off on her favorite hiking trail, Cool Hollow.
"People in Mount Vernon, particularly, really value the park," Brown said. "It's only 4 miles from here, it's beautiful and it's a hiking park."
While some state parks sold salvaged wood to help pay for clean up, Palisades-Kepler didn't have enough wood that was easy to access, Fairley said. The Palisades lodge likely still will be closed for the year due to heavy roof damage, the Iowa DNR reported Wednesday.
Comments: (319) 339-3157; erin.jordan@thegazette.com