Home / News / Nation and World
Report: Waterloo Tyson execs bet on workers getting COVID-19
By Syndey Czyzon, Waterloo-Cedar Falls Courier
Nov. 19, 2020 2:25 pm, Updated: Nov. 19, 2020 7:58 pm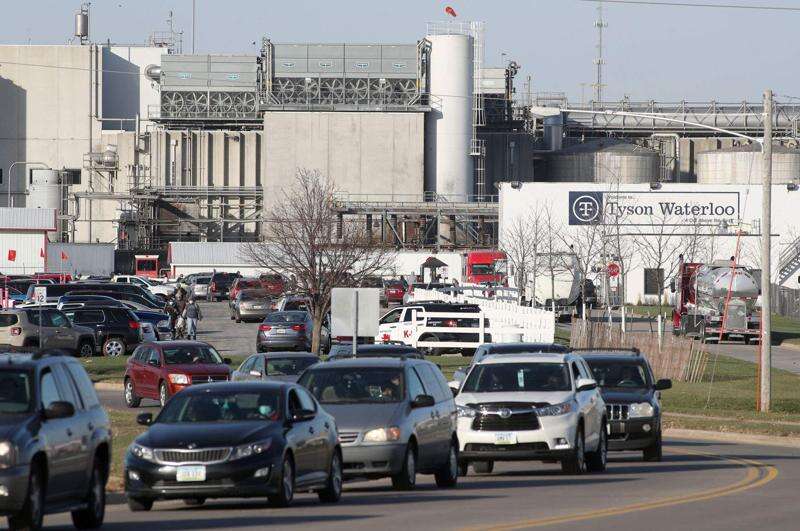 WATERLOO - Tyson Foods suspended at least two high-level managers Thursday and launched an investigation into reports a manager organized a betting pool to wager how many workers at the meat packing plant would get COVID-19 during the early days of the pandemic.
Tyson Chief Executive Officer and President Dean Banks met Thursday with the plant's employees after the allegations emerged. First-shift workers were released early, but a Tyson spokesman said the plant is not shutting down.
'If these claims are confirmed, we'll take all measures necessary to root out and remove this disturbing behavior from our company," Banks said in a statement.
The bombshell allegations are included in a lawsuit filed by the families of Tyson workers Sedika Buljic, 58; Reberiano Garcia, 60; Jose Ayala Jr., 44; and Isidro Fernandez, age unknown. Buljic, Garcia and Fernandez died in April, and Ayala died May 25, after a six-week hospitalization.
The lawsuit alleges supervisors were told not to acknowledge COVID-19 symptoms and workers were given bonuses for showing up to work every day - possibly encouraging sick people to clock in.
Tyson announced it had suspended without pay plant manager Tom Hart - accused of organizing the betting pool - and upper-level manager John Casey, who is alleged to have called COVID-19 the 'glorified flu" and told workers 'it's not a big deal" and 'everyone is going to get it."
Tyson said it hired law firm Covington & Burling LLP to investigate the allegations made in the lawsuit. The investigation will be led by former U.S. Attorney General Eric Holder, a company statement said.
Tyson workers who talked with the Courier, which agreed to withhold their names because they said they feared retribution for speaking publicly, described 'vengeful" supervisors who left them little choice but to show up to work in unsafe conditions - and to keep quiet about it.
'It's unsafe every day. It's a scary moment coming here," one of the workers said. 'But I got bills to pay, so it's like - you have a choice, but it's either be without a job or get sick."
Black Hawk County Supervisor Chris Schwartz last spring called for the Waterloo plant to close during a COVID-19 outbreak there. More than 1,000 of Tyson's 2,800 Waterloo workers eventually got COVID-19, and at least six died of it, leading the company to stop operations temporarily.
'If these allegations are true, it's really disgusting and it takes a very cold heart to make wagers on the lives of your employees," Schwartz said. 'We knew that early on Tyson was being a bad actor in terms of the safety of their employees, and so as shocking and horrific as some of this news is, if these allegations are true, it's unfortunately not surprising."
In its statement, Tyson said the lawsuit's allegations do not represent the company's values.
'We are extremely upset about the accusations involving some of the leadership at our Waterloo plant," the statement said. 'We expect every team member at Tyson Foods to operate with the utmost integrity and care in everything we do."
Schwartz said talking to Tyson officials 'seems pretty fruitless" and he stays in frequent communication with plant workers instead.
If the allegations are true, Schwartz said, 'it's time to clean house." He said the company should examine its corporate and local officials.
Tyson also temporarily shut down plants including ones in Columbus Junction, Perry and Storm Lake after hundreds of workers became infected. Tyson and other meet packing plant owners have come under sharp criticism for pressuring employees to work in close quarters with few or no early health precautions.
Samuel Overton, 22, works at the Tyson plant in Waterloo and said he had COVID-19. He said it sometimes feels like he still has symptoms.
'I just know that overall when they say if you're sick stay home, they're still taking people's points," Overton said. 'It was rough, but I survived it. ... I think being at work is probably the main place anyone would catch it because there's thousands of people from all different walks of life."
The Waterloo facility is Tyson's largest pork plant in the United States. It employs about 2,800 workers who slaughter about 19,500 hogs per day.
The Associated Press contributed.