Home / News / Nation and World
For five years, a Richmond local has made a one-man stand against the Redskins' name
Master Tesfatsion, the Washington Post
Aug. 14, 2017 6:35 pm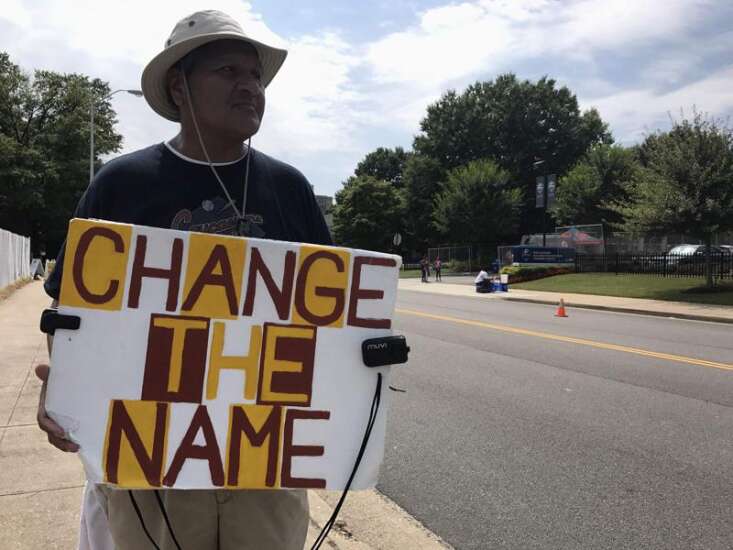 RICHMOND, Va. - Stephen Rivera slowly paced along the sidewalk Sunday as fans trickled across the street into Bon Secours Washington Redskins Training Center, taking in the final open practice of the team's fifth training camp in Richmond. The 56-year-old Richmond local has been a consistent presence since he, and the team, moved down to Virginia's capital in 2012, but he is no Redskins fan.
Rivera is a one-man protester, demanding a change to the team's controversial name that he deems offensive but that the franchise, and its fans, have continually held in high regard.
'People need to know there's another view, another voice," Rivera said. 'If you don't do that, it's like condoning it. That's when people start to take that it is OK."
Rivera, who is of the Seneca Nation and originally from New York, continued his annual protest this summer, holding up a 'Change The Name" sign in the team's colors, despite the Supreme Court ruling it's a First Amendment violation for the federal government to refuse to register trademarks considered to be disparaging. The team celebrated the ruling, which even included a rare statement from Redskins owner Daniel Snyder: 'I am THRILLED! Hail to the Redskins."
Rivera, however, feels the team's reaction proved his point.
'When the team owns that, and celebrates that, I think that they're breaking with their decades-long tradition of saying this is a term of honor because they're agreeing," Rivera said. 'It's a disparaging thing. That's what they're celebrating, the right to use a disparaging name.
'I just think that when it comes to something this racist and this obvious, it's a dictionary-defined racial slur. The first question is why does the conversation go beyond that? Why isn't that enough on its own?"
So Rivera continues to bike from his residence to the facility as often as he can while working as a low-level manager at a major company (he declined to specify which one). On this particular day, Rivera arrived at 8:30 a.m., an hour before camp opened to the public. He wore a 'Caucasians" T-shirt, with the same typography and Chief Wahoo mascot the Cleveland Indians use except with a white face instead of red.
'I'm honoring European Americans. You honor me, I'll honor you," Rivera said when asked about the shirt.
He said he could spend up to seven hours protesting if the team has a full day, with a walk-through and practice. He bikes back to his home for lunch in-between sessions. Rivera passes the time walking around with in-ear headphones, listening to a wide range of music from B.B. King, to Willie Nelson, to Jay-Z, until Redskins fans approach him. He has carried a body camera for the last four years, after some 'hostile" encounters with fans during the first training camp in Richmond.
Rivera said he aims to avoid shouting matches, noting how unproductive they typically have been, but he will stop and talk to fans who approach him. He's often shocked at how little Redskins fans know about the origin of the team name, how it wasn't even the franchise's first name or why people find it offensive - although the information is easily accessible on their smartphones.
Rivera said he often points out to fans that it was the same owner, George Preston Marshall, that changed the name from Braves to Redskins in 1933 that was also the last NFL owner to field an integrated team in 1962.
'So you have one of the most racist owners picking the name, and he's picking it for convenience," Rivera said. 'He doesn't want to change the colors or the uniforms or anything like that. He just wants a name that reflects native people. And if you're a racist, and you're reaching into your satchel of words, what are you going to choose? Are you going to choose a word that honors, or you going to choose something that's dishonorable? Maybe not on purpose, but that's what he knows."
Rivera said he's received support from some fans and opened the eyes of others, but he knows it's an uphill battle he's been fighting since 14 when he became more aware of the history behind the word. A 2016 Washington Post poll reported that nine in 10 Native Americans were not offended by the Redskins' name, a finding the team believed align with its position on the name.
'The Washington Redskins team, our fans and community have always believed our name represents honor, respect and pride," Snyder said in a statement issued in response to the 2016 poll results. 'Today's Washington Post polling shows Native Americans agree. We are gratified by this overwhelming support from the Native American community, and the team will proudly carry the Redskins name."
But Rivera thinks it's foolish to expect an entire demographic to unanimously agree on any particular topic. He rebuts that argument with a rhetorical question.
'How come all of your fans can't agree for it to become a legitimate name?" Rivera wondered.
Rivera has been alone in his protest all summer. He questioned why people from all races don't feel the same way he does, expressing that non-Native Americans often brush it off as a native issue.
'People always think racism is a white against color thing, and it's not," Rivera chuckled. 'Racism is very human, and it's very successful ... It's always language that greases that wheel, and that's the way this word was used. If you have that big wheel of oppression and racism, what always greases that wheel is language."
He'll be back again next summer, because 'racism can't be allowed to be comfortable." And even if he's alone again outside the facility, Rivera said he really isn't.
'The people coming in and out say, 'You're always alone.' The first thing I say is that I'm never alone," Rivera said. 'I don't feel alone. I think there's a lot of people with me - family, friends, native people."