Home / News / Nation and World
A 'monumental moment' for fully legal marijuana in California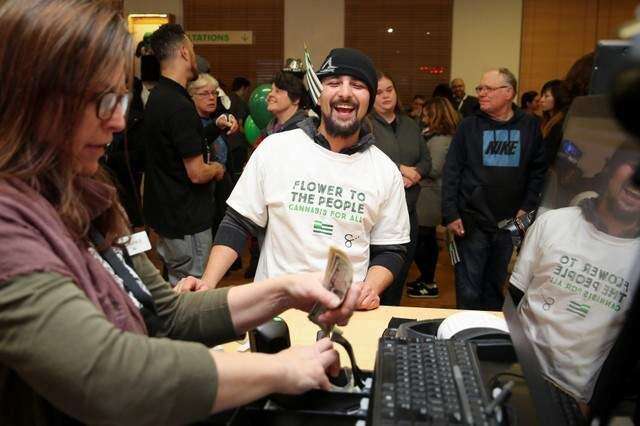 SACRAMENTO, Calif. - Will Senn has been waiting his whole life for this. Californians can now go to the store and buy marijuana, and his shop opened New Year's Day.
Senn's Urbn Leaf in San Diego was among the first to get a state-issued license to sell marijuana for medical and recreational uses. He hired 15 more workers to accommodate what he expects to be a crush of new customers to flood into his shop, which had previously specialized in cannabis for medicinal purposes.
'This is what a lot of activists in the industry have been working for since the 1990s when Dennis Peron opened his first marijuana shop for AIDS patients in San Francisco," Senn said. 'It's a monumental moment and we are ecstatic to be a part of it."
Khalil Moutawakkil, CEO of the KindPeoples Collective in Santa Cruz, said the legalization of marijuana for recreational use is a major change that has been too long in coming. 'This is essentially going to eliminate prohibition on the plant of the last 400 years and return the plant back to the people," he said.
Still, Californians shouldn't expect marijuana shops on every corner. In recent weeks, hundreds of businesses have applied for temporary licenses to engage in the marijuana business, but industry officials expect a slow rollout as most cities in California have not yet given their approval, a prerequisite to getting a state license. As of Friday, 49 retail licenses had been issued by the state for businesses to sell recreational marijuana.
Sales for recreational use are allowed in cities including Los Angeles, West Hollywood, San Francisco, San Diego, Oakland, Santa Cruz and San Jose, but many proposed marijuana shops in those cities do not yet have state licenses.
The state has not yet issued a retail permit for a store in Los Angeles, which plans to issue local licenses in the coming weeks.
At least 300 other cities, including Riverside, Fresno, Bakersfield, Pasadena and Anaheim, don't allow marijuana sales for non-medical purposes, according to industry officials.
Voters paved the way for Monday in November 2016, with Proposition 64 winning 57 percent approval. The ballot measure made California one of eight states to approve the sale of cannabis for recreational use. Those 21 and older can purchase and possess up to an ounce of marijuana for recreational use and to grow up to six plants in their homes.
There are still restrictions on when the drug can be used. State regulations prohibit smoking marijuana in many public places, including restaurants and theaters, where cigarettes are barred. And new laws prohibit smoking marijuana while driving.
Customers visiting shops must show proof of age to pay in cash, merchants say. State officials are attempting to craft a 'green banking" plan to get around the cash problem.
A pre-election survey in 2016 found 25 percent of California voters had used marijuana for recreational purposes at some time in their life, but only 18 percent of those had done so in the past The USC Dornsife/Los Angeles Times poll found just 2 percent said they were much more likely to use it if Proposition 64 passed, 5 percent said they were somewhat more likely to use it, and 89 percent said they were no more likely to smoke marijuana if it were legalized.
Proposition 64 gave California officials more than a year to create a regulatory framework for regulating the cultivation, transport, testing and retail sale of cannabis for recreational use. The system that launched Monday is drawing criticism from the industry for its heavy taxes and perceived advantages granted to large corporate farms. It also provides the first state licenses for medical use. Local governments have previously regulated medical dispensaries that were authorized by Proposition 215 in 1996.
The state also has issued licenses for cultivating marijuana, with one of the first going to CalWave Enterprises for an indoor growing operation of up to 5,000 square feet in Santa Cruz. CalWave is the corporate entity that also runs the KindPeoples Collective, which has been growing and selling marijuana for medical use with city approval since 2013.
The business has grown from nine employees and dozens of customers four years ago to 80 employees and 45,000 customers, said Moutawakkil, a Santa Cruz native.
'Our first priority is to cultivate for our customer base," he said. The temporary license was fairly easy to get because some requirements for background checks and security were waived. He expects a 'more comprehensive" process for the annual license but says his business already meets the state standards.
The first license for the retail sale of recreational marijuana was issued to Torrey Holistics in San Diego. Tony Hall left a chemical distribution business two years ago to start the company with a friend and classmate at San Diego State University.
'This is a once in a multi-generational event," he said, likening it to the end of prohibition of alcohol in 1933. He also obtained a new license to continue selling marijuana for medical uses.