Home / Arts & Entertainment / Music
Postponed: Taj Mahal bringing his trio to the Englert in Iowa City
Note to readers: This show has been postponed
Ed Condran
Oct. 14, 2021 1:02 pm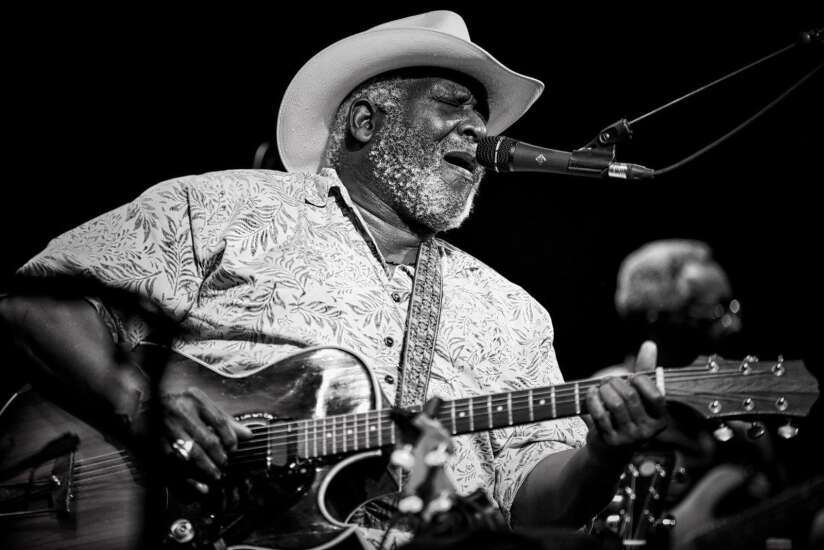 Note to readers: The Taj Mahal show planned for Oct. 17 at the Englert has been postponed. For more information, visit the Englert's website.
Taj Mahal has been filed under "blues" since the adventurous singer-songwriter emerged out of Southern California during the mid-'60s.
But Mahal, aka Henry Fredericks, has explored such genres as folk, reggae, gospel, jazz, R&B, zydeco, Latin, Caribbean and Hawaiian.
"I don't worry about being labeled and I don't think about styles of music," Fredericks said while calling from his Northern California home. "I don't care about being popular. I care about being good and making good music. What I do is focus on material and connect it with the culture. When I make and play music, I see how it connects with humanity."
Fredericks, 79, who will perform with his trio on Sunday, Oct. 17, 2021, at the Englert Theatre in Iowa City, realizes that art and commerce typically are on opposing sides. The vocalist-guitarist crafts passionate and earnest tunes which are uplifting.
Where: Englert Theatre, 221 E. Washington St., Iowa City
When: 7 p.m. Sunday, Oct. 17, 2021
Tickets: $45 to $65; Englert Box Office, (319) 688-2653 or englert.org/events/
Artist's website: tajblues.com/
"I love music and I love the blues, but I hate how people look at the blues as depressing," Fredericks said. "Most people enjoy music. It raises your spirit. We don't hear as much blues since it doesn't make money. The same as jazz. If jazz made money you would hear more of it. I don't worry about being commercial."
Fredericks has inspired a number of musicians to pick up the guitar, including Keb' Mo' (aka Kevin Moore). And the spirited 2017 album "TajMo" is a collaboration between Moore and Fredericks.
"Keb' Mo' was one of my disciples from years ago," Fredericks said. "When he was 17 and going to Compton High School in Los Angeles, he saw me at his school. He was bewildered back then, because when he thought the blues, all he knew was B.B. King. I play a different kind of blues and a different kind of music altogether.
"I really enjoyed making 'TajMo' with him," Fredericks said. "He is a hell of a guitar player. Our music doesn't sound alike, but our approach is similar. We're different enough that when we work together it's interesting."
"Soul," a moving co-write from Fredericks and Moore, is the cornerstone of the album. The two revamp the Who classic "Squeeze Box" and John Mayer's "Waiting on the World to Change."
"We had a great time together," Fredericks said. "I still enjoy making music."
Fredericks is making another duo album. His next project is with fellow septuagenarian Ry Cooder.
"What Ry and I are working on will be out in 2022," Fredericks said. "I relate to Ry. Working with him comes easily."
When Fredericks returns to Iowa City, he will dig into his deep canon, which spans 42 albums over 53 years, fronting his trio.
"I don't know what I'll play and I never have a set list," he said. "I go out and do what I do, and I'm fortunate since I play to an intelligent audience that understands what I'm about."
Fredericks is one of the most revered figures in the music industry. His peers admire and respect him. It's no surprise that Bonnie Raitt, Sheila E. and Joe Walsh appear on "TajMo."
Mick Jagger, who is a big Taj Mahal fan, invited Fredericks to appear in the film "The Rolling Stones Rock and Roll Circus" in 1968.
"I've been very fortunate making friends all of these years," Fredericks said. "One of the best experiences was with the Rolling Stones, who are very generous. I've met so many wonderful people and have had such a great time writing and recording all of these years.
"I live in an amazing place, which is California. I came here early on in my life because of the music that was happening here, and I continue to live in this progressive environment. I have no complaints. I just want to continue doing what I love."