Home / Arts & Entertainment / Music
John Primer bringing the real deal to CSPS in Cedar Rapids
Chicago blues great keeping traditional sounds alive
Ed Condran
Nov. 23, 2021 6:00 am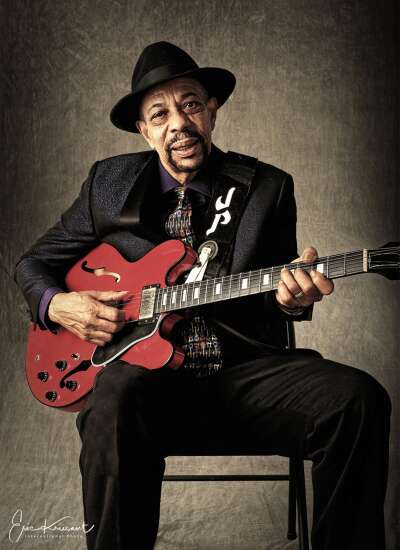 After relocating to Chicago in 1963 and honing his skills working with some of the finest Windy City blues players, John Primer hit pay dirt in 1980. Muddy Waters, the father of Chicago Blues, tabbed Primer to be his bandleader, guitarist and opening act.
"It was like a dream come true," Primer said by phone from Denmark (the country, not Iowa). "It was what I was working so hard to do. When I was growing up in Mississippi, I had a dream of playing on a stage with Muddy Waters. So when that happened, it was truly my dream coming true."
However, everything changed for Primer when Waters died in 1983.
"After Muddy died, I was lost and didn't know what was next for me," Primer said. "My time with him was incredible. He taught me so many things and was like a father to me."
Waters would be proud of Primer, who lost his father when he was 4 years old.
Now 76, Primer has kept traditional Chicago blues alive by releasing a number of solid albums full of visceral songs that lack pretension: 1995's "The Real Deal," "1999's "Knockin' at Your Door" and 2013's "Knockin' Around Those Blues" are full of passionate and often poignant songs.
"I try to put everything I have into each song and play from my heart," he said.
John Primer & The Real Deal
Audiences will hear that when performs with his band, The Real Deal, at CSPS Hall in Cedar Rapids on Friday night, Nov. 26, 2021.
Primer now looks out into the audience and sees how the crowd skews older, so part of his agenda is keeping his beloved blues alive and passing the torch to younger blues players.
"I teach the younger guys as much as I can," he said. "I believe it's important to be a good influence and to lead by good example. I just taught at a blues camp in France, and it was great to meet the younger blues kids. They are amazing. I learned a lot from them while teaching them what I know.
"Keeping the blues alive and helping others is very important," he said. "I believe in giving back and moving everyone forward together. That is very important, just helping out other blues musicians everyday."
Primer is compelled to help fledgling blues artists partly since he looks back on the seminal figures that shared tricks of the trade with him.
"I had many people influence me," he said. "The main guys were Sammy Lawhorn, Muddy Waters, Jimmy Reed, Elmore James and Magic Slim. Keeping it clean was what Sammy and Muddy taught me. They said that pedals aren't the real blues. Pedals get in the way of your feelings and the most important thing in playing the blues is to express your true feelings to the people."
Primer has been sharing his feelings for years with his on again partner Bob Corritore. Primer and his harmonica playing collaborator have crafted two albums together, the aforementioned "Knockin' Around Those Blues" and 2020's "The Gypsy Woman Told Me."
"I love working with my blues brother Bob," Primer said. "He and I have a very special relationship. We love to play with each other and have a lot of fun together. It's just easy. Bob picks all the songs for the album. He is an amazing producer and I trust his opinion."
Corritore isn't on the road with Primer, but they will make another album.
"I am going into the studio to record another album with my own band and on my own record label, Blues House Productions, and I'm going into the studio with Bob to do another album with an amazing band," Primer said. "I have a lot of recording to do over the winter months. I am not sure which one will come first."
He also has a number of shows to play before he returns to the studio. When he plays CSPS, expect him to live in the moment onstage.
"I don't use a set list when I perform. I like to go into each show with a new vibe and I feel what the crowd likes," he said. "I tap into the energy of the audience and pick my songs that way. I don't like to have a set list because each audience is different and will react differently, so I like to keep real and go in with just a wide-open mind.
"Every single show you see me do will be different. This is what keeps me going. The audience never knows what I'll do. Also, I only take requests from pretty women — no men."