Home / Arts & Entertainment / Music
Iowa rock album now worth thousands
Truth & Janey recorded 'No Rest for the Wicked' in 1975
By Dick Hogan, - correspondent
Apr. 27, 2023 6:00 am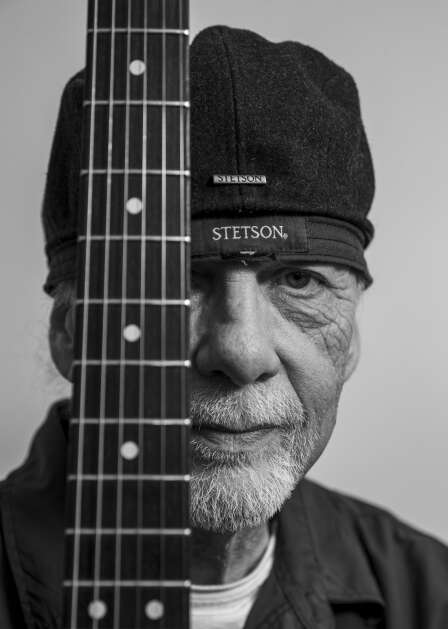 Would you pay two grand for a vinyl record album? Would you pay two grand for an album by a Cedar Rapids, Iowa, trio — a limited issue record that never charted nationally?
It seems many people around the world are quite willing to do that to have their own copy of "No Rest for the Wicked," recorded in 1975 by an Eastern Iowa band called Truth & Janey.
Sealed copies of the album have sold for up to $2,000, with opened copies of the album fetching between $1,000 and $2,000 on eBay.
Few record albums consistently bring such prices. Why "No Rest for the Wicked"?
"Because it's really great music," said BillyLee Janey of rural Ryan, who wrote most of the songs with band member Steve Bock, played guitar and sang on the progressive blues/rock album.
"It's intelligent, and there is no basic sellout," Janey said. "It was recorded well. It has everything that makes a great record."
Janey also attributes word-of-mouth by other musicians, record dealers and the public for the near-cult status of "No Rest for the Wicked."
Janey, 69, said he sold an opened copy of the album to a man in Italy 15 years ago for $1,000.
The man mailed Janey 10 $100 bills in a CD case. Janey had the bills authenticated, then sent the man his album.
Janey can't recall how many of the albums were pressed at the time of the recording at AR Studios in Ames for the Montross label, but he guesses between 1,500 and 2,000. He has two copies left — one sealed, one open.
The album has been reissued several times so savvy collectors need to check that if they're intent on having the original. With Janey's permission, Rockadrome Records reissued "No Rest for the Wicked" and another album by the band, "Topeka Jam Live," Janey said.
Will the reissues reduce the original's value?
"There are people who will always want an original," Janey said.
The band
The Truth & Janey band formed in 1971 — with Janey on guitar and vocals, Steve Bock on bass and vocals and Denis Bunce on drums — when the musicians were in their early 20s. It disbanded in 1976, victims of the disco craze, Janey said.
Bock died about 10 years ago, and Bunce still lives in Cedar Rapids, Janey said.
Initially, the band originally called itself Truth but changed the name after learning a gospel group also had that name. Janey doesn't recall why his name was added.
The three band members all sported the long hair popular in rock bands of that era. "We had about 9 feet of hair between us," Janey recalled with a laugh.
Rocker Ozzy Osbourne also titled one of his albums "No Rest for the Wicked," but that was five years after Truth & Janey's album, Janey said.
The Truth & Janey's jacket cover photo was shot at a street construction site in southeast Cedar Rapids. It was Bock's concept.
The band set up huge Marshall amplifiers around a hole in the street. Off to the side, a cymbal, drumsticks and guitar were stuck into a pile of dirt. A hand — belonging to band "roadie" Arthur Jones — is shown coming out of the hole, touching the bottom of an amplifier.
As the photo shoot was ending, Janey said, police arrived and wanted to know what was going on. After hearing the band's explanation, the police told Jones to get out of the hole and sent the band on its way.
The album's title, Janey said, was influenced by a line in a movie starring John Wayne. He couldn't recall the movie's title, only that he and Bock were watching it and that the line sparked a lyric.
During their run as a band, Truth & Janey issued five albums and also two 45s cut in 1972. The A side of the first 45 was an original song, "Midnight Horseman," with a cover of the Rolling Stones' "Under My Thumb" on the flip side. The second 45 featured Sonny Boy Williamson's "Straight 8 Pontiac" and Chuck Berry's "Around and Around," with Janey doing the vocals. The singles now bring $200 each in near mint condition.
Janey said "Midnight Horseman" was played on the popular "Beaker Street" program hosted by Clyde Clifford on 50,000-watt KAAY-AM in Little Rock, Ark., and heard through most of the U.S.
None of the band's songs charted, but the band was successful, opening for bands like REO Speedwagon. And Truth & Janey played in Nashville for two weeks in 1973, opening for Spooky Tooth. That band included Gary Wright, who later had a half-dozen songs on the Billboard Hot 100 national chart.
Keeping songs alive
Janey said he tries keeping his old band's music alive, with his well-known musician son, Bryce Janey, and Eric Douglas joining him to occasionally play Truth & Janey's music.
In 2016, the three got a prime spot playing at the Hard Rock Hotel in Las Vegas with 99 other bands.
During that gig, Janey said, "people from all over the world were asking me to sign albums."
These days Janey plays solo shows, or teams with his son at some gigs.
He and Bryce also have a music deal with Fervor Records of Phoenix/Los Angeles, a digital company. Through Fervor's efforts, one of Janey's songs was used on the TV program "Chicago Fire." One of Bryce's songs was used in a "Law & Order" episode on TV and one was used in a new movie, "Sitting in Bars with Cake," in which actor Ron Livingston, a Marion native, appears.
Another deal may be coming because Fervor wants access to the Truth & Janey music.
"There's no deal yet," Janey said.