Home / Arts & Entertainment / Music
Gina Chavez launches Kids Club Hancher series Saturday in Iowa City
By Ed Condran, correspondent
Jan. 30, 2020 6:00 am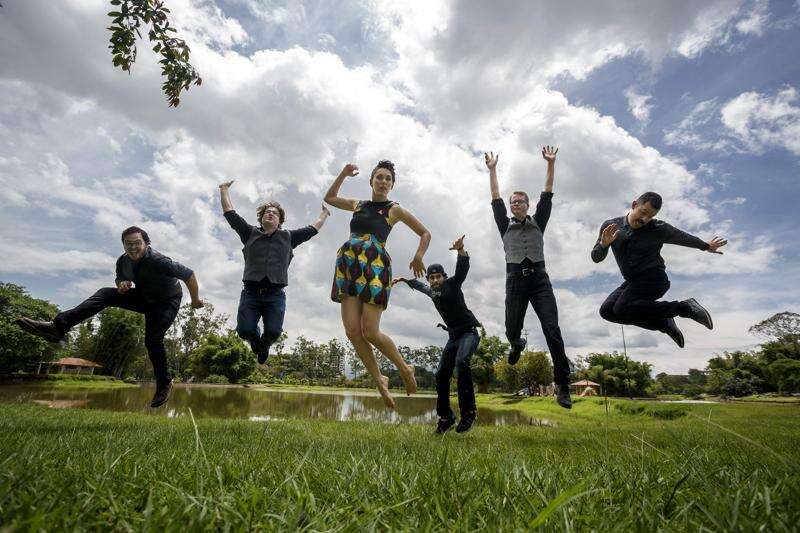 Callings aren't obvious all of the time. Gina Chavez was born and raised in Austin, which is justifiably known as the live music capital of the world. However, Chavez was a casual music fan while growing up in the capital of Texas. She enjoyed acts that crafted innocuous pop, like Third Eye Blind.
'I was a huge fan of that band. I loved music while I was in high school, but I wasn't moved to become a musician then," Chavez said while calling from her Austin home.
Chavez, 37, picked up a guitar while studying in Argentina.
'I started singing and playing after I got into Spanish folklore," she said. 'It took a while, but I finally realized that music was for me. It was what I was meant to do with my career."
The clever songsmith devoted her life to music.
'I've never looked back," she said. 'I was meant to be a musician."
The perky Chavez has won 10 Austin Music Awards and an NPR Tiny Desk concert.
'It's what I'm just so passionate about," she said.
The Latin folk-pop artist also has been passionate about Catholicism her entire life.
'I've been a devout Catholic since I was a kid," she said.
While hanging out at the University Catholic Center at the University of Texas, she met the love of her life.
Chavez has been devoted to her wife, Jodi Granado, once they figured out that they were a perfect fit. It was far from easy, since the Catholic faith is not down with that.
'We're well aware of the church's beliefs on same-sex couples," Chavez said. 'But we were brought together by the church. Our big question was how do we reconcile this thing? I was in love with my faith, which enabled me to meet my first love. It wasn't easy figuring this out."
While on a mission in El Salvador 14 years ago, it was obvious that Chavez and Granado had mutual interest.
'Something had to happen or it was going to suck," Chavez said.
The attraction was acknowledged and the pair became a couple, who married in 2017 and attend church together in Austin.
'We're still Catholic, and we have gotten so much out of this relationship," Chavez said.
'Lightbeams," her first all-English project, was completely inspired by her wife, to craft a collection of love songs.
The anthemic 'It's Hard to Love a Woman" and the surprising dance groove in 'Let it Out" are some of the highlights. The collection of love songs that emanated from Chavez surprised her.
'When I think of love songs, I think of the cheesy," she said. 'I never quite understood love songs. So it's not like I was thinking that I needed to write a love song. It just happened. It came from an organic place. It's the first time I wasn't compelled to sing in Spanish. It all flowed out naturally."
It's the same for the current album Chavez is working on, which will be out in March.
'The material came out of me quickly," she said. 'It's going to be different than 'Lightbeams.'"
The as of yet untitled album will primarily be sung in Spanish and will be showcased in Austin at the mega-music conference South By Southwest in mid-March.
'I can't wait for that," Chavez said. 'It's happening in my hometown and you know what South By is like."
However, don't expect Chavez to preview any tracks when she comes to Iowa City on Saturday (2/1) for two shows in Hancher's Strauss Hall, kicking off Kids Club Hancher.
'There will be plenty of time to play the new songs," Chavez said. 'I'll be touring behind the album, which has songs that are about women coming into power. The songs are fun, not preachy."
Chavez will leave the preaching to the priests at Mass.
'I love going to church," she said. 'Who would ever think I would be able to have it all? I'm married, I'm still with the church and I get to write and record songs and go on the road. I'm blessed. I can never complain."
Get Out!
' What: Kids Club Hancher: Gina Chavez
' When: 2 and 5 p.m. Saturday (2/1)
' Where: Strauss Hall, Hancher Auditorium, 141 E. Park Rd., Iowa City
' Tickets: $20 adults, $10 youths and college students; Hancher Box Office, (319) 335-1160, 1-(800) HANCHER or Hancher.uiowa.edu/2019-20/GinaChavez
' Extra: Free snacks and lemonade for all attendees
' Artist's website: Ginachavez.com