Home / Arts & Entertainment / Music
Donors spring into action to replace Orchestra Iowa music ruined by derecho damage
Return of concerts also on horizon, beginning with Brucemorchestra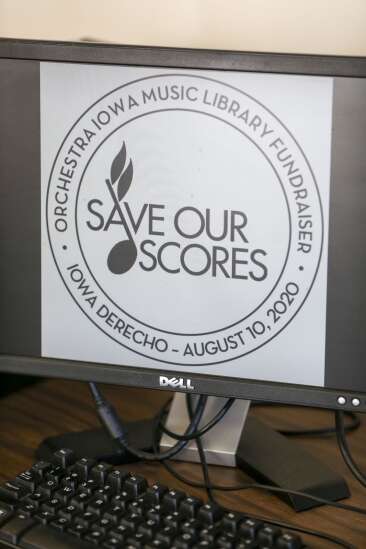 CEDAR RAPIDS — Some versions of the "Swan Lake" ballet end in tragedy, others transform the tale into triumph.
Orchestra Iowa got its first triumphant ending when multiple donors stepped up to purchase the music for "Swan Lake," the final and most expensive of the 153 musical scores ruined by derecho damage in the orchestra's Hankewich Music Library.
Boxes containing more than 600 pounds of music already have arrived in the Orchestra Iowa headquarters next to the Paramount Theatre in downtown Cedar Rapids. They're ready for librarian Blaine Cunningham to sort, catalog, stamp and eventually file for future use.
Brucemorchestra expected to return
Another triumph will come when Maestro Timothy Hankewich fires up the musicians and the crowds for the 2021-22 season.
"Knock on wood, it looks like some degree of normalcy is coming," Hankewich said during Tuesday's "Happy Hour with Maestro Tim" Facebook Live chat with renowned pianist Emanuel Ax. "We're anticipating business as usual, starting in September."
Details haven't been announced, but Orchestra Iowa CEO Jeff Collier said plans are underway to revive Brucemorchestra, the ensemble's season opener that was canceled last year with the one-two punch of the pandemic and derecho damage to the historic estate in southeast Cedar Rapids.
This festive, open-air concert brings the orchestra, a choir and guests to the stage, and audience members toting picnics, blankets and bag chairs to the front lawn at Brucemore mansion.
"We are putting some confidence into a restart with Brucemorchestra in September," Collier told The Gazette. "We're excited about what's coming together. We're optimistic, particularly, because that one is an outdoor event where people can socially distance. And we think the community will be ready for an opportunity to come back together and just experience great music on the lawn."
It's one thing to have the audience able to physically distance, but another issue entirely for the musicians, where past concerts have featured 150 to 200 people onstage.
"We are closely tracking vaccination rates," Collier said. "The hope and the goal is that by the time fall comes around, we will be focused on masking, without the extensive need for social distancing (onstage).
"If social distancing still is the requirement and expectation at that point, it will impact how we design Brucemorchestra, but we're hopeful that we'll be in a better place five months from now to enable safely returning to the stage," he said.
Save our Scores campaign
Replacing the music ruined when a sprinkler burst during the Aug. 10 inland hurricane seemed a daunting task. Water cascaded through the third-floor music library, down to the second-floor Orchestra Iowa School storage spaces, the first-floor Opus Concert Cafe stage area, and into the basement, damaging several electrical panels there.
"We think some brick actually fell through the ceiling and hit the sprinkler pipes," Collier said. "We've had substantial restoration and repairs ongoing since August."
Subsequent rains revealed more damage to the roof and other parts of the building. The roof may have to be replaced, Collier said, as well as all of the acoustic panels at the back of the Opus stage.
"We're still waiting on quotes and timelines for all of that, so it will be most likely a whole year, if not longer, until a complete restoration from the derecho is accomplished," he said.
While the total cost for damages isn't in yet, Collier figures the orchestra lost about $1 million in gross revenues during the pandemic.
The public, however, leapt to the music library rescue with the recent Save Our Scores campaign, raising $40,000 to buy replacement music. Donors could choose which pieces and price points they wanted to finance, from Leroy Anderson's "The Girl I Left Behind Me" and works by Bach, Bartok, Beethoven and Bizet running through the alphabet to works by Verdi, Vivaldi, Wagner, John Williams' movie scores and Meredith Willson's "Seventy-Six Trombones."
The prices ran the gamut, too, Collier noted, beginning around $30 on up to $2,700 for "Swan Lake." The latter was broken into more manageable financial chunks; Collier estimated the cost hovering around $100 per scene, with some donors paying for a full act, or a scene or movement.
General contributions not tied to specific pieces of music will be used toward buying a more protected storage system, which Collier projected to cost between $5,000 and $10,000.
It wasn't just Orchestra Iowa patrons who answered the call, which went out around Valentine's Day as a "show your love for the orchestra" campaign.
"The instant response was absolutely incredible," Collier said. "People came out of the woodwork. The first two or three days that it was live, we probably had about 60, 70 percent of the entire library sponsored already."
Donations came from near and far, including Baltimore Symphony Orchestra musicians who heard about the damage and jointly sponsored Mozart's Symphony No. 35. Novak Elementary in Marion's Linn-Mar district gave about $230 to purchase Grieg's "Peer Gynt" Suite, which the students had been studying.
"There's some really good feel-good stories," Collier said. "A lot of people were sponsoring in memory of loved ones who maybe had a special connection with a certain work or a certain composer. It was really special to see those deeper connections and ties to the music."
One thing that can't be replaced is the history handwritten in the markings and notes made by current and past musicians and maestros who performed the various pieces through the years.
"You can really see a longer history embedded in the music," Collier said. "And when you lose that physical music that was there, even replacing it, you can't replace the legacy. That really was the most heart-breaking aspects of the loss of the library."