Home / Arts & Entertainment / Music
Critic's choice on 2021's arts scene
Brucemorchestra launches in-person season with Broadway salute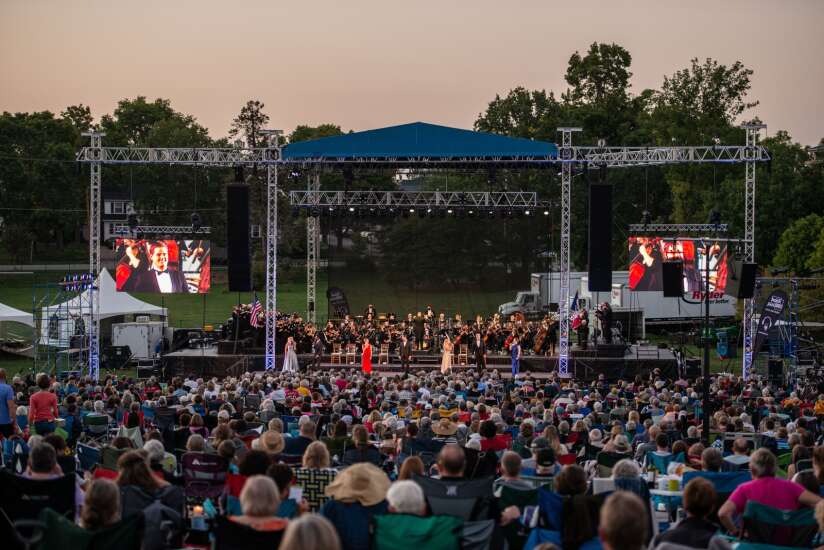 When flipping through my stories from the past year, I wondered if I had even attended 10 events in person. I've only started tiptoeing back inside our Eastern Iowa venues — fully vaccinated, wearing a mask, and keeping my distance whenever possible.
But lo and behold, as usually, I had a hard time narrowing my top choices to just 10. I've even added a couple of honorable mentions that I happened while I was on vacation, and had been so looking forward to seeing. But my girls' week in Florida soothed my soul in so many ways that you need not feel one bit sorry for me.
So here are my reflections on 2021.
Brucemorchestra XIV
Sept. 18, Brucemore, Cedar Rapids
After 560 days without performing together, Orchestra Iowa made its triumphant return to live performances with an extravaganza on the front lawn of Brucemore mansion. And roughly 5,000 people were ready to greet the evening with picnics, applause and shouts of "bravo."
With perfect skies overhead and Broadway stars with Cedar Rapids ties shimmering onstage alongside spectacular local talent from musical theater, instrumental and choral realms, it truly was a grand night for singing the music of Rodgers & Hammerstein.
"Cinderella"
Nov. 19 to Dec. 19, Theatre Cedar Rapids
Theatre Cedar Rapids waved its magic wand to create light where darkness had reigned since the pandemic shutdown, bringing the new Broadway version of "Cinderella" to the main stage for the holidays.
This sparkling refresh of a tale as old as time lands beautifully in the present while preserving elements of the past that has had viewers swooning since the Rodgers & Hammerstein musical debuted on TV in 1957, then landed on stage a year later in London, and in the U.S. in 1961.
All the beloved songs are still there, as are the glass slipper, the pumpkin coach and the animals that helped Ella make her way to the ball.
But this time, the girl who finds solace in her own little corner among the cinders meets a prince who seeks solace in his own little corner, as well. And of course, they lived happily ever after.
Grant Wood exhibitions
A trio of exhibitions put Grant Wood in a well-deserved spotlight this year, with "Grant Wood Revealed: Rarely Seen Works by an American Master," through Sept. 21; 'Americans in Paris: Grant Wood and Marvin Cone's 1920 Trip to Paris," through Oct. 10; and "Seriously Funny: American Gothic Parodies," through Aug. 22.
Intended to be the fall capstone to a yearlong celebration of the museum's 125h anniversary, the entire exhibition schedule shifted when the doors closed for three months with the onset of the COVID-19 pandemic. So the Wood retrospective became one of the first events in a yearlong statewide celebration of Iowa's 175th statehood anniversary.
"Our fall '20 show became our spring '21 show, which worked out really, really nicely, because we had already planned that the entire year of 2021 would be a celebration of the 175th anniversary of Iowa's statehood," said Sean Ulmer, the museum's executive director. "What is a better way to kick off a celebration of Iowa art and artists in 2021 than leading with Grant Wood, Iowa's most famous artist?"
And the exhibition opened on Wood's 130th birthday.
"It shows a more complete picture of an extremely diverse artist — an individual with a very curious mind who did not hesitate to explore," Ulmer said, "and that really helps to bring the fuller picture of the creative genius he was."
Riverside Theatre's new home
Forty years after its 1981 founding, Riverside Theatre is entering a new stage that promises to bring new life and new avenues for adventures in Iowa City's Pedestrian Mall district.
When the pandemic shut down in-person entertainment and revenue streams in mid-March 2020, it didn't make sense for the professional troupe to keep paying rent on a space it couldn't use. So Riverside closed its intimate Gilbert Street stage at the end of June 2020.
If all goes according to plan, Riverside Theatre will open its new doors in early February in the revamped, refurbished and re-imagined site of the former Union Bar, 121 E. College St., across from FilmScene's original complex. Known as the Crescent Block Building, it's also near the Weatherdance Fountain, site of many outdoor concerts and dances, and a short walk south of the Englert Theatre.
"I love the idea that we're going to be across the street from FilmScene and that we are going to be closer to the Englert. We're also on the same street as UNESCO City of Literature and the Iowa City Public Library. It's almost creating — solidifying what was already becoming an arts district in Iowa City," Adam Knight of Iowa City, Riverside Theatre's producing artistic director, told The Gazette in announcing the new venue in early February.
"So the idea that you can see a matinee at Riverside, catch a film at FilmScene, while getting a great dinner in Iowa City is really exciting to be a part of."
I can't wait.
Hancher: Dance into Spring
April 30 in Des Moines, May 1 in Iowa City, May 2 in Muscatine
This glorious collaboration featured a "something for everyone" program, Chuck Swanson, Hancher's executive director, told The Gazette.
It's time to reunite artists and audiences.
"We wanted to be early on, as a way to show that the arts can help rebuild communities," he said. "The arts can be powerful. I hear all the time, 'I miss being together with others, I miss that common experience.'
"So we took a leap with 'Dance into Spring.' We decided, let's go."
I caught the performance in Muscatine's Riverside Park, a place I had driven by, but never stopped. The setting was magnificent, with the Mississippi River on the east and the cityscape on the west, framing dancers from Ballet Des Moines and the University of Iowa Dace Department.
The programming ranged from classical with guest soloists performing the "Don Quixote" pas de deux, as well as modern works to the recorded music of Philip Glass and the Hawkeye Marching Band, as well as live music from the Roseman Quartet based in Ames.
Cedar Rapids Opera Juneteenth
The color of an artist's skin has never been a factor for Daniel Kleinknecht when casting Cedar Rapids Opera roles. But in the wake of the Black Lives Matter movement, he felt it was time to turn a spotlight specifically on Black operatic performers — to showcase their musical influences and discuss the challenges they face in their professional lives.
Whitney Morrison, soprano, Sidney Outlaw, baritone, and Pedro Yanez, pianist, performed magnificently June 18 on the Festival Stage in Iowa City's Lower City Park, repeating the free concert in Waterloo. Iowa bass-baritone Simon Estes, 83, also received special recognition June 18 for his contributions in breaking the color barrier throughout his operatic career.
On June 20, Morrison, Outlaw and Estes were center stage at the African American Museum of Iowa in Cedar Rapids for a free two-hour discussion titled "Does the Color of My Skin Really Matter?"
All agreed that education and representation are keys for exposing children of color to the world of classical music and opera, to foster an interest at an early age and let them know what's possible. That's where smaller companies like Cedar Rapids Opera can play a pivotal role in their communities, Outlaw said.
Shakespeare in the Park
Riverside Theatre brought free Shakespeare back to Iowa City's Lower City Park this summer with "The Winter's Tale" in July and "The Comedy of Errors" in August.
"The Winter's Tale" personifies Riverside's belief that "Shakespeare is for everyone," with the tragic drama sweeping from the show's first half into the sidesplitting physical humor of the show's second half, which had a little boy sitting near me howling with laughter.
Watching "The Comedy of Errors" was like watching a Saturday morning cartoon. The company lifted the language to new heights, plucking the mistaken-identity story out of the Bard's Elizabethan era and twirling it into late-'60s, early-'70s Nashville.
It was the funniest free-for-all you're likely ever to see, full of merrie melodies, looney toons, and lots of nods to Yosemite Sam, Wile E. Coyote, Elmer Fudd, a bunch of daffy ducks, and more than one Pepe Le Pew in female form — all with plenty of Foghorn Leghorn strut.
When was the last time you saw some boot-scootin' boogie in a Shakespeare show?
Hancher: American Ballet Theatre
July 4, Hancher Green, Iowa City
Before the fireworks started lighting the night sky, American Ballet Theatre brought its own fiery footwork to the stage outside Hancher Auditorium.
"I'm so proud to say we were the first call (American Ballet Theatre) made," Chuck Swanson, Hancher's executive director told The Gazette. "David Lansky, the company's general manager, called Hancher before they called anywhere else. ...
"I see this as one big, huge firecracker for Hancher," Swanson added, noting that he chose July 4 to host the venerable American company because "that's a national holiday that's significant to everybody in our country."
The tour, with its eclectic 50-minute program, launched July 1 in Lincoln, Neb., moved to Iowa City on July 4, then on to Chicago, Minneapolis, St. Louis, South Carolina and Virginia before ending July 21 at Rockefeller Center in New York City.
"The Suffragist"
July 16 to 18, Gallagher Bluedorn Performing Arts Center, Cedar Falls
From my review: "The harrowing moments of "The Suffragist" will suck away viewers' breath. The hilarious moments mercifully will let them breathe. The drama in between is captivating.
"This counterpoint makes the new musical sing. Eastern Iowa audiences had just a few world premiere performances in which to listen and learn about the fight for women's right to vote, waged in the late 19th- and early 20th centuries."
This marvelous new musical, which debuted in Cedar Falls, features music by award-winning composer and executive producer Nancy Hill Cobb of Hiawatha and lyrics and script by nationally recognized theater artist Cavan Hallman of Cedar Rapids. Leading actors included Broadway performers Nancy Opel, Cathryn Wake and Joel Waggoner, along with outstanding local talent.
It's a show that deserves more productions, more interpretations and more audiences to experience an artistic view of a chapter of history that needs to be remembered and honored.
Orchestra Iowa: Holiday Spectacular
Dec. 3 to 5, Paramount Theatre Cedar Rapids. The 2019 version featured award-winning blues musician Kevin "B.F." Burt blowing the roof off the Paramount. At the time, I wondered how Maestro Timothy Hankewich and company could top that.
But this year's production traded fire for ice, with smooth, glamorous guest artist Amy Friedl Stoner gliding over made-to-order vocal arrangements of holiday favorites. Local legend Steve Shanley tends to do the heavy lifting with special arrangements, but Hankewich outdid himself this year, adding new sparkle and shine to such favorites carols as "O Come All Ye Faithful" and "Silent Night."
It's a safe bet that all ages left these concerts with a little more jingle in their steps.
Honorable Mention
These are two events I missed, but from what I've heard, were as amazing as I imagined them to be:
Orchestra Iowa: Beethoven 5X5: Oct. 9 and 10 at the Paramount Theatre in Cedar Rapids and the Coralville Center for the Performing Arts; featuring pianist Stewart Goodyear on Beethoven's "Emperor" piano concerto No. 5.
"Of all the Beethoven piano concertos, the Emperor is by far the longest and most physically demanding, but I think it's arguably the most famous, as well," Maestro Timothy Hankewich said in my Gazette concert preview. ... To this day, it's my favorite concerto. What's there not to like, in terms of its impressive bravura performance, but the musical ideas are just catchy and beautiful. And the slow movement — the middle movement — is so sublime, it's enough to make you cry."
Hankewich found a pianist up to the task in Goodyear, hailed by the Philadelphia Inquirer as "one of the best pianists of his generation." His repertoire includes all of Beethoven's piano sonatas and concertos, and Hankewich said the Toronto native is the "go-to" pianist for the Toronto Symphony Orchestra.
Revival Theatre: "End of the Rainbow": Oct. 14 to 17 at CSPS Hall, Cedar Rapids, postponed during the early part of the pandemic.
Focusing on the final years of Judy Garland's life, it's a star vehicle for the actress playing Garland, and in this case, that's New York-based Janelle Lutz, who bears a striking resemblance to Garland, physically and vocally. That's served her well, from playing Garland in "The Boy from Oz" and another production of "End of the Rainbow," to including Garland tunes in her cabaret repertoire.
Lutz told The Gazette she's not impersonating Garland, but is seeking to honor who she was — this tiny person who had such a huge life.
"I love her spunk, I love her ability," Lutz said, "and I find it incredible, her vulnerability when she sings and her vulnerability in every moment that no matter what the song, no matter what the time, she could give her heart and soul into every single song in every single concert in every single moment. And whether that did end up turning out to be her collapsing down and walking out on a show, she was brave enough to give that honest, honest performance.
"I think that's what it is: I love her braveness of being able to be honest in her performances. She never put anything on. It was never a fake. It was never a facade. She felt everything she sang every single time. "
Comments: (319) 368-8508; diana.nollen@thegazette.com