Home / Arts & Entertainment / Music
Corridor city bands ready for upbeat summer downbeats
Cedar Rapids, Marion, Iowa City and Washington ensembles planning outdoor seasons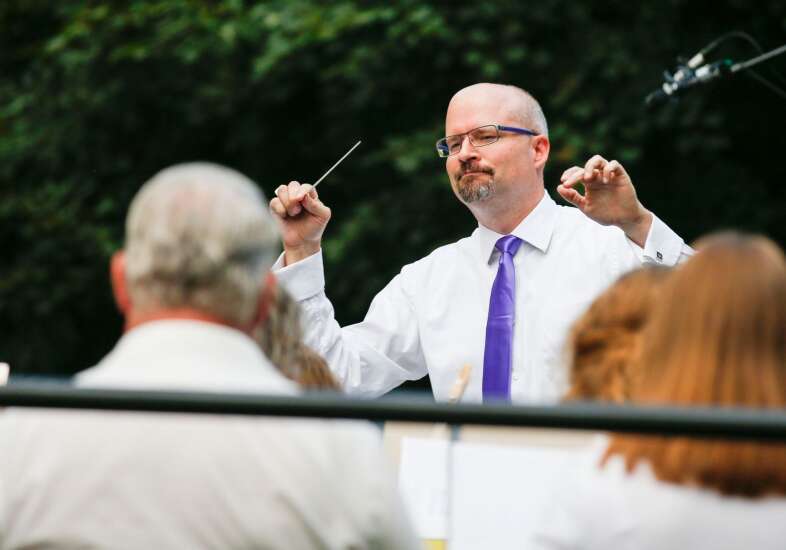 Now that Eastern Iowans are emerging from COVID quarantines, it's time to strike up the bands.
Municipal bands in Cedar Rapids, Marion, Iowa City and Washington are bringing back the sounds of summer to parks and other outdoor sites.
The Cedar Rapids professional ensemble will lead the way June 9, with a concert outside The History Center, 800 Second Ave. SE. The group then will head mostly to Bever Park through Aug. 8, with stops at a couple other venues, including a new lap around Hawkeye Downs on Aug. 4.
Marion's concert and jazz bands — with whom this reporter has performed over the years — will go back to their roots and play in front of the Marion Square Park Depot on June 22 and July 1.
Iowa City is planning for July concerts, and the Washington Municipal Band will launch its summer series in the city bandstand at 8 p.m. June 10.
The Cedar Rapids band will be reducing its number of players from the usual 56, to 32 musicians each week, to allow for physical distancing. They also will be rehearsing in Cedar Rapids Washington High School's fine arts parking lot.
Masks and bell covers won't be required, but director Steve Shanley said all players and audience members are welcome to take whatever precautions make them most comfortable. Likewise, audience members will be encouraged to physically distance on-site, and city band commissioners will assist in this effort.
For those who still want the music, but can't get to the concerts, they will air on Facebook Live. The Sunday concerts will be broadcast live on KMRY radio, 93.1 FM/1450 AM, and online at kmryradio.com.
The Marion bands will rehearse inside Marion High School, and director David Law said the room is big enough to accommodate about 40 to 45 players spaced 6 feet apart.
Cedar Rapids Municipal Band: Series begins 7:30 p.m. June 9, The History Center, 800 Second Ave. SE, Cedar Rapids; ends Aug. 8 at Bever Park; full schedule posted at crmuniband.org/concert-schedule
Marion Community Band: Concerts 7 p.m. June 22 and July 1, Marion Square Park, uptown Marion; rehearsals 7 to 8:15 p.m. June 15 and 29 for concert band, June 17 and 24 for jazz band, at Marion High School band room, 675 S. 15th St.; new members welcome; details at marioncommunitybands.us
Iowa City Community Band: July concerts in the works; watch for details at facebook.com/ICCBand
Washington Municipal Band: First performance 8 p.m. June 10 in downtown bandstand; watch for more information at facebook.com/Washington-Municipal-Band
The number of rehearsals for the concert and jazz bands are being scaled back to one per concert, instead of two, since Marion's school year stretches to June 11. That pushes rehearsals back to June 15 and 29 for the concert band and June 17 and 24 for the jazz band.
Between the two groups, Law said they have about 400 pieces in their music library, so he isn't worried about finding enough music to fill out the concerts. And audiences will hear many of the favorites from the past, since the musicians won't have time to work up new music.
"We can certainly do a couple of concerts without killing ourselves too much," Law said, especially since the goal of the volunteer, all-ages program he started in 1981 is "to just have fun."
The Cedar Rapids Municipal Band will continue welcoming high school students to sing the national anthem and the Cedar Rapids "Song of Dedication," as well as featuring guest musicians and band members in small, spotlight ensembles.
Small ensembles also were in the spotlight during the pandemic, livestreaming short concerts outdoors or in large spaces, including the National Czech & Slovak Museum & Library.
"Those went really well," Shanley said, "and it was a great way to keep the musicians hired, that we could continue to pay them, that they could continue to provide a service for the city and really, for the world," since people anywhere, including the musicians' out-of-town family members, could watch these mini-concerts on Facebook Live. That was an upside to the pandemic letdown, he added.
Community bands are a long-standing Iowa tradition, solidified in 1921 when the state legislature passed what's commonly referred to as the Iowa Band Law, allowing towns to use public funds for city bands, if approved by their voters. The popular measure soon led to bandstands like the one in Washington, Iowa, springing up across the state. According to the State Library of Iowa, the measure was copied in 33 other states and at least three other countries.
Both Shanley and Law are eager to pick up their batons and keep that spirit alive for musicians and audiences.
"The Cedar Rapids Municipal Band gives the whole community the highest quality musical entertainment you could find for free," Shanley said, noting that the paid ensemble consists of Orchestra Iowa members, music teachers, hobbyists and students who play at a high level.
It's also "a low stakes" way for parents to introduce children to band concerts, he said, since "no one cares" if the kids spill their drinks or snacks outdoors, adding that it makes the band happy to see the little ones get up and dance. To that end, he typically includes kid-friendly pieces, like music from cartoons or Disney movies.
Law, a retired band director, enjoys giving his volunteer musicians "a sense of coming together without any pressure to practice three hours a day — just to play stuff that they grew up with and that they can have fun with."
"For the community, it gives them a chance to come out and enjoy a little bit of the old-fashioned 'bring a picnic supper, throw a Frisbee, play with the dog, listen to the band on the square' type of thing. And for me, it's just fun," he said. " … My philosophy is: 'Life is short, eat dessert first,' which boils down to, if you have the chance to have fun, have fun."
Comments: (319) 368-8508; diana.nollen@thegazette.com