Home / Arts & Entertainment / Music
Bluesman Kenny Wayne Shepherd ready to rock in Dubuque
Veteran guitarist and band bringing summer tour to Q Casino
Alan Sculley
Jun. 24, 2021 7:00 am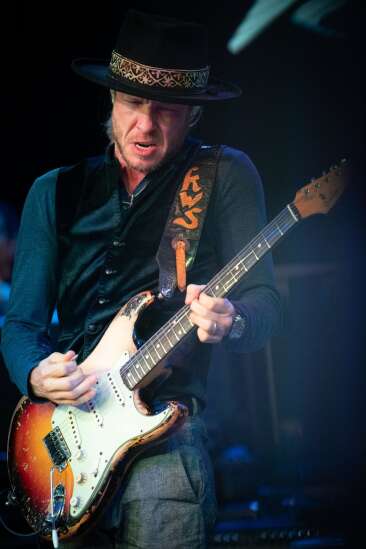 Kenny Wayne Shepherd's recently released DVD, "Straight To You Live," is the first concert DVD he's released in a career that now stretches back more than 25 years. But it's not like he's been trying to avoid doing such a project all of this time.
"The fans have been asking for a live DVD for decades," Shepherd said in a mid-June phone interview. "We record audio every night, but we've done a number of shows with video, as well. And for one reason or another, we just never felt like we had the right night."
It's possible this concert, which was filmed in Germany for broadcast on the legendary concert series "Rockpalast," might have stayed on the shelf, too, if it hadn't been followed just a few months later by the COVID pandemic.
"It was a real honor to be asked to do it," Shepherd said of "Rockpalast." "We watched it back and we were like 'Wow, it's actually a really great performance.' And then we really didn't think much more about it — until COVID happened. Then we started realizing that people are not going to be able to come and see us for a while, and they've been asking for a live concert for years, and we have this.
"The audio is great, the performance is great, the camera work is great. Maybe we should put this together and get it out to them so they can watch it in the comfort of their own homes until we can get back out on the road."
The Rockpalast concert came near the end of a busy and productive period for Shepherd and his band. The group released a new studio album, "The Traveler," in May 2019 and was well into the touring cycle for that release when the "Rockpalast" performance happened.
Shepherd and the band then went into the studio to record a new album, which was finished just before the pandemic hit and the world shut down.
When the Kenny Wayne Shepherd Band hits the road at the end of this month — including a stop Friday night (6/25) at the Q Casino's outdoor Back Waters Stage in Dubuque — fans can expect a set list similar to the 13-song set on the "Straight To You Live" DVD. They also may hear a few more songs, including material from "The Traveler" — but nothing from the next studio album, which won't be released until next year.
Kenny Wayne Shepherd Band
But it's likely one brand-new song will be included in Shepherd's 2021 shows. It's "Hit 'Em Back," a collaboration between Shepherd and blues singer/songwriter Shemekia Copeland, which also features guest appearances from lap steel guitar player Robert Randolph and veteran blues drummer Tony Coleman.
Copeland (daughter of the late blues artist Johnny Copeland), reached out to Shepherd to write music to the lyrics she and co-writer John Hahn had completed. The lyrics have a strong and multidimensional message calling for unity, respect and cooperation, while also pointing up the divisiveness that exists in today's society overall and the blues community in particular. Shepherd wrote muscular and soulful blues-rock music to accompany the lyrics, which was what he felt the song demanded.
"We're making a statement, and to transmit a message, you want to transmit it as loud as possible. So I thought the song needed musically to be big and powerful because I feel the message is powerful," Shepherd said.
Shepherd, 44, has grown into one of the leading artists in blues (or blues-rock or whatever description you want to attach to his music). He exploded onto the scene at age 17 with his impressive 1995 million-selling debut album, "Ledbetter Heights," followed two years later by another million-selling hit, "Trouble Is …"
As the years have gone on, Shepherd has continued to release albums at a steady clip that have seen his skills as a songwriter and guitarist only grow stronger.
He's also shown his genuine talent, knowledge and appreciation for the blues, not only with his music, but specifically with the 2007 CD/DVD "10 Days Out: Blues from the Backroads." The project found Shepherd traveling around to meet and collaborate with a host of blues veterans, including B.B. King, Henry Townsend, Cootie Stark and Hubert Sumlin. The film documented the trip and the album included songs Shepherd recorded with these blues masters.
Despite a quarter-century-plus history with the blues, Shepherd said he had not encountered the kind of anger and divisiveness within the blues community that are referenced in "Hit 'Em Back."
"Frankly, I thought of the community having always been very inclusive just up until recently," he said. "And a lot of things have been revealed to me that I just was unaware of, but have obviously been going on in the blues community for a while. I had no idea. So we thought it was time to address that because a lot of people are trying to use situations to divide people, and united we stand, divided we fall, right?
"We're all here in the same music community and we do ourselves much more of a service if we get along and appreciate one another than trying to draw lines in the sand."