Home / Sports / Minor League Sports
Zaccharya Wisdom overcomes tough environment growing up to become a legit hockey player
First-year Cedar Rapids RoughRiders forward and his older brother, Zayde, determined to make something of their careers to pay back their mother for sacrifices she made for them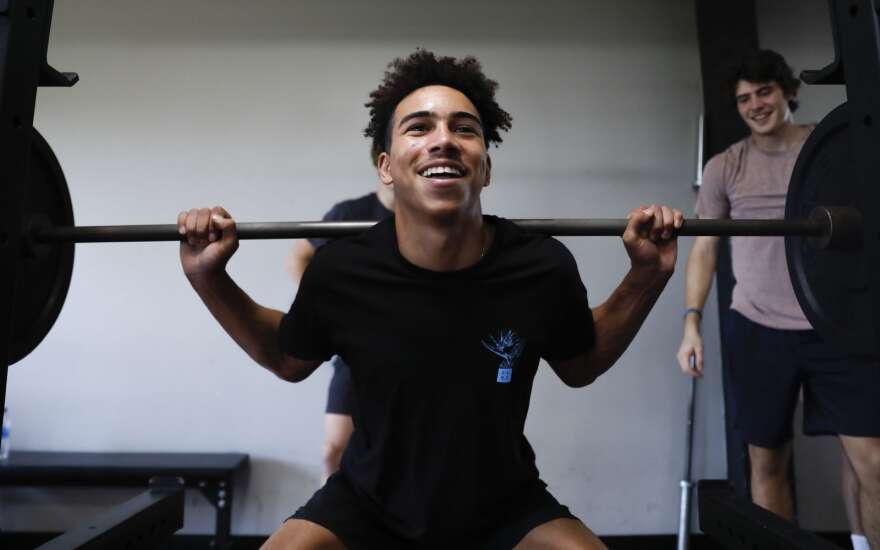 CORALVILLE — The tow truck.
That's an incredible part of Zaccharya Wisdom's incredible hockey story. Incredible life story.
The 17-year-old forward is a first-year player for the Cedar Rapids RoughRiders, who begin their 2021-22 United States Hockey League season with a game Thursday afternoon against the Omaha Lancers as part of the league's Fall Classic in Cranberry Township, Pa., a suburb of Pittsburgh.
That Wisdom is here, trying to make a name for himself in the top junior league in the U.S., driven to play in college and the NHL some day is amazing. More amazing than you could possibly imagine.
Zacch and his older brother, Zayde, 19, were raised by their single mother in virtual poverty in a rough neighborhood of Toronto. Zayde Wisdom is a prospect in the Philadelphia Flyers farm system, hoping to make his NHL debut sometime this season.
Mairri McConnell, 48, worked multiple jobs as her boys were growing up, trying to scrape together enough money to allow them all to survive. Enough money to allow her sons to play hockey.
If that meant not having electricity for a couple of days because either Zacch or Zayde needed a new stick or skates, so be it. If that meant not being able to buy gas for her car, so be it.
She'd find another way to get her sons to practice or a game.
"My mom, she has done everything for me," Zacch Wisdom said. "No words can describe what she means. She is the world to me, the world to my brother as well. It's such a close bond. She is 100 percent my hero, that's all I can say."
Which gets us back to the tow truck. At one point when Zacch and Zayde were younger, one of McConnell's jobs was working for a towing company.
It was an overnight gig, so she'd wake up her boys around 2:30 or 3 a.m., Zacch said, get them dressed and make sure they had their books. Then they would go with her, sleeping in the back of her tow truck until it was time to drop them off at school.
"You do what you have to do," McConnell told the Philadelphia Inquirer. "It was tough but worth it. Even then, just knowing the boys were in a good space, they were busy, they were doing well, they were engaged. So it never really seemed hard for me. Just something that was always done."
Mairri's mother, Kitty, also was an integral part of the family, cooking and taking care of her grandsons since Mairri always was working.
"Mom did what she had to do to support me and my brother," Zacch said. "Right now, I'm working hard, making sure that every day I'm out here that I'm doing something to try and improve. Make sure I make something of myself for her."
Zayde Wisdom played major junior hockey for Kingston in the Ontario Hockey League. Philadelphia took him in the fourth round of the 2020 NHL Draft and signed him.
He impressed in his pro debut for Lehigh Valley of the minor American Hockey League, though recently had shoulder surgery that will keep him out of action for a while.
Zacch is going a different route in his hockey career. Every junior and youth league in Canada was canceled last season by the COVID-19 pandemic, a lost year for everyone, so he decided to come to the USHL.
A summer tryout with the Chicago Steel wasn't successful, but Zacch's adviser Matt Federico (Zayde's agent) knew RoughRiders Coach/General Manager Mark Carlson and tipped him off about Wisdom's availability. Carlson invited Wisdom to tryout camp, and he played well enough to secure a spot on the team.
"A real exciting player," Carlson said. "He has a tremendous work ethic, plays with a lot of juice, a lot of energy. He can make plays, he's physical at the right times. He's going to be a very well-rounded player as he matures and gets stronger."
"After the COVID year, after that missed year of development, I kind of said that I don't want to go play a year (in major junior), maybe have a bad year and then not maybe have anywhere to go," Wisdom said. "I've always wanted to play as competitively as long as possible and have a real good shot of making it to the NHL. With college, it gives you more time, more experience. College hockey helps you develop as a player and a person. You get a degree on top of it. I think it was just the best route I could take."
Wisdom said he hasn't necessarily felt rust from a full competitive season off, saying his biggest adjustment has been the increased speed of the game since he's playing against guys who are older. The adjustment to living with a billet family, away from home, away from his home country, has gone just fine.
"It's been awesome. It's a small town, lots of corn, as I've found out. Lots of corn down here," Zacch said. "It's way different than Toronto, obviously. Smaller city, but an awesome community. Every time I see somebody, they're always smiling, waving. I don't get that a lot in the city, so that's nice.
"Coming down here, I was nervous, naturally. But (Zayde) talked to me, told me, 'You know, like, it's you, right? You've got to do it. It's up to you. It's you.' He told me you've got to have the confidence to skate hard, to work hard, stuff like that. He has helped me with my confidence, for sure."
The brothers have some gotten some heavy hitters to be in their respective corners over the years. They attended a ball-hockey camp as youths in Toronto put on by longtime NHL player and current Toronto Maple Leafs forward Wayne Simmonds.
He and another Torontonian and longtime NHLer and fellow player of color, Chris Stewart, have been around to provide encouragement and advisement about hockey and life.
"They've always been there," Zacch said. "They've really helped out with I'd say that father-figure role. Just guidance for us. They've helped me, they've helped my brother in so many ways.
"Wayne, I've got his number. He said I could call him anytime. If I do feel like I need him, I'll contact him. But he's a busy guy, right?"
So is Wisdom.
It's hockey season, he's practicing or playing every single day, taking online classes at his school back home. But he'll figure it all out.
That hard work thing, yeah, he inherited that from mom.
"We're grateful for what we have," he said. "I'm thankful for it, my brother is thankful for it, I think everybody in my family would say that. Going through what we did growing up really helped us become the people we are today. It will help us get through more tough times ahead, right? There are going to be more hard times today. That experience is definitely going to help me the rest of my life."
Comments: (319)-398-8258, jeff.johnson@thegazette.com